May 30, 2013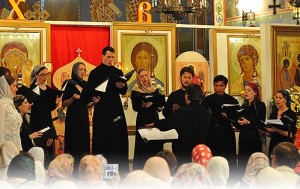 On Sunday, May 26, 2013, after evening divine services in the Church of the Protection of the Mother of God, a combined youth choir of singers of the Russian Orthodox Church Outside of Russia, led by seminarian Nicholas Kotar of Holy Trinity Seminary in Jordanville, NY, gave a performance.
The young people, from various parishes in the USA, sang on the theme of the 400th anniversary of the Romanov Dynasty. The choir was accompanied by Protopriest Andrei Sommer, Vice President of ROCOR's Synodal Youth Department. The literary-musical program was dedicated to the memory of Holy Grand Duchess Elizaveta Feodorovna, with singing alternating with the reading of her letters, and excerpts from a book on the saint by Lyubov Miller.
Parishioners of Protection Church and the Church of SS Peter and Paul in Yasenevo were in attendance, as well as a number of handicapped people living in Veteran's Home No. 6, who were transported by an Orthodox youth brotherhood known as Pokrov ["protection"].
At the conclusion of the performance, Archimandrite Melchisedek (Artyukhin), the parish rector, expressed heartfelt thanks to the performers for their wonderful singing and the spiritual joy they brought.
Source: ROCOR