The following conversation with Schema-Archimandrite Gabriel (Bunge), the renowned patristics scholar from the Skete of the Holy Cross in Switzerland, was held during his visit to Moscow in early November 2012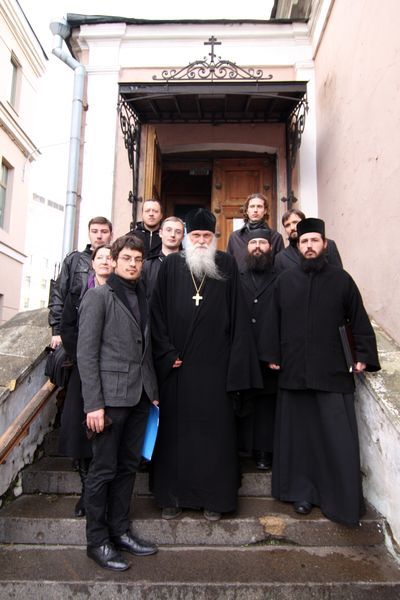 Fr. Gabriel, what for you is the most valuable thing in communication with another person?
That depends on the depth of the communication. To speak in general terms, it is wonderful when people are able to find a common language with one another. If we are to speak of other aspects of communication, then the most valuable thing is when you can find the image of God in another person. We were all created in God's image; in the absolute sense, this image is Christ. If we can find this image in another person, then this becomes the most valuable thing there can be in communication; this is also the basis of true friendship. That is, not just some kind of natural human sympathy, but the recognition of another as being in the image of God.
How often, and how regularly, do you read Holy Scripture?
I began to read Holy Scripture very early, long before I entered the monastery. Later, therefore, it seemed perfectly natural to me that in the monastery we read Scripture daily both during the divine services and in our cells. I have been a monk for fifty years already. Now, having simply memorized many texts, I often contemplate them. This allows a deeper meaning to open up than can be gotten during a simple reading. You can read a text 100 or 1,000 times and then you might read it once and suddenly see that you have never truly read it a single time, because a new depth has opened up to you that never had before. The text of Holy Scripture is like a fathomless well.
It is said that one needs to read Holy Scripture in a particular disposition. Is this good advice?
Naturally! Certain Holy Fathers say that one can only read the Gospel on one's knees. This book should not be read like an ordinary text. That is, if one reads the Bible like an ordinary book, then revelation will not be properly perceived.
What, specifically, is this particular disposition? How can it be explained to someone who is just beginning to read the Bible?
This disposition is the strong desire to hear the word of God, and not simply curiosity or the desire to acquire knowledge. Of course, the formal study of Biblical texts – philological study, for example, or other kinds – has its basis. But at a certain point one needs to put all this aside and receive the word of God as it is. The Bible explains itself. As they say, light does not need other light to be what it is.
In our ecclesiastical tradition, the people who occupied themselves with theology were those who had personal experience of communion with God and of prayer. But how can one be a student in a theological department today, whether in a church or secular institution? After all, the educational system and academic calendar by no means involve having a spiritual instructor, for instance, who could pass on this experience or lead one to it.
Someone studying theology without the spiritual life will understand nothing. In the West there are professors of theology who are non-believers; there are even priests who do not believe in God, who view their ministry as work, as a way to earn money. This might seem unlikely, but I have evidence that this is indeed the case. Glory be to God, I myself have never encountered such people, but my friends have the experience of dealing with them. Bishops I know say that they have priests who have lost their faith and serve only because they need to earn a living and support their families. This is the end.
For this not to happen, one must learn from the Holy Fathers. They were very highly educated in secular terms: they were rhetoricians and philosophers who knew literature and languages. But this knowledge was merely an instrument for them. The Fathers themselves led extremely deep spiritual lives.
The presence of knowledge by no means implies that you will rightly understand Scripture; the question is how to make use of this knowledge. We know that Arian theology was based entirely on the Bible. When he was tempting Christ, Satan quoted Holy Scripture – that is, he knew these texts, quoting them not in order to penetrate their meaning, but to twist and turn them inside out. The best means of abusing Holy Scripture is to cite only half verses, and not full verses.
Can one learn how to pray? On the one hand, they say that one needs to learn; and, on the other, that prayer is a gift of God and, therefore, that one cannot specially acquire it by one's own will.
In his treatise on prayer, Evagrius Ponticus says that God grants prayer to those who ask for it. If someone does not ask, he will not receive. The best teacher of prayer is prayer itself.
You have been a monk for fifty years and a hermit for thirty-two years. You have now come to Russia, to Moscow. What are your impressions from what you have seen?
The first thing I see is an unbelievable change in society.
I have been familiar with the Church of the Joy of All Who Sorrow on Bolshaya Ordynka Street since 1968. The church was then in terrible condition; it looked like a tin can. I spent Pascha here that year, when I was a young monk. It was impossible to enter the church, because the women were thronging and jostling so much that I had to go outside. During the procession ten or fifteen drunks came up and began to abuse and ridicule the faithful, so that the procession had to run around the church at a gallop.
In recent years I have been coming to Moscow more frequently, to this church, and I see that the church has been resurrected and restored. On weekdays – for instance, I was here on a Tuesday – the church is full of worshippers. And on the night of Pascha even the traffic stops in order to allow the procession to pass.
For me, the restored churches and monasteries are symbols of Russia's rebirth. For the time being, these are individual points on the map, but these examples demonstrate that the Russian people are capable of accomplishing a great deal when they put their mind to it. There are many monasteries in Russia; we believe, hope, and trust that the blood of the martyrs is the seed of the Russian Church's future.
I think that these points on the map, figuratively speaking, will widen. As a result, society can recover. And recovery is needed, because in Russia there was not only the destruction of churches but, more importantly, there was moral destruction. I would not be surprised to learn that those hooligans from the sixties now attend this church.
Interview conducted by Olga Bogdanova with the assistance of Vasily Tereshchenko