I love working with youths. They tend to pose difficult questions.
At a recent weekend retreat, my favorite feature was something called "Fire on Father." It was my first time at this particular camp, so I was somewhat apprehensive about the title.
Far from being hit with any projectiles, however, I walked into a verbal barrage.
The kids were invited to write questions on note cards and put them into a bag. As one on a panel with two other priests, we had a few minutes to look these over and prepare to account for the church's teachings on a gamut of sensitive issues.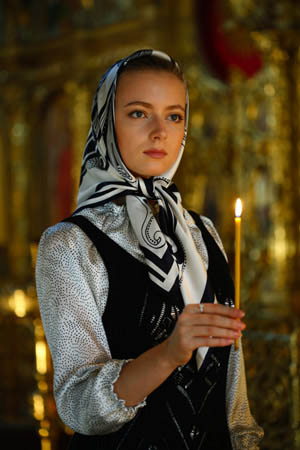 First out of the bag: "Why should women wear skirts and head coverings at church?" Talk about a potential minefield.
Kids in any faith are influenced by the values of their surrounding culture, and among these is a fundamental rejection of anything smacking of "gender inequality."
As the senior padre in our triumvirate began his reply, I had a feeling it wasn't going to be well-received. He spoke of head coverings as symbolic of wives submitting to their husbands and being under their authority — a biblical approach, but not the most persuasive for this crowd. Some grumbling began to emerge from the ranks, and the second priest weighed in, again with Pauline discipline.
The atmosphere grew tense ("Are you saying I go from being my father's property to being my husband's property?" one girl asked).
I decided to take a slightly different approach.
Only once in my ministry have I had to talk to someone about their dress, and it wasn't a woman, but a young man who repeatedly wore shorts because of the summer weather. After the third Sunday, I took him aside and we talked about modesty, and how to avoid being a distraction to others.
Let's face it. Most of us notice an attractive member of the opposite sex, especially if they're showing flesh. By and large, men are more susceptible than women.
For this reason, it was Orthodox practice for more than a millennium (and remains so in monasteries) that men stand on one side of the church and women on the other.
With no pews to break up the worship space, you see the person in front of you. The last thing you want your attention drawn to when you come to pray is a nice pair of calves or a sexy hairdo (yes, men do notice them).
As a priest, I get to stand with my back to the congregation for most of the service, looking only at the altar table and an icon of Mary. I once stood in the communion line behind a gal wearing a pair of warm-ups with the word "JUICY" emblazoned across the buttocks (a fashion fad that hasn't died). This wasn't what I wanted to be thinking about as I prepared to receive the body and blood of Christ.
As a concession to the weakness of others (men being weaker than women), please consider what you wear to worship. Church should be a place of refuge from the oversexed culture around us (newspaper sales ads included).
We don't need to see flesh there, whether feminine cleavage or masculine biceps. I don't disagree with my brothers' interpretation of Paul, but this is a practical issue that transects gender lines and holds all to the same standard: Don't distract others from prayer.
When the issue ceased to be the enforcement of a dress code, and became consideration of others, the kids got it. You needn't abandon traditions if you can articulate them in new language.
Source: The Pueblo Chieftain Online