May 11, 2013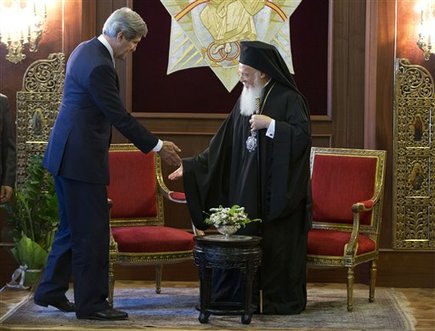 Turkish police have boosted security around Patriarch Bartholomew I after an alleged plot to assassinate the Orthodox Christian leader, his office said Saturday.
A spokesman at the patriarchate in Istanbul said they had been informed that one person had been arrested and that others were being sought.
Turkish media said the arrested suspect, identified as Serdar A., allegedly planned to assassinate Bartholomew I on May 29, the 560th anniversary of the Turkish capture of Constantinople, present day Istanbul.
"Police have strengthened security at the patriarchate," said spokesman Father Dositheos Agnathostomatous. "It is doing everything to ensure the security of the patriarchate and the patriarch."
Agnathostomatous said however that Bartholomew I, the Archbishop of Constantinople, did not take the plot very seriously.
"His holiness does not believe that it is something serious," he said.
The development comes as several incidents have sown concerns among Turkey's Christian minority, which numbers 100,000 people.
On May 5, a man fired blanks outside an Armenian church in Istanbul, sowing panic among worshipers celebrating Easter, and a young Armenian was beaten outside another church.
On April 28, a Greek Orthodox church was vandalized by a dozen teenagers. The day before, between 30 to 40 stone-throwing people smashed windows at an evangelical church.
In recent years, there have been other attacks against Christians in this overwhelmingly Muslim but secular country.
In April 2007, three Protestants had their throats slit in the eastern city of Malatya. Five Turkish suspects face life sentences for the crime.
An Italian Catholic priest was shot dead in a church in Trabzon, northern Turkey in 2006. In July 2006, a Catholic French cleric was stabbed in Samsun, also in the north.
Italian bishop Luigi Padovese, 63, was killed in June 2010, allegedly by his driver, who reportedly suffered from psychological problems.
Source: Naharnet