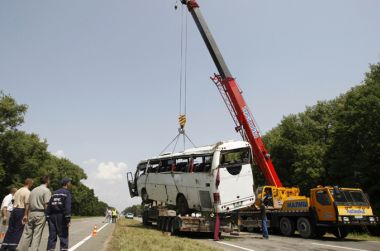 KIEV, Ukraine — An official says a bus carrying Russian religious pilgrims has crashed in Ukraine, killing 14 of the 45 people on board.
Emergency department spokeswoman Yulia Yershova says the crash occurred early Saturday when the driver apparently lost control of the bus. It veered off the road and overturned near Chernihiv, about 150 kilometers (90 miles) northeast of Kiev.
Yershova says another 29 people were hospitalized with injuries. Russian news reports said the pilgrims were headed for the Holy Dormition Monastery in western Ukraine's Pochayev, one of the major monasteries of the Ukrainian Orthodox Church.