January 27, 2014. PRAVMIR. The All-Ukrainian children's prayer for peace in Ukraine has been started in all churches of the Ukrainian Orthodox Church (UOC). This was stated by Metropolitan Anthony (Pakanich), Executive Secretary of the UOC, during the first children's prayer for peace in Ukraine, which was held in the Kiev-Caves Lavra before the sacred items from Mount Athos, the Gifts of the Magi, related a reporter from the website UNIAN.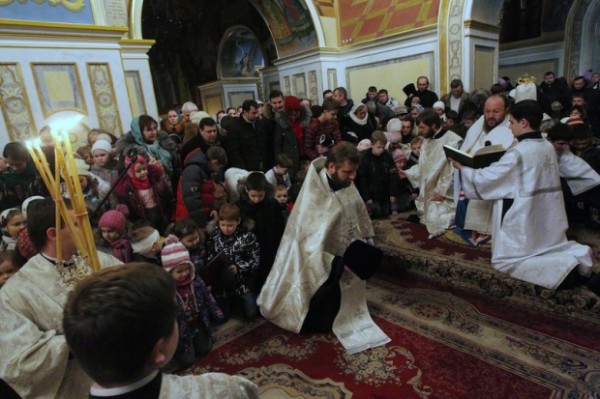 During the moleben [supplicatory service] for peace in Ukraine, children from Kiev's Sunday schools kneeled before the Gifts of the Magi and asked God to stop war from coming to Ukraine. More than 2,000 people gathered for the moleben.
"Children are against bloodshed. They do not want to lose their brothers, sisters, or parents. The Ukrainian Orthodox Church has led the initiative to hold children's molebens throughout Ukraine. Today is a day of particular trial and today's prayer is special. Through the pure souls of our children, we will appeal to the All-Merciful Lord, that He grant peace to our fatherland and turn it away from hatred and fratricide," said the Executive Secretary of the UOC.
In his homily, Vladyka noted that Ukrainians should not build barricades against one another. Metropolitan Anthony also emphasized the importance of children's prayer in these days.
In his comments to the website UNIAN, Vladyka explained: "A child is still without sin. When the Apostles forbid children to come to the Lord, He said to them: Let the little children come to Me, and do not forbid them; for of such is the kingdom of God (Mark 10:14). We hope that children's pure and ardent prayers will stop adults from committing a fatal mistake," believes Metropolitan Anthony.