July 23, 2013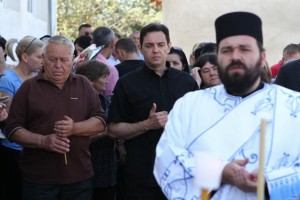 BELGRADE — Aleksandar Vulin has asked for the reopening of the investigation into the murder of 14 Serb farmers from the village of Staro Gracko in Kosovo.
The director of the Government Office for Kosovo and Metohija attended a memorial service for the victims on Tuesday, 14 years after their murder, and stated that "that every unpunished crime threatens to repeat itself."
Vulin urged the international community to reopen the investigation into this crime and to act in keeping with its mandate and take responsibility.
"I have been told that EULEX has not come to this village for three years to ask what is happening and to repeat the investigation. On behalf of the Serbian government and the Serbian people and on behalf of every person on planet Earth, I urge the international community and EULEX, as everything is in their hands, to reopen the investigation and tell us the truth quickly," Vulin said.
He also said there is not and cannot be any confidence in the international community until it shows it is genuinely keen to discover the perpetrators of such crimes and until it stops counting victims by name and nationality and calling them victims of the first and second order.
"We have to hold our fate with both hands, to have our own government, president, police and judiciary. When we do not have this, we have cemeteries, ethnic cleansing, when we do not have this there is no justice for us," Vulin added.
He pointed out that representatives of the international community cannot tell the families of murdered people it is time to forget, but should rather act in keeping with its mandate and in line with its authority show its own responsibility.
Source: B92