April 4, 2013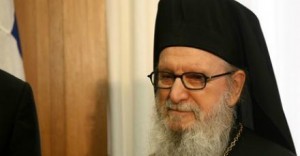 The Greek and Cypriot community in the US aims to give support to the island, following a meeting of community leaders at the Greek Orthodox diocese headquarters in New York under Archbishop Demetrios.
The meeting was addressed via video link by Foreign Minister Ioannis Kasoulides who outlined the plan for a solidarity fund.
After the meeting Demetrius said they would create a fund for humanitarian aid, to be distributed on the island through the Archbishopric of Cyprus.
In the economic aspect, the idea eas suggested of issuing Cyprus bonds, along the lines of Israel bonds.
At the political level they will inform members of Congress and opinion leaders about the situation in Cyprus and also put pressure on Washington. Expatriates and the Archbishop will meet with President Obama on April 18 at the White House.
An announcement is expected later today on practical moves.
The meeting which lasted approximately two and a half hours, was attended among others, the Presidents of the Cyprus Federation of America and PSEKA Peter Papanicolaou and Philip Christopher, the coordinator of the Unified Effort, Andy Manatos, the President of AHI Nick Larigakis, representatives of AHEPA and representatives of large organisations from the Cypriot community and entrepreneurs.
Speaking to reporters, PSEKA President Philip Christopher said there were three areas of action.
"The first is humanitarian and the need for immediate relief efforts," he said.
"We decided – based on the advice of the Minister – that anyone who wants to offer money can do so via the Archdiocese, which will forward it to the Archbishop to redirect the money for their cause.
"The second is economic. Archbishop Demetrios, presented recommendations as to how the Solidarity Fund could be "Americanised" and operate under the regulations of the U.S. Federal Securities and Exchange Commission (SEC) to create Cyprus bonds."
The bonds would start giving returns after 2020.
"This we believe will be the most effective way, as it is not charity but an investment."
The third was the political approach to American leaders.
Source: InCyprus