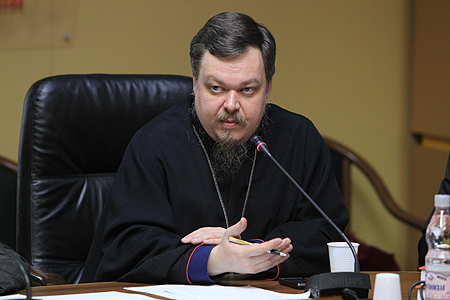 Moscow, January 7, Interfax – The Western model of society cannot cope with modern challenges, head of the Synodal Department for Church and Society Relations Archpriest Vsevolod Chaplin has said.
"To my mind, Western civilization still cannot realize that its model of social order is shared by the minority of people in the world and is typical of only that civilization, and it is typical mainly of peaceful times and becomes increasingly marginal being unable to cope with threatening challenges of history," he said in an interview with the website of the Russian Academy of Economy and Public Service with the president.
He said that certain representatives of Western civilization are trying to impose their choice by force but many nations gradually learn to resist that. He did not rule out that the 21st century will be marked "by a successful search for possibilities of military deterrence of the United States."
"Certain representatives of the Islamic civilization also strive to global domination through force. We see evidence of that throughout the world. At times they act no less cunningly than the Western 'hawks' trying to use force or strong propaganda or promises depending on the circumstances," Father Vsevolod said.
In his opinion, the responses to these challenges should also differ – sometimes military, sometimes ideological, "including those based on such an interpretation of Islam that would guarantee peaceful life to nations for centuries to come and still guarantees it now in many cases."
In his opinion, Orthodox Christian, Chinese, Indian, Latin American and African civilizations will play an active role in building peaceful relations between civilization systems.
The clergyman did not rule out that this century in time will see for major conflicts involving weapons of mass destruction.
Source: Interfax-religion