On the morning of June 13, 2011, the day of the Holy Spirit, in the parking lot of the Cathedral of Christ the Savior you could see many cars with diplomatic license plates. The men getting out of the cars, usually dressed in formal suits, starched shirts and ties, this time appeared in casual. Many of them were accompanied by their wives, children and relatives.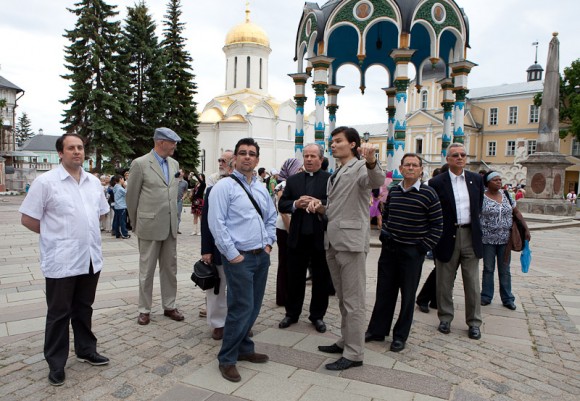 The people arriving to the main cathedral of Moscow on a holiday (June 13, the state presented this day to the citizens and foreigners working in Russia instead of Russia Day – June 12, which fell on Sunday) were Latin American ambassadors and senior diplomats with their families. They took their places in the comfortable snow-white bus to head for the Holy Trinity St. Sergius Lavra, 70 kilometers from the Russian capital.
In the morning when we were driving away from the Cathedral of Christ the Savior, with the sky overclouded, it seemed like it was about to rain heavily. However, during the tour not a drop fell from the heavens. Instead, the sun appeared from time to time. Only while we were getting on the bus on the way back, gentle rain began falling. Under the auspices of St. Sergius we went on a pilgrimage successfully with spiritual benefit for the participants. Thank God for everything!
Diego Jose Tobon, Ambassador of Colombia:
"The Holy Trinity St. Sergius Lavra is a truly amazing place. It attracts me; it makes me want to go back again and again. My guests from Colombia, politicians, and friends – I'm always trying to take them to Sergiev Posad.
Watching the pilgrims coming to the Lavra, I realize how similar our two nations are. Indeed, in the holy places of Colombia you can always find a lot of believers too. Russian and Colombian people – they are true Christians, deeply religious people. This spiritual affinity creates a solid foundation for developing relations in various areas."
Manuel Antonio Barrantes, Ambassador of Costa Rica:
"Visiting the Monastery of St. Sergius brought sincere joy to my wife, our children and me. Everywhere we were surrounded by the atmosphere of holiness. We learned more about Orthodoxy, about the history of the Russian Orthodox Church, about the most difficult trials the country went through in the XX century. We realized what a great place the Church occupies in the hearts of Russian people.
In the near future I will leave Russia, since I have been appointed an ambassador of Costa Rica in Norway, and this trip was a pleasant farewell to the country where I have worked for two years. "
Translated from Russian by Marina Smirnova