Source: Orthodox Opinion
What will happen to our churches when a majority of the membership does not have an ethnic lineage similar to the ethnic jurisdiction to which the church belongs?
I was at a Greek festival yesterday. It was a church to which I had never been, but desired to support it. I am not Greek, but I love all things "ethnic." In reading the program for the festival, it was noted that the ethnic makeup of the parish was 40% Greek, and 60% non-Greek. This made me think about future years. This church has been growing mostly through converts. These converts most likely do not convert because the church was Greek, but because the faith was Orthodoxy. What will happen though if or when this parish becomes Greek in name only? What will happen to the Greek festival when the church has only a token number of Greeks, who may be too old to teach the children the dances, or play in the Greek band?
I was reminded of my though when I came across an article on the internet about this same Greek/non-Greek split in a Greek church in Mississippi. The parish council president said "We have more converts than Greeks." The priest of this church is a new priest and a convert. When will these churches, who are attracting converts and currently have more converts than Greeks, lose their Greek heritage or traditions?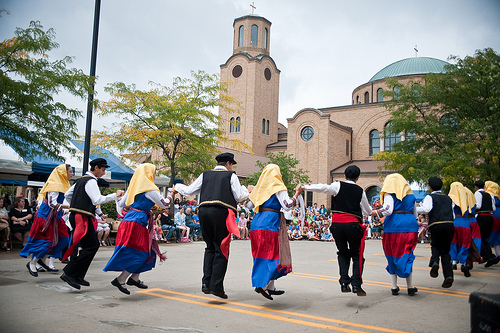 This phenomenon in the Orthodox Church in the USA and other non-traditionally Orthodox countries, may not be new, but it is certainly a issue that will become far more wide spread. As the Orthodox Church gains recognition within the USA, it is inevitable that many churches outside of major metropolitan areas will trend towards fewer first, second or third generation immigrants. The first-wave of Americans that will enter these churches will certainly be indoctrinated in the ways of the ethnic traditions and festivals. But what will happen in two or three generations of Americans? Will these churches be able to maintain traditions when there is not an explicit cultural connection to the tradition?
There is already precedent for this "loss" in the churches in America. How? Language. Now, don't get me wrong, I think it is imperative that the language of the Church is the language of the people. But how many churches started in America with services completely in Greek, Arabic, or Russian? How many still exist? Why this change? Because the Bishops and the priests saw that people who had never spoken Greek or Russian or Arabic were entering the church, and they too needed to be served by the church by teaching about God in the language they understood. To me, this is the great beauty of the feast of Pentecost. Not only did Jesus save me through His death and resurrection, but He desired that all nations be baptized. Speaking the languages people understood was the first step.
There are people in these proud ethnic churches that lament that their children do not know the language of their ancestors. That they do not care for the traditions they have held. This is the first sign. True, there will always be those that greatly love their heritage and will seek to instill at least some aspect of it in their children and neighbors. But will it be enough to keep the Greek festivals?
In the two parishes of which I have been a member, both were under the jurisdiction of the Antiochian Orthodox Archdiocese or North America. Essentially a church of Arabic ethnic heritage. In the first church, it was started by mostly converts, and I was gratefully a member at the founding of the church. There was only one or two "Arabic" families in this church when it was founded. They were overwhelmed by the number of convert families that founded the church. We also had as many Russians and Greeks as Arabs. We had a convert priest that artfully and enthusiastically included as many ethnic traditions as possible, even traditions from cultures that were not part of our church. This was and is a glorious thing! As converts we felt connection through the traditions to the ancient church. The wonderful traditions also had an effect of reinforcing the spiritual understanding that was the catalyst for the tradition.
The second parish of which I became a member and am currently a member, has no ethnic members: 100% convert. There is a sadness for me that I do not get to learn about how people of other cultures approached Orthodoxy, just by participating in their traditions. There is a sadness that we do not celebrate St. Barbara's day with the traditional cookies. Or celebrate St. George Day. Or celebrate St. Nicholas day with a particular tradition.
Our church does have its own traditions, but these traditions, as lovely as they are, are limited to our church (or to the nearby churches). What is great about the Greek or Arabic or Russian traditions, is that they span churches, nations, peoples, and languages.
I hope that as a church in America, we never lose the various ethnic traditions, and never lose sight of the fact that they can be used to bring Orthodoxy to life. Maybe in typical American fashion, our churches, no matter what ethnicity or lack thereof, will investigate and encourage church traditions that we have been given as a gift. In addition, maybe in two or three generations, we will have a set of traditions that are typically American Orthodox, that will reflect our shared heritage.
June 09, 2008