Source: The Cathedral Voice. April 2009, volume 2, issue 2  
Anyone who has visited St. Catherine's Monastery on the Sinai Peninsula of Egypt, can attest to the remoteness of its location. From Cairo, it takes between 6-9 hours depending upon the means of transportation. Once there you realize that it is surrounded by mountains on three sides creating a box canyon, leaving you only one access in and out from the main road. However isolated this holy place may appear to the naked eye, the road leading up to St. Catherine's is like a welcome mat, a red carpet rolled out before you by God who invites all to partake of this jewel of the desert. Moreover, St. Catherine's Monastery with its very imposing 60-80 foot walls and few entrances is truly an island within itself, a self contained unit. Just to behold this Monastery in such a barren setting is an awesome sight. But to understand what it defends is missed many times by the river of unending tourists and pilgrims that visit the monastery daily.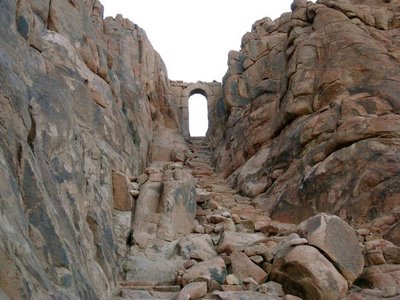 Since its inception in the 6th century by Emperor Justinian, St. Catherine's has been a symbol to all people of God's Love for humanity. People from all over the world come to witness the greatness of St. Catherine's and to climb up Moses' Mountain to watch day break unfold before them just as Moses had done. Sunrise is an awesome experience especially since you are over 8,000 feet above sea level which allows you to see a panoramic view of the landscape around you for miles. What a wonderful opportunity to see God's greatness and wonder without any of the usual trappings and distractions of modern day life. That in itself is an oxymoron; there are tens of thousands of people a year that visit the monastery and make the climb up the 3,750 steps to the top of Moses' Mountain. These steps are called "The Stairway of Repentance." Why, because it was forbidden for the unrepentant person to ascend the mountain. It was during the time of the Exodus that Moses was told by God to tell the people that "Take heed that you do not go up into the mountain or the border of it; whoever touches the mountain shall be put to death; no hand shall touch him, but he shall be stoned or shot; whether beast or man, he shall not live."(Exodus 19:1-13)  
As one of my novice brothers at St. Catherine's put it, "this is not a museum or a theme park," and rightly so. After all is said and done, St. Catherine's has and will continue to be a place "Where God Walked on Earth," and where Greek Orthodox Christians gather as a monastic community to live a life of contemplation and spirituality in the baron wasteland of the Sinai Peninsula. What a dichotomy. Some years ago this encroachment of tourism on the monastery was made evident by an article written for Time magazine, called "Trashing Mount Sinai" by Lance Morrow, dated March 19, 1990. If it was not for the efforts of a brave monk from the monastery the plans that the Egyptian Ministry of Tourism would have been implemented and the life at the monastery would have taken on a very different and secular direction. St. Catherine's would have become more like a theme park, exploiting the rhythm of prayer and solitude to accommodate the rivers of tourists who would have had open access to the monastery and the most Holy Mountain. The responsibilities of the monks would have changed and they would have become tour guides, or even more troubling seen as actors playing the role of monks as if in some historical reenactment. What would St. John Climacus have said about that?  
Finally, thank God that this did not happen to this very holy and sacred place of prayer and solitude, where both pilgrims and tourists alike can respect the dignity and humility of the many whom throughout the centuries gave their lives climbing The Ladder of Divine Ascent with the help of the most venerable St. Catherine at their side. We are all on a journey, but those who realize their true destination, which is theosis, strive to achieve it not in the hustle and bustle of an ever changing world, but in the quite solitude and stillness of one's own eternal soul.