April 17, 2013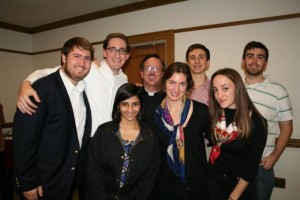 The Department of Youth, Young Adult and Campus Ministry of the Orthodox Church in America recently announced that several events geared to the needs of college students and young adults are being offered in the immediate future.
The OCA Diocese of New York and New Jersey will host a retreat for college students, titled "Love 2 Serve," at Saint Basil Academy, a Greek Orthodox institution located on a beautiful 250 acre campus on the shores of the Hudson River, July 12-14, 2013.  All college students and high school seniors are invited to participate in the retreat, for which the registration fee is only $20.00.  Speakers will include Abbot Sergius of Saint Tikhon's Monastery, Dr. Nicholas Reeves, Assistant Professor of Liturgical Music at Saint Vladimir's Seminary, Yonkers, NY; and others.  Representatives from International Orthodox Christian Charities, the Orthodox Christian Mission Center, and the Orthodox Christian Prison Ministry will be present.  For more information, contact Father John Diamantis at jcdiamantis13@gmail.com.
Saint Vladimir's Seminary will be offering a hand-on iconography workshops specifically for college–aged students May 26 through June 2, 2013.  Endorsed by the Orthodox Christian Fellowship [OCF], the class will be taught by Iconographer Khouria Erin Kimmett and is limited to 10 students. Khouria Erin is a graduate of Wichita State University, where she earned a Bachelor's of Fine Arts in Graphic Design. She has designed and produced curriculum materials for the Orthodox Christian Education Commission and the Antiochian Orthodox Christian Archdiocese of North America.  A trained iconographer who has painted numerous icons for churches across the country, she also owns and manages The Annunciation Press. She is married to Father Joseph Kimmett, pastor of Saint George Antiochian Orthodox Church, Norwood, MA.  Registration and other information may be found on the seminary web site.
The OCA Youth Department, in conjunction with the OCA Diocese of New York and New Jersey, will offer two workshops during the summer of 2013 offering training and continuing education in the field of campus ministry. Titled "The Fields Are White For Harvest: Welcome to College Ministry," the workshops will focus on the practical efforts necessary to start an OCF chapter while emphasizing the positive impact campus ministry has on students and parishes. College students, clergy and laity are encouraged to attend. Two workshops will be available: June 1, at Holy Virgin Protection Cathedral, New York, NY and June 8 at Murray Dodge Hall, site of the OCA's Holy Transfiguration Chapel, on the campus of Princeton University in New Jersey. Both workshops will run from 10:00 a.m. – 3:00 p.m.  The workshops are free of charge. For more information, contact Father John Diamantis at jcdiamantis13@gmail.com.
For the first time, the OCA's 2013 Parish Ministries Conference will offer a track to train clergy and laity in building and maintaining college ministry efforts. The combined effort of four of OCA ministry departments, the conference will take place July 10-13 on the campus of Marymount University, Arlington, VA. More information and on-line registration is available here.
According to Andrew Boyd, OCA Youth Director, those wishing to participate in any of these events are eligible for the Youth Department's Peter the Aleut grant to offset the cost of registration or travel.
Source: OCA