The evening began with chanting of troparion to Saint Nicholas, the heavenly protector of the Cathedral church, which was performed by the Childrens' choir of the Cathedral church, Slatkopojci, followed by the Mixed choir of the Cathedral church Saint Arsenije of Srem that  performed Oh, Mother of God, the Virgin, a prayer in honour of the Most Holy Mother of God, who has been performing miracles and still performs them through its miraculous icon in the Cathedral church.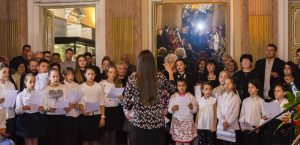 Bishop Vasilije of Srem opened the exhibition. Among the exhibited objects one should mention a copy of the icon of the Lord Jesus Christ from the iconostasis of the Cathedral church in a magnificent monumental frame, as well as an icon of Saint Nicholas in a copper frame with the Serbian national coat of arms.
The solemn opening of the exhibition was attended by representatives of the Republic and Provincial government: Dr. Marko Nikolic, assistant Director of the Office for Cooperation with Churches and Religious Communities; Mr. Miroslav Ilic, Assistant Provincial Secretary for Culture and Relations with Religious Communities as well as by many priests and monks; archimandrite Dositej, head of the monastery Grgeteg, protopresbyter Kiril Tatarka from the Diocese of Hungary of the Russian Orthodox Church and many others from the Dioceses of Srem, Backa, professors and students of the Theological Seminary of Karlovci and representatives of other instututions.
Representative objects from the Cathedral church of Saint Nicholas are displayed. What is characteristic for this exhibition is: for the first time after almost a hundred years it was from all institutions of the state and the Church that heritage of the Cathedral Church was once again collected in one place. We mention some of the exhibited objects: The Four Gospel-Book, printed in Moscow 1669 in silver manackle; the Four Gospel-Book from 1748; the Gospel-Book from 1909, gift of Milan and Vladimir Nikolic, the famous architect in memory of their parents etc.
The foundations of the Cathedral church in Sremski Karlovci were consecrated on 7 May 1758 on the place of the former, old church which had been demolished. It is here that almost all metropolitans and patriarchs of Karlovci as well as bishops of the Karlovci Metropolitanate found their repose.