March 21, 2013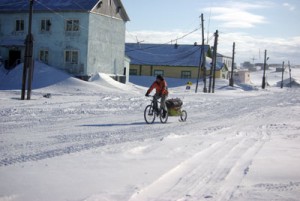 Residents of the town of Velikiy Novgorod in Russia will erect a chapel at the mouth of the Indigirka river on the coast of the Arctic ocean where descendants of ancient residents of Novgorod live, reports RIA Novosti with reference to a representative of the regional administration.
"The Yakut village of Russkoye ustye was founded on the Indigirka River in the 17th century by descendants of people from Velikiy Novgorod who had fled in the previous century from the decimated city-state of Novgorod and from pursuit of Tsar Ivan IV (the Terrible). A church of the Mother of God stood here till 1930, in which an icon of the Mother of God of the "Sign" which was especially venerated by Novgorodians. At present, the nearest active Orthodox Church is situated 80 kilometers away from the village," said the agency's representative.
Residents of Velikiy Novgorod have built a chapel of pine logs for residents of Russkoye Ustye on sponsors' funds. The chapel is in the Pestovo district of the Novgorod region and is now preparing for departure to Yakutia. "The disassembled chapel will make its way over many thousands of kilometers by railway in a container. After that it will be delivered to the Russkoye Ustye by water," said the administration's representative.
The Chapel is expected to be set up in the Russkoye Ustye in summer this year, when the village celebrates the 375th anniversary of its foundation. The Chapel will keep a copy of the 12th-century Novgorod wonder-working Icon of the "Sign", which will be another present for residents of Russkoye Ustye. Novgorod's residents will also give them a Church bell.
Source: Pravoslavie.ru