Source: Orthodox England
This summer I was blessed to be able to visit my wife's family in one of the world's oldest Orthodox countries, Georgia. Georgia is a country that is often overlooked or only very briefly dealt with in English-language publications about Orthodoxy, but it is a country that can teach us a great deal about our Faith. It is a country that has had to fight for its Faith almost from the time of its conversion. But during the course of its troubled history, the Church in Georgia has managed to keep its traditions, Church music and buildings of great beauty and grace.
St Nino, a poor girl from Cappadocia, converted Georgia in the 4th century. This is of course the region from where St George came, giving his name to the country. Both saints remain extremely important to Georgians. Call either name in a public place and large numbers of people will turn to see if it is they that you have called.
In addition to these saints, St Andrew, St Simon the Caananite and St Matthias preached in Georgia.
Sadly, Georgia has always had to fight for Orthodoxy, principally against Moslem attackers such as Tamarlane and Shah Jalal Uddin. The latter martyred 100,000 Georgians in 1226, after they had refused to renounce Orthodoxy and trample and spit on icons. Of course, later, Georgia also suffered under Communism. In 1989 autocephaly was recovered by the Georgian Orthodox Church from the Russian Church. Since independence, the Church has rapidly moved to repair some of the damage inflicted by Communism.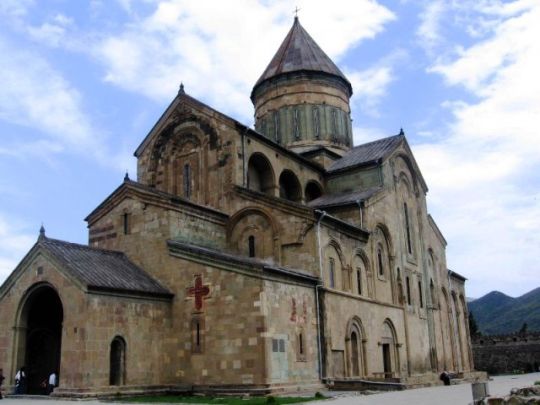 Perhaps the most important centre of Orthodoxy in Georgia can be found in the town of Mtskheta, not far from the capital, Tbilisi. Along with several monasteries and convents, the Svetitskhoveli Cathedral and Jvari Monastery are of principal interest to Orthodox.
Svetitskhoveli means 'living pillar' and is perhaps the most sacred site in Georgia. It is built over the grave of Sidonia, whose brother Elias bought Christ's robe in Jerusalem from a Roman soldier after converting to Christianity. When he presented the robe to his sister, she immediately died because of the overwhelming emotions caused by contact with something so sacred. A huge cedar of Lebanon tree grew on the site. It was later felled by Georgia's first Christian King in order to build the country's first Cathedral. Seven columns for the new Cathedral were made from the cedar, but the seventh could not be put in place. This was because it floated above the site until St Nino's prayers brought it into place, hence the name 'living pillar'.
The Cathedral is overlooked by Jvari (Cross) Monastery, sited on a cliff above the town. The Monastery is so named because it contains a wooden cross raised up on the site by St Nino herself.
It is spectacularly situated, but this summer what was even more impressive for me than the location, was the sight of the monks walking for miles across mountainous terrain to attend to the spiritual needs of people in remote areas. They demonstrated no sign of tiredness, despite temperatures in the mid-30s and their thick monastic clothing.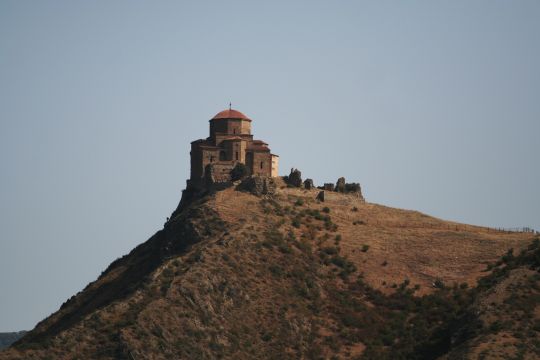 With reference to these two sites, words cannot really do the frescoes and icons justice. Some have been restored many times after destructive Moslem attacks and are sites of great peace and grace. All Orthodox who have the opportunity ought to visit Mtskheta.
We were blessed to be in Georgia for the Feasts of the Transfiguration and the Dormition of the Mother of God, on the 19 and 28 August, new style. The services demonstrated how far Orthodoxy has recovered since the fall of Communism. Before the feast-days it was particularly impressive to see how many people were confessing. Priests faced long queues of people waiting to confess, which partly accounts for the length of the services on the feast-days themselves. Before the services began there were large numbers of people underway in Tbilisi. This is because the Georgians tend to favour a particular church that may not necessarily be the nearest to their home. It is advisable to arrive early in order to get inside.
The fact is that, despite the number and size of churches, there is simply not enough room for all the Orthodox who wish to worship. Many people have to listen to the service outside the church. It is just as well that there are no pews in the Orthodox Church, as they would make the space problem even worse.
Although I do not understand much Georgian, the services naturally follow the pattern of the liturgy of the other Orthodox Churches we in Western Europe are used to. Communion takes a great deal of time however, purely because of the sheer number of people who have prepared to receive the Holy Gifts. The sermons are much longer than those to which we are used in the West, they are usually between one and one and a half hours long. Nevertheless, they are listened to with great reverence, and sometimes recorded for rebroadcast on the Georgian Patriarchate's radio station.
I would like to make particular mention of an icon of the Mother of God in the Church of St Peter and St Paul in Tbilisi. For me it was a pilgrimage to see this icon that turned my steps towards Orthodoxy. This icon was painted in 1994 after a pilgrimage to Cappadocia by some of the church's parishoners. There they found an old fresco in a disused church of the Mother of God, depicting her with a remote air, gazing though space and time, from the present to the future. An adaptation of this icon was painted by the church's iconographer onto an old church window shutter. This icon has already proved to be wonder-working; its first miracle was the healing of an atheist.
My wife often wears a small copy of this icon and it was this icon which prompted me to ask her about the Orthodox Church. One can discuss the meaning of an Englishman finding himself venerating an icon as an Orthodox Christian in Georgia a little under two years after his first contact with the Orthodox Church, but I believe this is another testament to this icon's power. As my wife's cousin is an aspiring priest and reader, I was privileged enough to venerate the icon through one of the side doors in the iconostasis. Father Archil, St Peter and St Paul's priest, told me how thrilled he was that an English Orthodox had visited his church and that the Orthodox Church in England is gaining more English converts. He also gave me a vial of myrrh which came from the church's icon of the Mother of God and from holy items in Jerusalem. This icon is called 'You are a vineyard', which is also the title of perhaps the most beautiful hymn I have heard in the Orthodox Church and one of the Georgian Church's greatest musical treasures.
Against all the odds, and so many enemies, the Georgians have kept their Faith and Church intact. Polyphonic Georgian Church music has also been kept, giving services great beauty. As elsewhere in the Orthodox world, many people cross themselves in public transport, as their bus passes a church. However, the Church now faces a newer, more insidious threat. Many American sects, the Jehovah's Witnesses in particular, are buying Orthodox souls with their dollars. Georgian priests feel obliged to remind their congregations that ours is the One True Church, and that modern sects promising financial gain are not to be trusted. That Western Europeans are turning back to Orthodoxy strengthens this important message, which is sometimes made difficult by the terrible poverty in which many people, particularly the refugees from Abkhazia, must live. Father Archil asked me to tell the people in North-West Europe about the people in South-East Europe. I hope I will not be the last English Orthodox to visit his church and its marvellous, wonder-working icon.