Archpriest John Moses, priest at Holy Myrrhbearers Community, Harrisonburg, VA. Fr. John also has a blog entitled Ramblings of a Redneck Priest.
On the website Christianpost.com, Samuel Smith wrote a piece entitled "Christians Should Respond to Dallas Cop Shootings with Silence." The article is an accounting of a speech given by Eric Metaxas as a keynote address for a three-day conference organized by International Christian Concern. This talk focused on the recent tragic events of the persecuted church in the world. (The article can be read here)
Mr. Smith summarized the speech as follows: "In response to the killing of Dallas police officers Thursday night, New York Times bestselling author Eric Metaxas argues that the best thing for Christians to do in response to the violence is to just "shut up" and ask God to have mercy." He goes on to explain that agnostics and non-believers have "an affinity of reasons" for their skepticism, and since the Orthodox have no adequate response, it is best that we remain silent. The theological reason for silence is that we do not know God's will or why He would allow this horror to occur.  Therefore it may be a 'holy mystery", and being a mystery, our only response is "shut up" and plead ignorance.
Do these assertions have any merit? Yes, some merit but there is more to say.
First, I care nothing for the questions or skepticism of atheists and agnostics. There are no words that can be said in any circumstance that would convince them. They are not my concern, especially in the face of tragedy. My concern is for those who suffer loss and find themselves in profound grief. How do the Orthodox respond to them?
There is merit on the side of silence if, in the face of tragedy, we think that crafty words and logical arguments are needed. No, we need not become the friends of Job and debate the cause of evil with someone sitting on the ash heap of grief. When a heart is torn by grief, the ears are shut and cries of "why Lord?" is a venting of pain and profound grief and not a search for the right philosophy.
The Orthodox do not deny the power of prayer or calling upon the name of the Lord especially in the face of horror and tragedy. However, we are called to do more than that. We are called to be present with those who suffer. It is interesting that when a national tragedy occurs, the Nation almost becomes Orthodox. People hold "vigils" and light candles. They sing and chant and witness to their faith. Are the Orthodox to do less or be absent in our "silence?"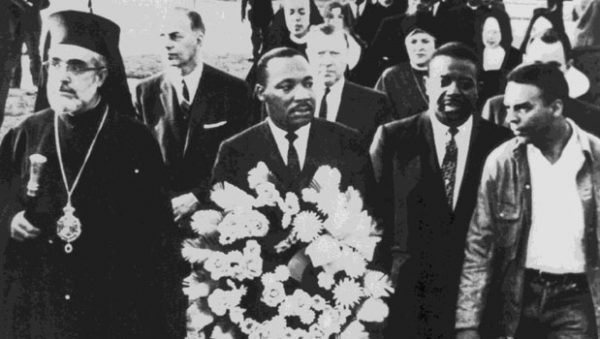 Listen to the words of His Grace, Archbishop Iakovos who marched with Dr. Martin Luther King!
 "I came to this memorial service because I believe this is an appropriate occasion not only to dedicate myself as well as our Greek Orthodox communicants to the noble cause for which our friend, the Reverend James Reeb, gave his life; but also in order to show our willingness to continue this fight against prejudice, bias, and persecution. In this God-given cause, I feel sure that I have the full and understanding support of our Greek Orthodox faithful of America. For our Greek Orthodox Church and our people fully understand from our heritage and our tradition such sacrificial involvements. Our Church has never hesitated to fight, when it felt it must, for the rights of mankind; and many of our Churchmen have been in the forefront of these battles time and again….The ways of God are not always revealed to us, but certainly His choice of this dedicated minister to be the victim of racial hatred and the hero of this struggle to gain unalienable constitutional rights for those American brethren of ours who are denied them, and to die, so to speak, on this battlefield for human dignity and equality, was not accidental or haphazard. Let us seek out in this tragedy a divine lesson for all of us. The Reverend Reeb felt he could not be outside the arena of this bitter struggle, and we, too, must feel that we cannot. Let his martyrdom be an inspiration and a reminder to us that there are times when we must risk everything, including life itself, for those basic American ideals of freedom, justice, and equality, without which this land cannot survive. Our hope and prayer, then, is that we may be given strength to let God know by our acts and deeds, and not only by our words, that like the late Reverend James Reeb, we, too, are the espousers and the fighters in a struggle for which we must be prepared to risk our all."
The presence of Orthodoxy in moments of tragedy has been anything but silent! A brief survey of the 2,000 year history of our Faith will show this to be true. (In my research, I found so many examples that it would take a PhD dissertation to cover it.) Our acts and deeds have expressed the heart of Orthodox theology, a theology based on the acts and deeds of our Lord Jesus who "went about doing good." It did not occur to the Orthodox to be silent or to retreat from the horror of human evil.
In my over 40 years of pastoral ministry, I have stood with many who suffered loss. I found that what they needed most was presence –the assurance that there would be someone with them tomorrow. My presence with them was not a meaningless presence or a silent one. I was with them as a minister, as a priest of the holy Orthodox Faith. I did not need to think of crafty theological or moral arguments for them to understand that I represented One whose earthly life ended in profound pain and tragedy, but who by the power of Love transformed death into life. My presence was a reminder of His ever abiding presence, and it is that Presence that answers all questions.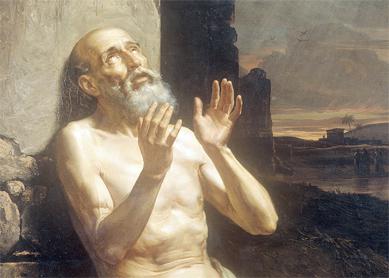 At the end of the Old Testament book of Job, God asks Job a question. If He explained things to him, would Job understand? Job was honest enough to confess that he would not understand it at all.  Then Job says the following: "I have heard of You by the hearing of the ear, but now my eye sees You."  (Job 42.5)  Arguments and theology have their time and place, but especially in the face of tragedy, it is Presence that brings a solace that passes all understanding. The world has seen many debaters and intelligent theologians, and yet remains unconvinced. What it has rarely seen are Saints, who carry silence within themselves, and whose presence renders mute the skeptics and debaters of the age but bring peace and solace to those who grieve.
I do not mean to imply that presence is only a personal issue and does not apply to national tragedies. As His Grace Archbishop Iakovos demonstrated, it is never right for Orthodoxy to be "the best kept secret" or for the faithful to retreat because of the noise of skeptics and non-believers. The American people expect the presence of the President when these tragedies occur. They also expect the President to give meaning and context to these events. Yet somehow, people of Faith are to be mute and absent?  No, it is especially in times of horror and tragedy that we need the presence of the Crucified and Resurrected Lord. We are His Body in the world, and so we must be present.
Do we have any answers for skeptics and non-believers? Yes, the brilliant minds of the great Theologians of the Church have provided them. The problem is that most of us have not read them well enough to present them to anyone. Even so, in face of this present horror, grief and tragedy, now is not the time for them. Now is the time to be present and weep with those who weep and let them know that there is in truth "a balm in Gilead."
"Come, o blessed of my Father, inherit the kingdom prepared for you from the foundation of the world, for I was hungry and you gave me food, I was thirsty and you gave me drink, I was a stranger and you received me, I was naked and you clothed me, I was sick and you visited me, I was in prison and you visited me."  Matthew 25:31- 46