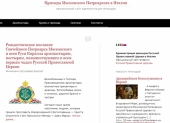 With a blessing of Archbishop Mark of Yegoryevsk, administrator of the ROC parishes in Italy, the administration of the Moscow Patriarchate parishes has launched an official website.
The information resource introduces Internet users to the parish structure in Italy, publishes addresses and telephone numbers of the parishes and gives links to parish sites. Visitors may use an interactive map of the Moscow Patriarchate parishes in Italy.
The News section informs readers about official events in the life of Russian Orthodoxy in Italy and the Parish News gives reports about the everyday life of Orthodox parishes in the Apennines.
The Shrines section describes holy places in Rome and Italy. It is renewed as more information comes in. The Orthodox Films and Reading sections are important for pilgrims as they offer information about films and books about Italy.
Information about pilgrims centers functioning in Italy with the blessing of the supreme church authorities complements the content of the new Internet resource.
There are also Italian and Moldavian versions of the site, the press service of the Parish of the Holy Myrrh-Bearers in Venice has reported.
Source: DECR