August 6,  2013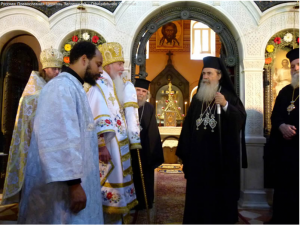 All-night vigil on the evening before included stichera and prayers composed by Archbishop Mark devoted to the saint, since the Minaeon includes only a simple service in her memory.
On Sunday, August 4, 2013, the feast day of Holy Myrrh-Bearer Mary Magdalene, Equal-to-the-Apostles, His Eminence Archbishop Mark of Berlin and Germany celebrated Divine Liturgy at the "Royal Church" of the Russian Convent in Gethsemane, which is dedicated to the saint. His Eminence was joined by Archimandrite Roman (Krassovsky), Chief of the Russian Ecclesiastical Mission in Jerusalem of the Church Abroad, its other clerygmen and pilgrim clerics.
At the end of Divine Liturgy, His Beatitude Patriarch Theophilos III of Jerusalem arrived. He was joined by His Eminence Metropolitan Isichios of Kapitoliada and His Eminence Archbishop Aristarchos of Constantinis, General Secretary of the Holy Synod of the Jerusalem Patriarchate. His Beatitude addressed Archbishop Mark, Fr Roman, the clergymen, nuns and pilgrims with a sermon in which he shared his impressions of a recent pilgrimage to the capitals of Russia, Ukraine and Belarus during celebrations of the 1025th anniversary of the Baptism of Rus, noting the importance of the Primates and Patriarchs of the Local Churches concelebrating together, and bearing witness to pan-Orthodox unity.
At the end of the services and a festal trapeza, Archbishop Mark received Patriarch Theophilos in his residence in Gethsemane.
The next morning, in accordance to the convent's tradition, a so-called "warden's Liturgy" was celebrated at which the convent's abbess, nuns, novices and benefactors were commemorated.
Russian-Language
Audio clip: Adobe Flash Player (version 9 or above) is required to play this audio clip. Download the latest version here. You also need to have JavaScript enabled in your browser.
by His Eminence Archbishop Mark on the Feast Day of St Mary Magdalene, Equal-to-the-Apostles, in the Russian Convent in Gethsemane, 2013 (audio).
Source: ROCOR