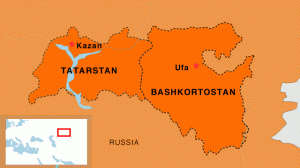 Two Orthodox churches were damaged in arson attacks in Russia's Republic of Tatarstan over the weekend.
Tatarstan's Orthodox Metropolis issued a statement on November 18 saying  that the Great Martyr Dimitry of Solunsk prayer house in Tatarstan's Yana Chishme district was completely destroyed in an arson attack on November 17.
Also on November 17, police said unknown attackers set fire to an Orthodox church under construction in the town of Chistai.
Firefighters managed to extinguish the blaze in Chistai, saving the church.
Investigations have been launched.
Such attacks are rare in Tatarstan.
Source: Radio Free Europe/Radio Liberty