May is the month we honor our mothers and offer our thanks for their love, their sacrifice, and their steadfast commitment. We carefully choose flowers and greeting cards to express our sentiments. Family members often surprise mothers by making dinner reservations at "Mom's favorite restaurant," or assigning family members to prepare her "favorite foods" at a family cookout. Sons and daughters try their best to reunite and share cherished memories. Sometimes new traditions are formed; some "just happen." Inevitably, everyone's aim is to honor our living mothers and in faithful devotion lift up the memory of those who have departed this world. In short, we join together as a family to recognize the unconditional love and sacrifices given to us by our mothers.
As we experience "Mother's Day", we may not speak out about our feelings of sadness. I am referencing those who find it difficult or inappropriate to acknowledge their pain openly. Instead, they silently endure this annual observance that is filled with joy for those whose families are intact, but sadness for those whose mothers are absent and for whom we continue to grieve. Some among us agonize over the pain of their mothers not living… maybe they died prematurely or unexpectedly. We miss them. We long for their presence. We mourn their absence. Likewise, there are mothers whose children have died prematurely, or who are separated from us due to geographic distance or family rifts. In these cases, we feel great pain and sorrow as broken or divided families. Our feelings can lead us to depression and to a loss of hope and joy. Third, children whose parents are separated or divorced often feel compelled to "go through the motions" and "celebrate" this day in spite of limited expectations or ambivalence. Finally, widowers whose wives have died suffer in pain, just like widows who are mothers long for their husbands… the fathers of their children who have departed this life after being married so happily and for so long. In the end, in all these and other cases, the observance of Mother's Day family reunions do little but open up old wounds. They may bring about worse memories to haunt them in the future.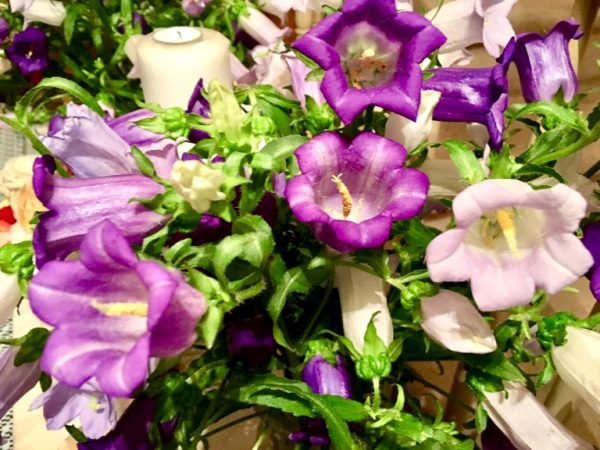 As a Priest and pastoral caregiver, I believe that by acknowledging the unspoken and unpleasant aspects above that not all of us have experienced, we bring awareness to the needs of those who suffer. We afford them the opportunity to share their feelings and challenges and use us to help them overcome their pain. As brothers and sisters in Christ, our calling is to embrace and serve those in our midst. At our beckon call are God's talents within us. What if we deliberately sought to unwrap and ignite His gifts lying dormant or overlooked by those in disparate need to be acknowledged, reinforced, and loved.
In recognition of God's continual presence among us, on Mother's Day, why not address these unspoken spirits and raise and improve the outlook of family members and friends in need of consolation, reinforcement, and strength. Mothers nurture and protect us; what better task than to offer their model and share healing balm for those in need.
What if we framed the role of motherhood in a perspective beyond our human feelings and cultural sentimentality? Knowing that our best-laid plans can be burst wide open and the joy of our efforts held hostage to the failings and shortcomings of those struggling without a spiritual compass, it is good to recall that God's purpose and protection for mothers is the best guide to recognize their essential role and lofty calling to love and support their families.
In consoling His Chosen People, our Lord instructed the Prophet Isaiah in chapter 66 using the metaphorical language of motherhood. Notice how God is looking into our hearts:
"Thus says the Lord: Heaven is My throne and the earth is My footstool; what is the house that you would build for Me, and what is My resting place? All these things My hand has made, and so all these things are Mine, says the Lord. But this is the one to whom I will look, to the humble and contrite in spirit, who trembles at My word." (Isaiah 66:1-2)
With these verses, God is focusing on our hearts. In the greater context of the chapter illustrated in the following verses, He is seeking to confirm that all peoples will be gathered to our Savior, Jesus Christ… just as a mother having delivered a newborn naturally seeks to feed and nurture her child, while at the same time protecting it from any enemies and providing love and comfort as it grows:
"Who has heard of such a thing? Who has seen such things? Shall a land be born in one day? Shall a nation be delivered in one moment? Yet as soon as Zion was in labor she delivered her children. Shall I open the womb and not deliver? says the Lord; shall I, the one who delivers, shut the womb? says your God. Rejoice with Jerusalem, and be glad for her, all you who love her; rejoice with her in joy, all you who mourn over her— that you may nurse and be satisfied from her consoling breast; that you may drink deeply with delight from her glorious bosom. For thus says the Lord: I will extend prosperity to her like a river, and the wealth of the nations like an overflowing stream; and you shall nurse and be carried on her arm, and dandled on her knees. As a mother comforts her child, so I will comfort you; you shall be comforted in Jerusalem. You shall see, and your heart shall rejoice; your bodies shall flourish like the grass; and it shall be known that the hand of the Lord is with His servants, and His indignation is against His enemies." (Isaiah 66:8-14)
These verses express God's Holy Word and His promises. His teachings console us… His children. When we accept it, it brings power, such as a river of peace. It can deliver us to the ocean of endless paradise. Divine comfort can reach our inner tender core – the deepest reaches of our spirit. The joy of the Lord imbues the strength of all believers. God's justice and mercy are made known and are witnessed unto the ages of ages. It is this consolation that we celebrate on Mother's Day for those whose toil has been to follow God and His divine model of love and mercy for their families.
On this Mother's Day, perhaps at our Sunday Lunch, maybe we can share the power of God's presence in our lives as beautifully illustrated in the words of this thoughtful affirmation about motherhoodfrom John Killinger's book, Lost in Wonder, Love, and Praise:
Mother's Day: Greater Love

I believe in Jesus Christ, the Son of the loving God, Who was born of the promise to a virgin named Mary.

I believe in the love Mary gave her son that caused her to follow Him in His ministry and stand by His cross as He died.

I believe in the love of all mothers, and its importance in the lives of the children, they bear. It is stronger than steel, softer than down, and more resilient than a green sapling on the hillside. It closes wounds, melts disappointments, and enables the weakest child to stand tall and straight in the fields of adversity.

I believe that this love, even at its best, is only a shadow of the love of God, a dark reflection of all that we can expect of Him, both in this life and the next.

And I believe that one of the most beautiful sights in the world is a mother who lets this greater love flow through her to her child, blessing the world with the tenderness of her touch and the tears of her joy.
Before closing, I believe the last paragraph was brought to life for me personally with a chance encounter giving rise to an unexpected testimony of a mother in our midst that enabled God's love to flow from her to her family and friends, as well as to countless sons and daughters of God.
On  Saturday, May 5th, I joined a countless number of family members and friends to bid farewell to God's faithful servant, Anastasia Crambes Sistare, the sister of my brother, Dn. Paul's wife, Lea. Her husband, Douglas, her children, Matthew, Luke, and Emily, her many sisters and brothers in Christ all mourned her passing from our lives.
Indeed, Ana was a devoted wife and mother, daughter and sister, cousin and aunt, granddaughter and niece, friend, classmate, teacher, co-worker, and sister in Christ to countless persons… evidenced by her standing room only wake and funeral. The day before her funeral at St. Nektarios Church in Charlotte, North Carolina, I was in Pittsburgh, Pennsylvania. Quite unexpectedly, I received a priceless gift of love and encouragement from a mutual friend of mine and Ana's. He shared that years earlier, Ana's religious faith and practice afforded him religious insights, peace of mind, encouragement, and inspiration. He suspected she never would have guessed how fruitful was the harvest of her witness. He wanted to share them with me so that I could share with her family and friends!
The friend of Ana and me, who lives in another state, stepped forward with precious and heartfelt "good words" to share with her surviving family… Ana's Christian witness years ago had transformed his life forever – how he approached his daily life, his family, his professional work, his stewardship to his parish, his Metropolis, the Archdiocese, and the Ecumenical Patriarchate – all were enhanced and brought alive in the Good News that God's Spirit had led Ana to witness without even knowing it. Our mutual friend wanted to say thank you for her heartfelt witness of God's presence in our lives. She understood God's saving grace and encouragement, His love, and His mercy. He was one of many to whom she witnessed. She never sought recognition; she merely lived according to what came naturally to a devoted and faithful servant of God… a mother to us all!
On this first Mother's Day just days following her premature falling asleep in the Lord from cancer, I join her family and friends in wishing Anastasia, whose very name reminds us of the eternal hope and promise of eternal life from our Risen Lord's Resurrection… Happy Mother's Day, Ana! May your memory, and the memory of all of our mothers who have fallen asleep, be eternal!
"As a mother comforts her child, so God will comfort us, who live on in our mother's absence on this earth; you shall be comforted in Jerusalem," says the Lord our God. (Adaptation of Isaiah 66:13 for those whose mothers will be with us in spirit but not physically present this Mother's Day). Amen!