There is a curious story in The Spiritual Meadow about an unfortunate monk who lived a life of carelessness and negligence. No matter how much his Elder implored him to correct himself and set out on the proper monastic path, he could not convince this brother. This unfortunate monk died, and the Elder, who loved him with all his heart, began to pray to the Lord to show him where the soul of his disciple abode. And the Elder saw a huge river of fire, in which there was a multitude of sinners condemned to suffering, and the soul of the departed brother stood up to his neck in the fire. The Elder turned to the brother with words of sympathy, but the deceased replied to him: "I thank God, my Father, that at least my head is free from torment. By your prayers, I am standing on the head of a bishop."
Thus reads a story from the forty-forth chapter of The Spiritual Meadow, which is no anti-clerical pamphlet or malicious satire. The Spiritual Meadow is a book that has been sanctified by the very highest authority: excerpts from it were read at the Seventh Ecumenical Council and St. John of Damascus showed great respect for this collection of witnesses about the lives of the saints.
The Holy Fathers did not view this story of the bishop choking in hellfire as anti-ecclesial propaganda. They understood perfectly well that, for all the loftiness and dignity of the episcopal ministry, man remains man, a free being – and that means he is capable both of holiness and of enslavement to the passions. Church history has preserved a multitude of accounts not only of covetous bishops, but also of bishop-magicians, secret pagans, betrayers of the faith, and traitors to the Homeland. There is nothing extraordinary or alarming about this, and if Christian antiquity knew bishop-idolaters, there is nothing surprising if we suddenly see beside us that our contemporaries, our pastors, have someone not resisted, if they have somehow slipped. People are people, and everyone is worthy of pity and condescension. Even bishops.
These obvious points suddenly come to mind in connection with Andrey Zvyagintsev's film, Leviathan. One of the characters in the film is a Metropolitan who blesses the local mayor-pirate to do all sorts of ugliness, repeating in season and out of season that all power comes from God. All this takes place against the backdrop of an unfortunate family, whose tragedy is above all an inner one, because the family is being destroyed from within, but this inner breakdown is all the more painful against the backdrop of the confrontation of the main hero with the villainous mayor, who wants to take the home and land of this unfortunate away from him.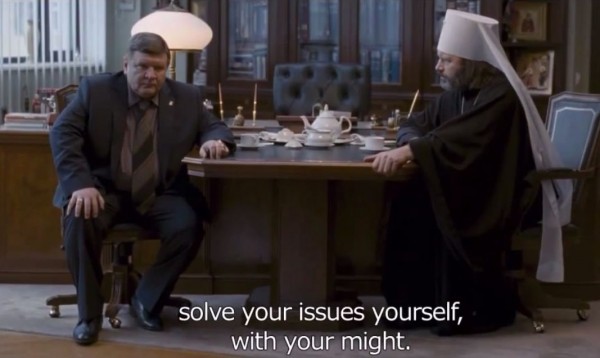 In this conflict, as it turns out, the Vladyka plays a very active role, inasmuch as the land is not being taken out of simple malice, but for the construction of a church. It turns out that we have before us not just a hypocritical Metropolitan, but also a real villain of a bishop. Certain comrades, after such revelations from Zvyagintsev, have somehow become very nervous and censorious – and entirely in vain, for, first of all, the villainous bishop is nothing new to either film or, as has been mentioned, to authentic ecclesial literature. Second, for all its pros and cons, Leviathan is good in that it has given occasion for edifying conversations and fruitful debates. For this we thank Andrey Zvyagintsev.
One is immediately reminded of the villainous bishop in the late Ingar Bergman's brilliant film, Fanny and Alexander. True, the bishop there is Lutheran, but he is also a lively person. He marries a widowed actress, taking her into his home along with her two children, the boy Alexander and the girl Fanny, from whom the film takes its name. And thus begins a confrontation between the wayward and ill-mannered Alexander with the strict bishop-stepfather. Alexander, who grew up in a family of actors, is accustomed to bohemian manners, and does not care for the severity of the episcopal household. He is an inventor and even a bit of a mystic, and there are plenty of mystics in the film. Apparitions roam everywhere, which are sometimes not averse to talking about different questions at various lengths.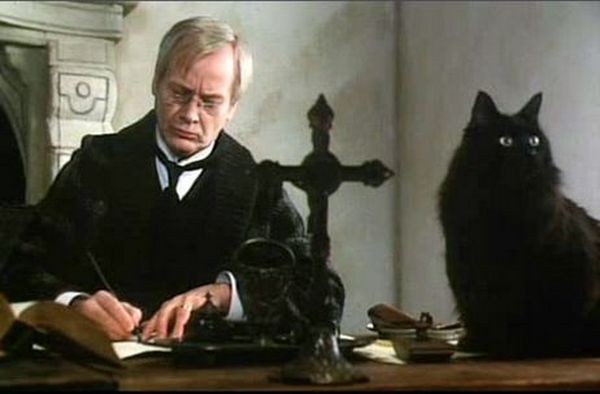 This film also has its "leviathan," more terrible than that of Zvyagintsev, inasmuch as, whether Bergman wanted this or not, he managed to fashion an eerie portrait of the "prince of the powers of the air." Only this "prince" is not called a leviathan in this film, but rather a donkey. The fact is that a friend of the family, the Jew Isaac, rescues the children from the clutches of the treacherous bishop. He leaves them at night in their terrible home, strictly forbidding them to go into a room where a certain Ishmael is locked up. But Alexander, of course, makes his way into this room and there meets a sexless creature that knows all his evil thoughts and all his hatred for the bishop. By the power that seems to be eating up this boy, he leads the bishop to a horrible death in a fire.
Ishmael cites the words of the angel spoken to Hagar in the book of Genesis: thou "shalt call his name Ishmael… He shall be a wild man, his hands against all, and the hand of all against him, and he shall dwell in the presence of all his brethren" (Genesis 16:11, 12). I do not have the necessary evidence, but I think that this character from Bergman influenced Mel Gibson in The Passion of the Christ, in his sexless portrait of the enemy of the human race, whose male-female image hints at the angelic nature of the fallen spirit.
Bergman's bishop dies in terrible agony in a fire, but the film concludes with the appearance of the burned bishop to Alexander with the words: "now we will never be apart." It is a ghastly film, but a work of genius. Bergman's heroes are tragic because he managed to create portraits of living people, torn apart by contradiction. Neither is the bishop such a villain, nor is the boy an angel. In the words of one of the heroes of Formula of Love, "the statue is also an unfortunate woman, she loves the Count." Everyone is unhappy. Everybody wants good, only everyone sees it differently – and therein is the tragedy of our lives, and this very same "donkey" from one's basement only fuels hatred and anger for people. For this reason, Bergman's film leaves in the memory a noble sadness and a little bit of hope.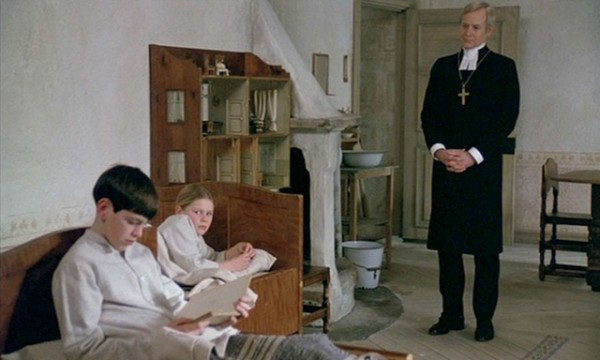 Zvyagintsev's picture has neither sadness, nor leaves any hope. Unfortunately. And not because the director has taken a swing at supposedly innocent bishops. The bishops here have nothing to do with it. Nor, by the way, do leviathans. A small man confronts the huge state-leviathan? But where here is the state? And where, I ask you, is the confrontation? And where is the little hero, with who we can sympathize? And there is this screaming improbability of characters, their lack of clarity, along with an absence of people, characters, and biographies. But in reality there are no such bishops. That is, they can do things, and things worse than the characters of Leviathan, but in life they do not act that way, they do not talk that way, they do not behave with the majors that way, they do not preach in church that way – and why would this bishop, and moreover this major, need namely this land, when nearby there stand the remains of an ancient church with frescoes, is beyond me.
My personal experience of the Church protests against all this hypocrisy. "The king is not real!" This even reminds one of a puppet theatre, with the predictable plastics attached to the puppets we know so well. The villainous bishop in Bergman seems like a real and tragic character, who has hesitations and doubts, but the Metropolitan in Zvyagintsev more resembles a puppet, a static and Marionette-like sleazy character, who seems at time to even smell of paint. One feels the biographies of Bergman's characters: they are living and evolving personalities with their own passions, shortcomings, and humor. Zvyagintsev's heroes are straight as a wire, irritatingly primitive, which is compounded by obscenity and vodka – those indispensible companions of an empty and common life.
Yes, Bergman also has his uses for foul language: the boy Alexander constantly swears using dirty words, but in this film this touch is appropriate, because it has a certain meaning. In short, I understand very well why Bergman won a whole suitcase full of Oscars, but I will not be able to explain it to myself if Zvyagintsev does.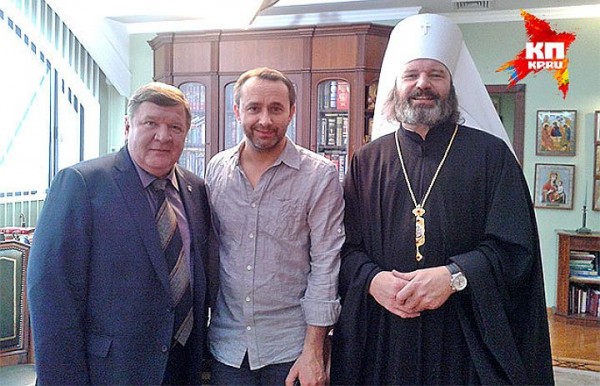 But there still remains a very important and fundamental point for me. The fact is that art not only reflects reality, but also creates it. That which the artist has created will be reflected in real life, it will bring about imitation, even unconsciously. Such is the bewitching power of art. It seems to me that for modern Russia such experiments as Zvyagintsev's film are a luxury. The Russian artist has always striven to show the truth. Why was this the case? Because the truth was concealed, hidden, with its mouth covered, and sileneced. Then what silenced voice has Zvyagintsev voiced?
He has not said anything new. Perhaps he has called upon us to resist evil by force or by peaceful means? No. In Bergman, the boy resists the bishop, and this is so ably shown that one simply wants to pounce on the villain and exact revenge, except that Bergman shows very eloquently that no malice can ever be sacred because it is evil. I kept waiting for Zvyagintsev's hero to begin resisting, for he had nothing to lose: he could have thrown his traitorous wife into the abyss, where the spine of the leviathan is glimpsed, and go kill the mayor, for example – it would be all the same.
I was recently shown a small video about how nicely and courteously Russian drivers behave on Russian roads. You know, I wanted to live. And I am certain that this short film will cause a wave of imitations. Because people need help to be good, and the most massive of the arts is here the answer to the people. People will cry out: But this is propaganda! Of course it is. How can one live without propaganda? In every case there are extremes, but abuse does not negate its positive use.
The things described in Zvyagintsev's film are well known, enough to put one's teeth on edge. But there is still a fatigue, a terrible fatigue from all this filth that we see all around us, and which is so familiar to filmgoers. At times it is simply painful, physically painful, to watch a film by a talented artist because of the dirt, vulgarity, lewdness that occupy this picture and which it has given the right to exist. Therefore it is tediously painful to hear the same vulgarity in Leviathan and to see the same drunkenness, only in a more condensed form.
How much of this can we handle? Why rub dirt onto our faces? People need help, and we still await this help from art, we wait for it to show us what is good, to show us what is right, to show us what is reality. I have often had to face the situation with a young person was rude or inattentive, but not because he was evil or undeveloped. He simply did not know how to be otherwise; no one had taught him. We need to help people become kinder, and not to stagnate in bitterness, in moral mud. And the artist has a very direct relationship to this.
An artist has a responsibility before his people. Of course, not only artists, but also politicians, scholars and, it goes without saying, bishops. We are all responsible for our land. If the Lord has allowed you to be born on this land, to become a citizen of this country, to be a descendent of your ancestors, then you are responsible for this land, for these neighbors, and you will answer not only to your ancestors and descendents, but also at God's judgment, to which each one of us will have to give answer. Therefore everyone must labor that the land for which we bear responsibility would be made better, to pass it on to our offspring better than it was left to us. And a true artist has too many means to make it easier for both the people and the land to breathe.
Translated from the Russian