April 6, 2013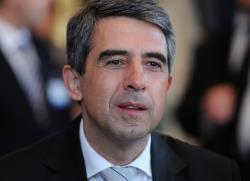 (Vatican Radio) Bulgaria has begun three days of special prayers against suicide and nationwide pessimism after at least seven people set themselves on fire while protesting against poverty and corruption.
The prayers were requested by the country's president Rosen Plevneliev who says he wants to help heal the spiritual wounds of the nation amid growing public desperation.
Prayers reverberate throughout churches in Bulgaria, a heavily Orthodox nation.
Worshipers remember five Bulgarians who died and two who remain in critical condition by self-immolations that have shaken the conscious of this Balkan nation.
Prayers are held by all main Christian churches, including the Orthodox, Catholic and Protestant denominations, as well as the Jewish and Muslim communities.
PRESIDENT URGING PRAYERS
Just before they began, religious leaders met President Plevneliev who urged them and the country to "pray for an end to the suicides and for passing through the crisis with patience and dignity."
Outside his presidential palace a 52-year-old man set himself on fire recently before being rushed to hospital with severe burns.
The three days of prayers, which began Friday, also focus on "peace, health and prosperity" in what is the European Union's poorest nation where the population declined to about 7 million from roughly 9 million in just over two decades, according to official statistics.
Plevneliev said faith has united the nation over the centuries." Now, he added, "Bulgarians need more faith and hope in our own well-being and success."
The president stressed in a statement that, "to overcome difficulties we must all learn the lessons and believe more. Faith has preserved out nation over the centuries…And it will not help is to believe in our strength and future."
Earlier the Orthodox Church expressed concern about people setting themselves alight, a new phenomena in this former Communist country. It also revived memories in what is now the Czech Republic where in 1969 Jan Palach set himself on fire to protest shortly afyer the Soviet invasion there.
CALL AGAINST HOPELESSNESS
Bulgaria's newly-elected Patriarch Neofit appealed to the faithful however not to take their own lives "under any circumstances." He said: "Bulgarians must not fall victim of hopelessness "
Bulgarians also try to comfort families of those who died in the recent, poverty-fuelled, suicides, including an unemployed father who told doctors in one of his final words that he could no longer by bread for his child.
The most famous case was that of 36-year-old artist Plamen Goranov. He died last month after setting himself on fire in the Black Sea port of Varna while holding a poster protesting against the city's mayor.
With many now searching from answers from God, the country's leadership and aid workers hope suicide rates will come down. Some 200 people already killed themselves this year in Bulgaria, said Dr. Vladimir Nakov of the National Health Centre.
Public hospitals even provide free psychological counselling to those to desperate to continue living.
SHAKING POLITICAL ESTABLISHMENT
The ongoing protests over low incomes and a political elite accused of maintaining a corrupt system since the collapse of communism in 1989, has shaken up the political establishment.
In February, government led by Boiko Borisov was forced to resign following weeks of protest over high electricity bills, poverty and corruption.
Though Borisov's centre-right GERB party is expected to win early elections next month, it is unlikely they will command a majority and will have to try and form a coalition.
People earn on average less than $500 a month and pensions are less than half of that, while prices continue to rising as the country embraced a Western style market economy and is forced to adopt crucial reforms.
Source: RadioVaticana.va