March 5, 2013
At Hilandar the feast day of Saint Simeon the Myrrh-Gusher was solemnly celebrated at Hilandar coincides with marking the nine centuries of his birth. Along with the feast of The Entry of the Most Holy Theotokos into the Temple, Saint Sava and icon of the Three-Handed Theotokos, the feast of Saint Simeon is the part of four slavas (Patron Saint-days) which the Hilandar brotherhood celebrates.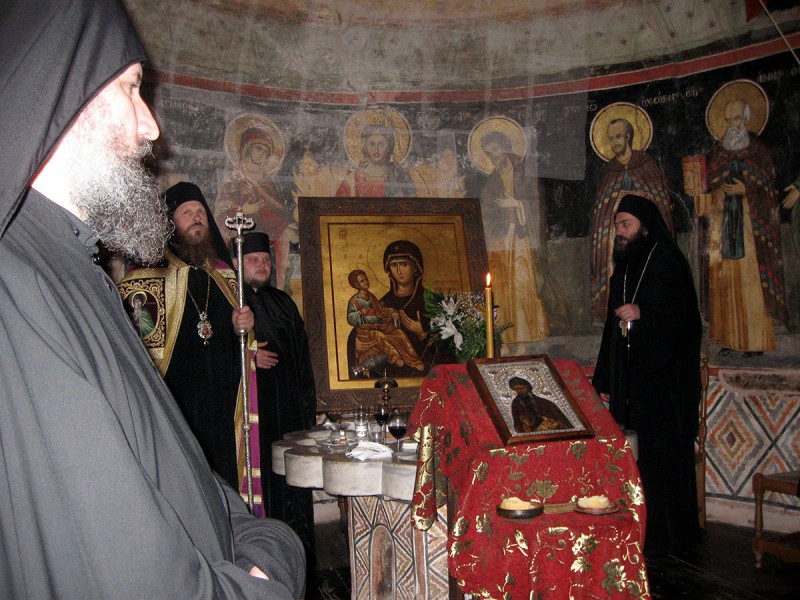 In the period that followed the 2004 fire, the monastery could not celebrate more solemnly this feast and receive a large number of guests.
A great joy for the Hilandar family represented the arrival of His Grace Bishop Varnava of Viksin and Pavlov from Russia. Despite the bad weather, a lot of guests and pilgrims gathered.
Bishop Varnava celebrated the Divine Liturgy with the concelebration of Archimandrite Metodije, Abbot of the Hilandar monastery; hieromonks and hierodeacons from other monasteries on Mount Athos, as well as priests from Russia and Serbia.
Source: Serbian Orthodox Church