Summer brings out the kid in all of us. Of course some of us have more kid to let out than others, but we won't go into that. It's a good thing we have this opportunity because let's face it, being an adult really isn't much fun sometimes. We have to endure grown up conversations about private mortgage insurance, in-network physicians, and replacement of your universal joint, which is apparently in your car, not your leg. Or you could be like me and try to sound knowledgeable by telling the story of when my wisdom teeth had to be cut out because they were impounded. Give me a break, my wisdom teeth were taken out; that means I'm not smart anymore.
It's amazing when I meet adults who don't know how to play. You'd think they hatched fully middle aged. They can't recite any of the works of Dr. Seuss and have never tasted Kool-Aid, unless it was mixed in a martini. You wonder if they would even know how to catch lightnin' bugs. (That would be firefly to those who don't speak Hoosier. We know who you are. You will assimilate.)
Before I spend the whole article waxing nostalgic for entire days occupied by a hula hoop, a jump rope, and a dysfunctional pair of roller skates, I should point out that each of us, even the most adult, is a child of God. I personally find this comforting, as I remember the panic that seized me when I turned 29 and realized that now I am part of the adult supervision. At that moment I started to understand how this whole world got so messed up.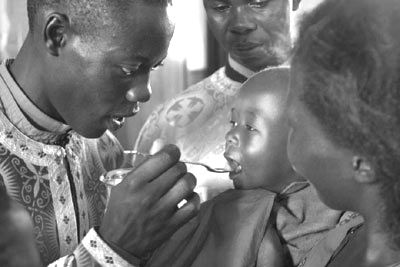 One Sunday, I watched a child at church who kept gravitating toward the cross. She would start padding over to the corner, then stumble and fall. But that didn't stop her determination; she simply kept going at a crawl. As soon as Dad would apprehend her back to the front row she would take off again. I thought I was watching a scene from that movie Groundhog Day. A few times she even got as far as the steps, trying to navigate her tiny body up to the platform with the willpower that only a toddler can possess. She wanted to get to that cross, no matter what the cost; it was her single purpose, despite all obstacles, regardless of how many setbacks.
And we as adults think we know so much. How humbling. I think I've read this before; something about becoming like little children in order to enter the Kingdom of God? Maybe I should have paid more attention.
Then the time came for Communion. It occurred to me how we are identical once we reach the chalice. The same submissive open-mouthed posture. The same opportunity to receive the Eucharist from the same cup. And I was struck by the image of a Father feeding His children: we are spoon fed by the earthly representative of our Heavenly Father; we are given soft warm food while a bib-like napkin is draped under our chins, and we aren't even able to wipe our own mouths, should the need arise.
I get the feeling that perhaps Our Father would prefer us to be like this, like children, all the time. And not just for the summer.
Source: Kerygma, the Newsletter of All Saints Orthodox Church