October 24, 2013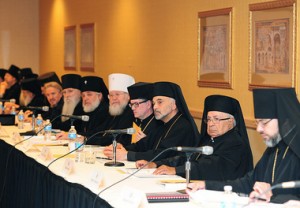 PARMA, Ohio — Cleveland's Orthodox Christian community will host a first-of-its-kind public forum on Sunday about the effort to unify the 12 Orthodox jurisdictions in the United States. Greater Cleveland's 29 Orthodox parishes represent most of them, including Greek, Ukrainian, Russian, Antiochian, Serbian, Romanian and an American Orthodox Church.
Intended as a model for other cities, the forum was planned by local laity with support of the Assembly of Canonical Orthodox Bishops, whose 49 members are developing a plan to unify the Orthodox Church. Its various jurisdictions share doctrine and liturgy but have their own languages and hierarchy.
Three hierarchs -— Metropolitan Savas of the Greek Orthodox Archdiocese of America, Bishop Gregory of the American Carpatho-Russian Orthodox Diocese of the USA, and Bishop Peter of the Russian Orthodox Church Outside of Russia -— are expected to attend the forum. Protodeacon Peter Danilchick, member of the Secretariat of the Assembly of Bishops, will discuss the group's history, goals and fourth annual meeting in Chicago.
Free and open to the public, the event starts at 5 p.m. Sunday [Oct. 27] at Holy Trinity Orthodox Church, 6822 Broadview Road, Parma.
Source: Cleveland Plain Dealer