Nicholas Kotar, a graduate of the Arts and Humanities Faculty of the University of Berkeley who is currently studying theology in the ROCOR Jordaville seminary, spoke to "PravMir" about a new Orthodox cultural movement in San Francisco.
Sophia Moshura: What is "Conquering Time"?
Nicholas Kotar: Conquering Time (http://conquering-time.org/) is a new collaborative ensemble of vocal, instrumental, visual and literary artists exploring the interplay between performing arts, storytelling and song.  Currently we are centered in the San Francisco Bay Area, with local chapters in San Francisco and Sacramento.  To date we have presented three performances.  "In the Beginning was the Tree" was a dramatic and musical retelling of the creation story featuring soloists from the San Francisco Symphony. "The Gift" was a Christmas concert of dramatic readings of originally adapted Northern folktales and ten choral masterworks of the Russian Orthodox Christmas tradition, including works by Kurt Sander, Gennady Lapaev, A. Kastalsky, and A. Nikolsky, as well as several ancient chants.  "Golosa: Voices" is a concert celebrating the many voices of Orthodox Christian culture, featuring Russian Orthodox sacred music sung by the St. John of San Francisco Men's Chorale, Russian folk music, original art, and readings of new poetry and prose by several Conquering Time writers.
Sophia Moshura: Nicholas, what prompted you and fellow writers to start such a project?
Nicholas Kotar: "For most of us, there is only the unattended
Moment, the moment in and out of time,
The distraction fit, lost in a shaft of sunlight,
The wild thyme unseen, or the winter lightning
Or the waterfall, or music heard so deeply
That it is not heard at all, but you are the music
While the music lasts."
~T.S. Eliot, "The Dry Salvages"
All of us have known such moments, even if few of us can express it with as much force as Eliot did.  Such moments, when time is mysteriously present and absent simultaneously, are intensely personal.  However, anyone who has ever had the good fortune to actually create such moments, whether through music, art, or writing, knows that it is their effect on those around us that is the most potent, the most full of latent creative energy.  How terrible it is then, that we experience such moments so rarely.
We Orthodox are very good at pointing out the many evils of the world, sometimes with too much relish.  So it should come as a surprise to no one if I suggest that good culture is very nearly nonexistent in our times.  Even the fine arts are rapidly fading as fewer and fewer people go to museums, symphony halls, or ballets.  Modern cultural trends stress originality over beauty, and even beauty itself is no longer allowed to be an absolute value, but a choice entirely dependent on personal preference.  But if "originality" is no longer tempered by Tradition, if the longing for beauty is replaced with nothing but desire, then art inevitably crumbles into perversity.  One need only mention names such as Jackson Pollock and Philip Glass, and it all becomes too horribly clear.
Unfortunately, a good Orthodox cultural response to these pervasive cultural trends just doesn't exist.  The Protestants have given us C.S. Lewis and the Catholics produced J.R.R. Tolkien, but the last compelling Orthodox cultural voice that resounded throughout the world was Dostoyevsky, more than a century ago.  The need for such activity in the church has long seemed obvious to many, but few have the knowledge or the ability to even imagine what it would look like.  How inspiring, then, that a potential beginning could come from just such a moment that Eliot described so beautifully, a moment that came upon us so quickly, we didn't even recognize it until we were completely taken up in it like in a rushing tide.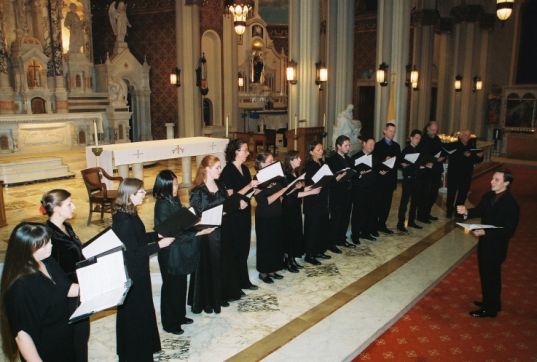 Sophia Moshura: The project "Conquering Time" seems to be a bridge between Orthodox and secular culture.  How did "Conquering Time" begin?
Nicholas Kotar: It was a November evening whose typically San Franciscan wet cold was long forgotten in the ruddy glow of the fire and the fuzzy warmth of good mulled wine.  An odd assemblage of people arranged in seemingly random clumps around our living room were listening intently, some with eyes full and moist, some pensively eyeing the distinctively Persian design of the old carpet, some nearly dozing off after more than two hours of our regular Sunday evening theological discussions.  All this was nothing new – we had been meeting on and off for several years now, sometimes with clockwork regularity, sometimes with lamentable fitfulness.
But tonight was different.  For once, we weren't discussing the finer points of deification through participation in God's uncreated energies.  We were reading poetry:
"But only in time can the moment in the rose-garden,
The moment in the arbour where the rain beat,
The moment in the draughty church at smokefall
Be remembered; involved with past and future.
Only through time time is conquered."
These words by T.S. Eliot said everything we ever needed to hear about Orthodox cultural activity.  The great moments that are most remembered must be "involved with past and future", they must be informed by Tradition.  And if time cannot be separated from its inevitable end – death – then perhaps through the making of beautiful moments we could strive to conquer it, to "redeem the time" as St. Paul wrote.
And so was born Conquering Time.  We spent the better part of the next few weeks figuring out what exactly we were, and how exactly we were to attempt to begin a new Orthodox cultural movement.  We dared to even attempt such a huge task only because there was so much individual creativity already happening, including several talented writers, painters, musicians, and actors who were just waiting for a match to ignite them.
We finally decided to put on a dramatic show that would in some way combine our various artistic pursuits, hoping that through it some slight glimmers of Christ's ineffable light might shine through to an unsuspecting world that does not yet recognize its thirst for God.  The poster for this event showed a colorful abstract depiction of a tree, with the title "In the Beginning was the Tree" next to it.  Just like Conquering Time itself, the event proved elusive to definition.  Was it a play, a musical, a concert?  Despite limited advertising, one hundred people showed up in our small church hall to witness "In the Beginning was the Tree", a creative retelling of the creation story.
Sophia Moshura: Was the event a success?
Nicholas Kotar: Only half an hour long, it left the audience speechless and eagerly awaiting more. The event began with song – two storytellers burst into the minimally decorated hall singing a song of creation.  "Once upon a time…" began one.  "In the age BEFORE time…" the other corrected him playfully.  And thus the story was told: how the world was created, and how a great tree of life was made.  How it gave life to all, but how its light was dimmed by man's eventual fall into sin, enticed by a beautiful and seductive stranger.  How a lonely child cared for the tree even after its death from neglect, and how his longsuffering was rewarded by the growth of a new shoot from the last fruit of the old tree.  But this synopsis only describes the leafless trunk, the bare minimum of this amazing event.  Interspersed among the dynamic storytelling were the sonorous singing of a men's chorus, interludes of dance, a guitar played with a violin's bow, a lament to the death of the tree sung by a majestic baritone, backed by a cello, viola, and clarinet.
Sophia Moshura: So you decided to continue?
Nicholas Kotar: Yes, because a few months later, around fifty people were huddled together in a small bookstore in one of the most eclectic neighborhoods of San Francisco.  Could this be another "point of intersection of the timeless with time"?  The theme of the evening was "Sobornost".  Four poets, a choir, a writer of prose came to the podium in solemn succession, as the audience stood or sat with "the trilling wire in the blood".  Original artwork surrounded us on all sides.  At one point in the evening, I looked around, astonished to see some people freely crying at this encounter with beauty.  Once again, we all were "at the still point of the turning world… surrounded by a grace of sense, a white light still and moving" (T.S. Eliot, "Burnt Norton").
These are but two of the moments in and out of time.  In quotidian practice, Conquering Time has become a collection of several small groups with specific artistic and cultural emphases.  For example, we already have an intrepid group of writers and painters who regularly brave the notoriously fickle weather conditions of our part of the world to hike for several hours, enjoying the many marvels of our varied Californian nature, and then take a solemn vow of silence, during which we each find a particularly green nook and write until our hands begin to cramp from the exertion.  Several of our writers are published here for the first time in this issue.  We've also started a folk choir that debuted to great acclaim at the Holy Virgin Cathedral's annual Taste of Russia Festival this past October (an online video can be seen at http://www.yuritania.com/choir1/choir1.html).  There's also a photography group that is in nascent form, and hopefully soon a drama group as well.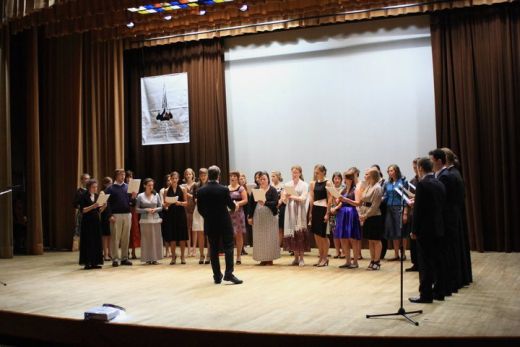 Sophia Moshura: And yet another successful concert called "The Gift" was the result of this collaboration of poets and professional musicians.
Nicholas Kotar: "The Gift" was a Christmas concert featuring dramatic readings from original adaptations in verse and prose of Northern folktales by four local writers, strikingly set off by ten sacred hymns from the Russian Christmas tradition. The folktale followed the journey of three sisters who set out from their home to find their fortunes; two leave with their mother's curse, and one with the gift of her blessing. Through various mysterious events, the sustaining power of their mother's gift guides the choices made by the three daughters, culminating in a dramatic showdown with dark forces and an unexpectedly moving ending. The music that engaged the listener in the story included two ancient chants from Russia and Georgia; five original pieces by Kurt Sander, an American who composes in the tradition of Russian Orthodox chant, and Gennady Lapaev, a leading modern Russian composer of sacred music; and music by 19th century Russian composers A. Kastalsky and A. Nikolsky.
"The Gift" was a spectacular success, with over 250 people in attendance, a remarkable turnout for a relatively unknown ensemble in culture-rich San Francisco.  Noting the use of choreography in the singing portions, one of the people in attendance likened it to a "folk liturgy".  Another local music professional even said that we sounded like "the Tallis Scholars singing Russian church music".
Sophia Moshura: What is the ultimate goal of this project?
Nicholas Kotar: Our real desire and challenge is to consistently present audiences with opportunities to experience beauty grounded in Orthodox tradition.  Each of the smaller groups tries to work at this consistently and with assiduous care.  We often meet to discuss new performance ideas, express our evolving thoughts on the very nature of Orthodox culture and art, and work at our craft, individually and in groups.  Eventually we hope to begin publishing our written work for a wider audience, and currently we are planning a Christmas concert.  But more importantly, we have come to understand the importance of what we do, not only for ourselves, but for our neighbors.  Or rather, we hope and pray that God will lead us to our purpose, which can be best summarized by the great Russian philosopher Ivan Ilyin: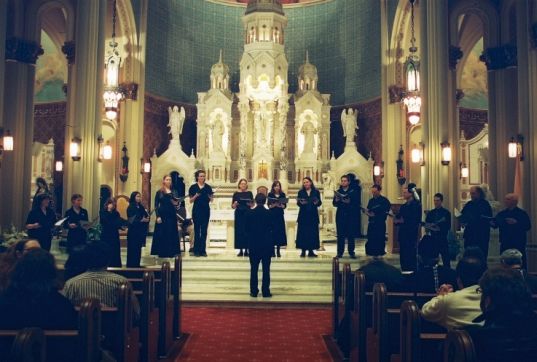 "The good news of the Gospel does not consist in the fact that heavens and the earth are opposed to each other or severed from each other because of sin.  Rather, it is that the heavens have already come down to earth in the person of the God-Man, that "the Kingdom of Heaven is at hand", that the possibility and reality of a meaningful "taking on" and transfiguration of the world exists.  The Gospel brings to the world not a curse, but a promise, and to humanity not death, but salvation and joy.  It teaches not flight from the world, but the Christianization of the world.  Thus, the sciences, the arts, politics, and the social order can all be those spiritual hands, with which the Christian takes the world.  And the calling of a Christian is not to chop off those hands, but to imbue their work and toil with the living spirit of Christ.  Christianity has a great calling, which many do not ever realize.  This purpose can be defined as the creation of a Christian culture."