June 21, 2013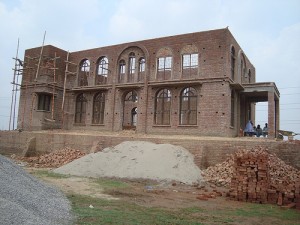 The Orthodox Christian Church continues to establish itself and grow in new areas across the globe. One place where OCMC is excited to be helping to establish an Orthodox presence is in Pakistan. The Orthodox Mission in Pakistan (OMP) was established in 2005 and is now under the direction of His Eminence Konstantinos, Metropolitan of Singapore. Fr. John Tanveer, who founded this movement originally under the Metropolitanate of Hong Kong and Southeast Asia prior to the establishment of the Metropolitanate of Singapore, leads the local church, whose mission is to serve the spiritual needs of the Orthodox Christians in Pakistan, where there are currently over 400 faithful.
There is much work being done to continue the Church's growth and to strengthen the Orthodox faith of those in Pakistan. Until recently, the OMP didn't have a physical church building, and those near Lahore would gather in Fr. John's home to worship. In regions further from Lahore, people would meet in homes, courtyards, or sometimes rented facilities. Recently, construction on the first Orthodox Church in Pakistan began with funding from OCMC in the village of Wazirabaad, about 70 miles from Lahore.
On April 21, 2013, there was a ceremony of celebration around the continuing construction of the church. During the ceremony, Fr. John and Presbytera Rosy were welcomed not only by the Orthodox community, but also other Christian denominations as well as members of the Muslim community. It is very important to Fr. John and the Orthodox faithful there that they grow in their faith and have courage and strength while being united with the community of which they are a part. The ceremony celebrating the church construction was focused on peace, love, and unity while sharing the Orthodox faith. Building is currently ongoing; presently they are starting on the roof, and it is hoped that the roof will be completed next week.
Fr. John's hopes for the church are that it will be a light and a source of warmth for the people of Pakistan. Having the physical building completed will most certainly strengthen the Orthodox Church in Pakistan. This is just one of numerous churches that can be built to assist this growing Orthodox community. We hope that one day a church can also be erected in the city of Lahore, where Fr. John lives. OCMC is glad to be part of this exciting time where the Church is establishing herself as a witness of hope and love.
You can read the blog www.orthodoxpakistan.org to keep up-to-date on the building progress and the growth of the Orthodox Faith in Pakistan. There are stories and photographs posted that are capturing the excitement of this time. Fr. John asks that we pray for him, Pres. Rosy, his team of volunteers, and the people of Pakistan that peace will come to his country. This will only happen with help from God.
Source: OCMC