Source: Holy Resurrection Orthodox Church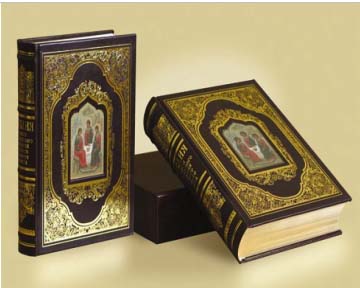 It is disturbing to realize how many Christians — even Orthodox Christians — are reading the stacks of books about prayer, angels, miracles, and such being sold today which have nothing whatever to do with Christianity. Instead these books are filled with pagan, gnostic, and demonic teaching which could lead a person away from Christ and towards the powers of darkness. The popularity of these books shows that decades of dry materialism have produced a widespread hunger for spirituality, but also that many Christians don't understand the dangers of indiscriminate spiritual experience. Just because a book speaks of spirits or angels or prayer or meditation or even of Jesus Christ does not mean it is Christian. St. John says, 'Beloved, believe not every spirit, but try the spirits whether they are of God: because many false prophets are gone out into the world.' (1 John 4:1).
Just because someone prophesies future events or has supernatural knowledge does not mean this knowledge comes from the Lord. The following story is told of St. Anthony, the great third-century Egyptian monk: 'Some brothers came to find Abba Anthony to tell him about the visions they were having, and to find out if they were true or if they came from the demons. They had a donkey which died on the way. When they reached the old man, he said to them before they could ask him anything, "How was it that the little donkey died on the way here?" They said, "How do you know about that, Father?" And he told them, "The demons showed me." Thus the old man convinced them that their visions came from the demons.'
There are guidelines for discerning sound Christian books from others. My first recommendation is to read the Bible and the Orthodox fathers and the lives of the saints, books that generations of Christians have read and found to be reliable. But since dubious spiritual books are everywhere, and perhaps our neighbors will ask us what's "wrong" with them, here are some things to look for.
The most important, really the only test needed, is this: Anything which claims to offer experience, knowledge, guidance, power, comfort or help of a spiritual nature must be centered in Jesus Christ: His becoming flesh, His Cross, Death and Resurrection. 'There is none other name under heaven given among men, whereby we must be saved.' (Acts 4:12) You will find that many books, while they may speak of Jesus or Christ, do not have Him as their center. The 'spiritual power' which they offer does not spring from His Cross and Resurrection. Often the 'Christ' of whom they speak is a name for a 'world spirit' or other figure and is not the specific Jesus who was born of the Virgin Mary in first-century Palestine, died on the Cross, and rose from the dead. Our Lord said, 'there shall arise false Christs, and false prophets, and shall shew great signs and wonders; insomuch that, if it were possible, they shall deceive the very elect.' (Matt. 24:24) In most false spiritual teaching the real humanity of Jesus is minimized, and especially His suffering and death. Our Lord's strongest rebuke in the Gospel is given to His friend and chief apostle, St. Peter, when he did not want to hear of the Cross. (Matt. 16:23).
A similar essential test is that a truly Christian book will call on us to fear God, repent of our sins, and take up our Cross. Taking up our Cross means embracing the sufferings of life as a means of uniting ourselves with Christ and putting to death in us all evil and self-will. 'Then said Jesus unto his disciples, If any man will come after me, let him deny himself, and take up his cross, and follow me. For whosoever will save his life shall lose it: and whosoever will lose his life for my sake shall find it.' (Matt. 16:24 ff) In most false teaching the emphasis is on comfort, success, or 'fulfilment', never on self-denial.
Other 'marks of the beast' will be mentioned briefly; if you see these in a book, be suspicious:
1. The claim to present some special knowledge or experience heretofore secret. God's truths are revealed to everyone; it's just that few are willing to follow them.
2. 'Near death experiences' populated by 'angels of light' suggesting that death is not to be feared. The Orthodox fathers unanimously counsel us to fear death as a time of spiritual trial and struggle, when Satan tries to lure us away. St. Anthony says, 'This is the great work of a man: always to take the blame for his own sins before God and to expect temptation to his last breath.' Many of the visions people claim to have seen may well be demons. St. Paul warns us that 'Satan himself is transformed into an angel of light.' (2 Cor. 11:14). It is especially suspicious that almost none of these stories present any concern with judgement or repentance.
3. Any suggestion that the goal of spirituality is to lose one's personal identity in some kind of 'world soul', or that souls existed before conception or will be reincarnated. Christians believe that each person is totally unique and will live forever. History is not cyclical or determined, but this world's time is the arena of our free decisions which have eternal consequences. Orthodox Christians seek union with God by offering our wills in obedience to God, but we remain free and unique persons. The model of our unity with God and with each other is the Blessed Trinity; the Father, the Son, and the Holy Spirit are totally one in will and action and love, but each still is a distinct person.
4. Orthodox Christians honor angels and saints, but always as messengers and servants of God, never separate from Him. In the Bible and Christian experience, an encounter with an angel or saint is generally a frightening experience; the angel's first words are 'Fear not.' In the Orthodox Christian tradition, an experience of an angel or saint may bring some word for an individual's guidance, but not any new doctrine. Jesus Christ is God's definitive Word; although we can grow in our understanding of Him, we do not expect any new revelation or doctrine. St. Paul says, 'But though we, or an angel from heaven, preach any other gospel unto you than that which we have preached unto you, let him be accursed.' Gal. 1:8)
5. A true Christian book is usually not 'comforting'; neither was an encounter with Christ in His earthly life. St. Peter 'fell down at Jesus' knees, saying, Depart from me; for I am a sinful man, O Lord.' (Luke 5:8) A true Christian book calls on us to take responsibility for our sins and repent of them, and take up our Cross and follow Him. This will ultimately produce peace and comfort but may initially be very uncomfortable as we are asked to confront our sins and delusions. St. Paul says, 'The word of God is quick [alive], and powerful, and sharper than any two-edged sword, piercing even to the dividing asunder of soul and spirit, and of the joints and marrow, and is a discerner of the thoughts and intents of the heart.' (Heb. 4:12). The Lord says, 'Peace I leave with you, my peace I give unto you: not as the world giveth, give I unto you.' (John 14:27)
A helpful resource from a Protestant point of view on groups promulgating false mystical teaching is The Watchman Fellowship. For those hungry for trustworthy Orthodox Christian books on prayer and the spiritual life, here are some suggestions:
The Orthodox Handbook: Vol 4, Spirituality by Father Thomas Hopko.
The Way of a Pilgrim (anonymous).
The Way of the Ascetics by Tito Coliander.
Collections of sayings of the Desert Fathers of Egypt.
The lives of Orthodox saints from all periods.
The Orthodox Way by Bishop Kallistos (Timothy Ware).
All these are available from St. Tikhon's Bookstore, St. Vladimir's Bookstore, and many other places.