July 1, 2013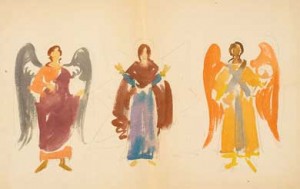 Inspired by his days in Paris and influenced by Byzantine tradition, Constantinos Parthenis experimented with the use of color when he was asked to paint the Aghios Alexandros Church in Palaio Faliro, southern Athens, in 1918.
A few years later, in 1923, Photis Kontoglou's visit to Mount Athos signaled the artist's ecclesiastical creative phase. In 1927, Paris-educated Spyros Papaloukas was chosen to paint Amfissa Cathedral.
The aforementioned activity "paved the way for a change of direction in the narration of newly constructed churches in the modern Greek state," noted Dr Nikos Zias, professor emeritus of the University of Athens, at a recent press conference on the summer 2013 exhibition at the Basil and Elise Goulandris Foundation's Museum of Contemporary Art on the Cycladic island of Andros, which he curated.
"Depicting Transcendence: From Byzantine Tradition to Contemporary Art" aims to explore the influence of Byzantine iconography in modern Greek painting as well as the development of contemporary ecclesiastical art.
On display at the cultural museum are some 130 works stemming from state and ecclesiastical museums, churches, foundations and private collections, among others. The works bear the signatures of distinguished Greek 19th- and 20th-century artists, including Constantinos Parthenis, Photis Kontoglou, Spyros Papaloukas, Spyros Vasileiou, Polykleitos Rengos, Nikos Engonopoulos, Yiannis Tsarouchis, Constantinos Artemis, Dimitrios Pelekasis, Agenor Asteriadis, Polychronis Lembesis, Dimitris Biskinis, Stephanos Almaliotis, Anastasios Loukidis, Nikos Nikolaou and Rallis Kopsidis, the printmakers Dimitrios Galanis, Lykourgos Kogevinas, Efthymios Papadimitriou, Alevizos-Anastasios Tassos and Giorgos Sikeliotis as well as female artist Vasso Katraki.
"There were no artists per se in Byzantium, but artisans, all subject to dogmatic limitations," said the museum's director, Kyriakos Koutsomallis, who added that centuries later a new generation of artists managed to incorporate traditional and modernist elements into their work, thus "contributing to a resurgence of interest in Byzantine art."
Art collectors Basil and Elise Goulandris established their foundation in 1979 as a nonprofit organization for public benefit aiming at promoting the visual arts. The same year the couple established the Museum of Contemporary Art in Hora on Andros, the birthplace of Basil P. Goulandris. The foundation's permanent collection includes more than 300 works by local and international artists, while part of the collection goes on display on a rotational basis during the year.
"Depicting Transcendence" runs to September 29. The exhibition is accompanied by a catalog featuring texts by scholars and is edited by Christos P. Margaritis.
Museum of Contemporary Art, Hora, Andros, tel 22820.22444. For more information, visit www.moca-andros.gr
Source: Ekathimerini