In the name of the Father and of the Son and of the Holy Spirit!
"Let all mortal flesh keep silence, and with fear and trembling stand…"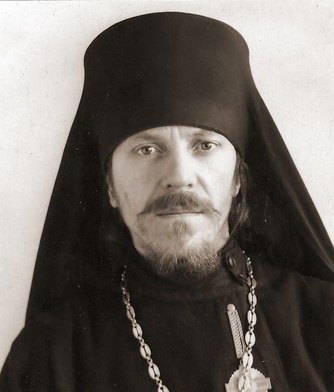 Beloved brothers and sisters! There are sorrows that are beyond lamentations, when the heart seems to bleed, as if frozen in its immense suffering. There is sorrow, which cannot be expressed by words, only hot tears when complete silence can give vent to grief. I, though, will say more. There is a sorrow, which is beyond tears, because tears ease the soul, but this sorrow is a consternation of unspeakable horror… So suffered the Mother of God at the cross where Her Son, the meek and innocent Son of God and Redeemer of the world, died in torment.
Myrrh bearers endured this grief when they anointed the lifeless body of Jesus and when they buried their favorite Teacher, and their hope…Mary Magdalene cried tears of sorrow at the Tomb of Christ. She wept so bitterly and her grateful faithful soul was so immersed in mourning that she did not recognize the Lord when He said, "Woman, why are you weeping? Whom do you seek? "
Beloved brothers and sisters, we stand at the Tomb of the Savior, and the infinitely dear Divine Sufferer, was put into it for us. How then should we stand? We are also accustomed to Him always being there for us in our sorrows, joys and difficulties, and in all the journeys of our lives. Now, we need His concern and attention. The Sun that illuminates the whole world with its purity and love has gone dark. The heart, that burns concern for all does not beat. His immaculate blood has stopped flowing, and there are clotted bloody wounds on His tormented body. We stand, as a small group of His trusted friends sometimes stood around Him — but with what feelings and what thoughts?
"Let all mortal flesh keep silence, and with fear and trembling stand; ponder nothing earthly minded…"
This is no place for words at that Tomb. Let our love for the Sufferer Christ be expressed by anxious silence and sincere heartfelt weeping. What are we to think of in silence? Him, of course. Him — the One worthy of our love, attention, and gratitude.
Let us consider: Who is in front of us? What sort of life did He live? How did He accept death and what was it all for? Let's think and realize… the Sinless Son of God came down to earth for the salvation of His creation, took on human flesh, suffered many burdens, hardships, and sorrows of human existence, and finally met an agonizing and shameful death… What was it for? For our sins and for the redemption of fallen humanity.
… The punishment of the world was upon Him, and by His wounds we are healed. The punishment of our world was on Him…All the lawlessness, falsehood, evil, all sorts of wickedness, oppression, uncontrolled passion. He carried all this to Golgotha, all this that tormented Him was worse than the wounds and worse than the nails and blows, as it was the cause of his death.
And our countless personal sins! He bore all this and died for us. And us? Are we able to die for Him, as He died for us? Can we do anything to bring Him a sacrifice? When we bury a loved one, we bring live flowers to the fresh grave. What do we put at the tomb of our precious and beloved Lord? What do we bring Him as a last gift?
Tradition says that myrrh bearers did not close their eyes the entire night and prepared our Beloved, precious ointment to anoint His body. What have we prepared, dear brothers and sisters? We also did not sleep at night — that dark, terrible night of Christ's burial… Fatigue closed our eyes, but we stood and tried to find at least a touch of heat for our Lord, Whom we all want to love. We also want to thank Him for His love for us and His boundless patience.
We bring Him eternally fresh flowers of virtue: humility, love for Him and our brothers, devotion to the Holy Faith and to the Holy Orthodox Church, abstinence, purity, and many more beautiful flowers of virtue, which are the best offering on the Tomb of the Savior.
After all, we are gathered here because we love our Lord Jesus Christ and we are gathered to honor and venerate his tortured lifeless body. It happens though, in these holy moments, that there is so little good in the soul that there is nothing that can be brought to the Lord's Tomb.
What if we did not conduct the holy fast as we should have? One woman was ill the entire time. She did not go to services, did not keep the fast, and lacked patience for an illness. On the night of Holy Saturday, when all were asleep, she slipped out of bed, went to the front corner on her knees, fell down, and wept… Tears poured over her face and clothes. Finally, she looked up and said: "Lord, I have no fragrant myrrh on a Holy Shroud, not one good deed, only these my bitter tears. Receive them too, as you took them from a harlot… "
We also to fall down at His Tomb, my dear ones. We fall down with tears and say: "Merciful Lord! We have no precious myrrh of virtues to anoint Your most pure body. We have nothing, nothing, even though we would like to bring You something good and valuable… but accept from us these tears, as You took two leptons from the widows. Receive, and do not reject our small offerings. Receive this our worship, night vigil, and our small prayer, that we may become worthy to see Your glorious resurrection." Amen.
Translated from the  Russian.