Source: The Orthodox Church in America's Diocese of New England
And he sat down opposite the treasury, and watched the multitude putting money into the treasury. Many rich people put in large sums. And a poor widow came, and put in two copper coins, which make a penny. And he called his disciples to him, and said to them, "Truly, I say to you, this poor widow has put in more than all those who are contributing to the treasury. For they all contributed out of their abundance; but she out of her poverty has put in everything she had, her whole living."(Mk 12:41-44)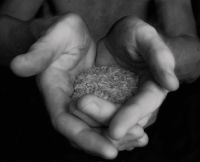 The Scripture passage quoted above is an event from the life of our Savior in which He tried to teach His disciples (and, hence, us) about the true importance of giving to the Church. By singling out the widow who gave the two copper coins, and exalting her, Jesus was telling us that the amount of money donated is not the primary goal of stewardship, but rather, our deep, inner, spiritual heart. That heart is what we use when we make decisions about our life, about God, about the Church, about giving. If we have a heart that is truly turned to God and has seen Him and heard His words, then those decisions are very easy to make. When I am reflecting on anything, I say to myself, "What would our Lord do? And what would He expect me to do?"
When I approach decisions with that kind of attitude, I am led by God to the right choice. It is not always the easiest choice, it is not always the choice I want, it is not always even the choice I understand. But it is the right one. When I contemplate stewardship and giving, I begin the same way. The answer comes back to us in the words of our Lord above: stewardship is not about giving some time, some talent, some money and some effort to the Church!! Stewardship is very simple: it is about giving ourselves to God and the Church completely and without reservation. God gives us the gift of life, and we give it back to Him ­ it is that simple.
If we really give our lives to God, however, that is reflected in various choices that we make and in the life we live. For some people, for example, $100 per year of giving to the church equates to the two copper coins of the widow. For others, however, even $2000 is a pittance and a miserly gesture to the Church. It is not the amount it is the location of the heart. When our hearts are full of light and the life of God, it is very easy to give to Him and the Church. When our hearts are empty and devoid of His presence, even the meager dues that many parishes still require become a source of irritation and resentment for us. The life of God and the life of the Church can't be equated to a "price." If we are giving what we think the Church is "worth," then it is not worth much at all to us. Even a $2000 pledge is simply a payment or two on a current mortgage. So if we look at it financially, "my" house is more valuable to me than "God's" house.
In addition to financial pledges, God asks us for pledges of time and talent . Maybe the "commitment" of signing a piece of paper and having Father contact you is frightening for some, maybe health and energy are concerns for others, but nonetheless, God expects us to give of everything we have.
Stewardship can only be understood in this way:
1) My gift to God must be the first portion of God's gift to me. God gets the first and the best portion of my life. If my gift is monetary, I should make my pledge and write my check before I pay any other bills. If my gift is time, I try to arrange all my other time around what I need to do for Him. If my gift is talent, I offer that talent to Him before anyone else ­ even my boss or my spouse. How many handymen who could even build a house if they so wanted never offer their talents to the Church because they are busy puttering at home? How many other examples can we come up with?
2) My gift to God can only be made after careful, honest reflection. Honesty about the amount, honesty about my feelings of its importance, and honesty about the gift itself. If we are honestly looking at how much we give, it starts with how much God has given us. If I make $40,000 per year and give $250 to the Church, that comes out to about one-sixth of one percent of my salary as a gift back to God! The Biblical Old Testamental minimum of giving was ten percent ­ from what we would call gross income. Do any of us even come close to being in the same neighborhood? And lastly, have we honestly reflected on what $250 or $500 or even $1000 will buy today? If I pledge $5.00 per week to the Church (basically $250 per year), and I fill up my car's gas tank for $15.00, what have I really given to the Church? Five dollars will not even buy dinner at McDonald's anymore! And that's 1991 dollars ­ what if I am giving the same five dollars a week that I was giving five years ago? How has inflation eroded that money? Today's five dollars is about the same amount as $3.75 five years ago.
3) My gift to God is a genuine reflection of my heart. If I give $400 per month to the bank on my car loan, but think the Church is fleecing me for $20 per month, I have a heart problem. If I do my grocery shopping and write a check when I leave for $100 so my family can be fed, but think $20 per month is too much for the Bread of Life, I have a heart problem. If I can go to the package store and drop $20 for a bottle of liquor but gripe about the costs of sharing the Blood of Christ, I have a heart problem. If I cheat the Church out of regular giving by pleading about my "cash flow" while ignoring the fact that the Church has the same bills and the same "cash flow," I have a heart problem.
Jesus knew all about stewardship, all about giving, and all about excuses. When we look at how we approach our relationship to the Lord and His Church vis-a-vis giving, it is wise to remember His words:
"Do not lay up for yourselves treasures on earth, where moth and rust consume and where thieves break in and steal, but lay up for yourselves treasures in heaven, where neither moth nor rust consumes and where thieves do not break in and steal. For where your treasure is, there will your heart be also." (Mt. 6:19-21)