The festive Divine Liturgy with the rite of glorification of Hierotheus (Lobachevsky) took place at the Derman Holy Trinity Convent on September 11, 2022, on the 13th Sunday after Pentecost, the feast day of the Beheading of the Holy Glorious Prophet, Forerunner and Baptist of the Lord, St. John. The service was led by His Beatitude Metropolitan Onuphry of Kiev and All Ukraine, reports the Information and Education Department of the UOC.
After reading the holy Gospel, His Beatitude Metropolitan Onuphry addressed the flock with a sermon, in which he emphasized that holiness cannot be gained quickly, because for this one needs to perform many years of feat, observing the Divine laws of love. A person who walks the path of fulfilling the sacred commandments "even on earth begins to feel the presence of the Kingdom of God, because the Kingdom of God is within a person." The fullness of the Kingdom of God comes "when a person opens his soul, cleanses himself of sin, gives place to God in his soul, and when God reigns in a person."
"We need to read the Holy Scriptures, listen to our conscience and live in such a way that our actions do not diverge from the voice of our conscience and the Holy Scriptures," stressed the metropolitan.
During the service, solemn petitions and prayers were raised for peace in Ukraine.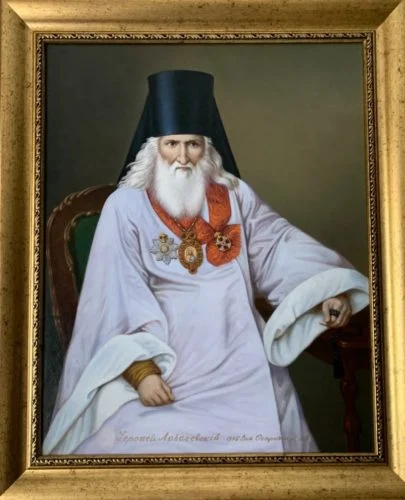 After the Liturgy, the Archpastor congratulated the faithful on the feast. Archbishop Pimen, head of the Rivne diocese, thanked His Beatitude for the archpastoral visit and presented an icon of St. Hierotheos of Ostrog with a particle of his relics as a gift.
Saint Hierotheus (Lobachevsky) was born in Kovel in 1789. Having received a spiritual education, he became a teacher at the Volyn Theological Seminary. After taking monastic vows, he labored at the Zagaets Monastery. In 1829 he was appointed rector of the Derman convent and a member of the spiritual consistory of the Volyn diocese. He worked on the development of the convent and was engaged in spiritual education. In May 1845 he was ordained Bishop of Ostrog, served for the good of the Church for 27 years, showing Christian love for the clergy and flock. He reposed in the Lord on April 17, 1871 in the Derman convent. Ranked among the locally venerated saints of the Rivne diocese by the decision of the Holy Synod of the Ukrainian Orthodox Church of August 17, 2021 with the celebration of his memory on April 30.
You can follow Pravmir.com on Twitter, Facebook*, Instagram, or Telegram.
*Currently we are experiencing some issue with adding posts on our official page on Facebook. Our IT specialists are working on solving this issue at the moment.