April 19, 2013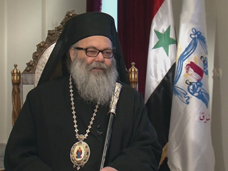 His Beatitude Patriarch John X of Antioch and All the East sent a letter to Metropolitan Hilarion of Volokolamsk, chairman of the Moscow Patriarchate's Department for External Church Relations, in which he expressed his gratitude for humanitarian aid collected for the Syrian people in Russia by the Imperial Orthodox Palestine Society with the blessing of His Holiness Patriarch Kirill of Moscow and All Russia.
"We are very thankful for your gesture of solidarity and brotherhood in these difficult days, His Beatitude Patriarch John writes. "This gesture certainly helps our misplaced people to face the horrible circumstances they are encountering. The Syrian people are turning to the Church for help, and we are working hard to provide all humanitarian support possible and alleviate their sufferings. We are very grateful for your prayers as well."
Humanitarian aid was collected on March 31-April 12, 2013. The Imperial Orthodox Palestine Society, with the participation of the Russian Orthodox Church, collected around seventy tons of humanitarian cargo, including flour, sugar, salt, cereals, medicaments, and bandaging materials. Monetary donations of over three million rubbles, collected during this campaign, will go to purchasing medicaments and medical equipment.
A plane with the first consignment of cargo arrived in Syria on April 14.  All humanitarian aid will be delivered to Syria by the end of April 2013.
Source: DECR