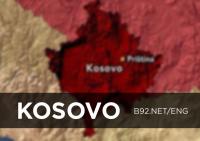 March 6, 2013
Gračanica Health Center employees held a protest in Gračanica on Wednesday because health institutions in Kosovo have run out of medicines.
Doctors reiterated that they could not be responsible for possible deaths of patients.
Gračanica Health Center Director Rada Trajković told B92 that the Kosovo Medicines Agency had been preventing the preventing medical supplies from reaching the health institutions for no reason, thus endangering lives of patients.
The doctors have already informed KFOR, EULEX and Kosovo's Health Ministry.
Trajković said that the health minister had assured them that the medical supplies would arrive soon because there were no legal or technical obstacles. However, the medicines still have not arrived.
"Our pharmacy is completely empty, especially when it comes to medicines we need the most. We primarily have problems with providing medicines for patients with cardiovascular problems, psychoses and psychosomatic conditions. Patients with diabetes and small children for whom we do not have inhalation medicines, asthmatic patients are left without medicines. The doctors now cannot assume responsibility for any possible deaths," she pointed out.
Source:  B92.net