July 27, 2013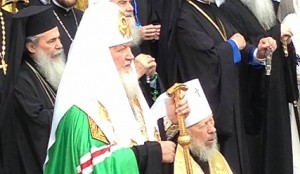 As the great Christian relic, St Andrew's Cross, arrived in Kiev from Russia, several believers told the Voice of Russia about their reasons to come to greet it, celebrations which take place in Ukraine's capital and their attitude to Patriarch Kirill.
Festivities dedicated to the 1025 anniversary of Russia's baptism started with a prayer near the monument to Prince Vladimir the Great revered for converting ancient Rus to Christianity. One of the great Christian relics, St Andrew's Cross (the cross on which Andrew the Apostle was crucified), arrived to Ukraine's capital from Russia yesterday.
A crowd of people gathered around the Kiev-Pechersk Lavra. Thousands of pilgrims await the arrival of the patriarchal delegation and, most of all, St Andrew's Cross.
Klavdia, a believer from the Donetsk region, shared her emotions with the Voice of Russia: "It's such a great relic! I've been longing to come here. I've already kissed it and it was heaven. I prayed for health to my son-in-law. I have a large family – four children and grandchildren – a total of 13 people. And I prayed for each one of them."
The queue is moving fast and in an organized manner as it was in Moscow where the relic arrived from. There is an entrance only for children, pregnant women and the disabled. As the Cross will stay in Kiev for two days, the Kiev-Pechersk Lavra is open round the clock. But people are ready to wait as long as they have to, says Elena who came here to greet the relic.
"People in Kiev have been talking incessantly about the Cross. I haven't been waiting in a queue for long. I was lucky to meet the patriarch. I'm very proud that we have him as our patriarch. It's unbelievable," she said.
Despite the continuing attempts of some politicians to divide Russian and Ukrainian believers and to organize their own separate from Moscow Patriarchate church, Ukrainians are happy to see Patriarch Kirill here.
Another Ukrainian believer, Maria, said about Patriarch Kirill: "We respect Patriarch Kirill and think he has been sent by God. I would like to visit all the festivities in honor of the 1025 anniversary of Russia's Baptism, but they say it won't be allowed as patriarchs and presidents will be there. But I'll go there anyway and look at it from a distance," Maria said.
Sergei came to Kiev from the Chernigov region. He wants to be a priest in the future, so he decided to receive blessing from Patriarch Kirill and the Cross first.
"If we are Orthodox Christians, we must belong to the church which was our though the ages. I asked the Cross to strengthen my faith. I need it now," Sergei said.
Festivities in honor of the 1025 anniversary of Russia's baptism will last until July 28. Nine patriarchs will hold a divine liturgy in Kiev-Pechersk Lavra on the commemoration day of the Saint Prince Vladimir.
Several important meetings with the Ukrainian and Russian presidents are also set for these days.
An open-air concert on the city's main street, Kreshchatik, will be a culmination of the celebration.