Archpriest Peter Guryanov is Chairman of the Diocesan Commission for Family and Protection of Motherhood and Childhood, Head of the Information and Publishing Department of the Diocese of Melekess, and Member of the Council for Culture under the Administration of Dimitrovgrad.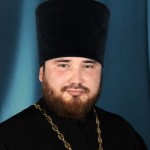 For 10 years I have been working closely with women's health clinics in Dimitrovgrad. My ministry is to talk to women who came there to have an abortion and try to do everything in my power to help them change their mind. Anyone can call me and ask me to come urgently at any time. And there is no one here who could replace me.
Onсe I left to enter a postgraduate course at Moscow Theological Academy. Suddenly I got a call from a women's health clinic, but I was already hundreds of kilometers away from Dimitrovgrad. I started calling all my fellow priests, but all in vain. Some were busy, others did not pick up their phones. So I decided to talk to that woman on the phone and found out that her husband insisted on the termination of her pregnancy. I tried my best to talk her out of it, "Look, every child comes in his or her proper time… just the one you need at the right time. You can't build happiness on the blood of dead children. Abortion is also a man's sin…" But it was no use. What could I do?
I began to pray to St. Sergius of Radonezh. My mind was a complete mess! I had to learn a lot as the exams were coming up, and then there was that woman and the abortion! I asked priests and laymen who were also entering the Academy for help, and for all 8 days while I was there, they prayed for her. And I kept calling and texting her, but she was adamant.…
On the day of my last exam and the day of her intended abortion, I decided to call her one last time. The woman was already in the operating room and she said that she did not change her decision. That

was all. The end.
I passed the exam, and while I was sitting and waiting for the results, I got a text from that woman, "I couldn't do this." It is impossible to describe the feelings that I and the people who prayed with me for her had at that moment!
Then I met this young mother, christened her child and found out that her husband dumped her when he learned that she refused to have an abortion. But every cloud has a silver lining. She met a worthy man, and I married them in a church before the Advent. We are still on good terms with her.
Translated by pravmir.com