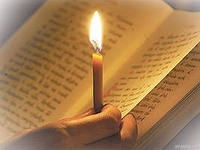 MESSAGE ON THE COMMENCEMENT
OF HOLY AND GREAT LENT
To the clergy, monastics and faithful of our God-protected Diocese:
Blessed be the upcoming Great Paschal Lent which takes us on an ascetical voyage as a model of how we should sojourn through life, knowing that glorious Christ's Resurrection is fulfillment of His promise for our own eternal life in Him.
This Sunday we look to forgiveness as we enter the holy journey of Great Lent.
On this day we are reminded of Adam and Eve's banishment from Paradise and of their failure to remain faithful to the gift of personal communion with God. To forgive is to reject the hopeless "dead-ends" of human relations and to refer them to Christ.
Forgiveness is truly a "breakthrough" of the Kingdom into this sinful and fallen world.
Only a repentant heart can return us to unity, solidarity, and love.
Christ, the Savior of the world, opens the door of Paradise to everyone who follows Him, and the Church, by revealing to us the beauty of the Kingdom, makes our life a pilgrimage toward our heavenly fatherland.
"Let us begin the time of fasting in light!
Preparing ourselves for the spiritual efforts.
Let us purify our soul; let us purify our body.
As from food, let us abstain from all passion
And enjoy the virtues of the spirit,
So that perfected in time by love
We may all be made worthy to see
The Passion of Christ and the Holy Pascha
In spiritual joy!"
As the sacred hymnography of the Church urges us, all the ascetic elements — fasting, abstinence, frugality, restriction of personal desires, intense prayer, and confession — are essential to the period of Great Lent. They are preconditions for our Eucharistic communion with God and movement of love, reunion and harmony with others.
Let us embrace this Lenten journey with gratitude and the desire to follow our Holy Tradition as our Orthodox Saints and ancestors did for centuries before us, perpetually carrying the faith that illuminated the road toward salvation.
In doing so we will walk together with Christ to Golgotha and rejoice with Him on the Feast of Feasts! Just as the sacrifice on the Cross takes its meaning from the Resurrection, so all our Lenten efforts find their fulfillment in Holy Communion. The whole human being is saved because "the human universe" is saved by the Resurrection.
And in order to receive the gift of the Resurrection and be imbued with the consolation that saves man, we have to have passed through the entire Great Lent of the trials of life.
In inviting you to the "opened arena of virtues" from our Episcopal seat, I extend to all of you my paternal prayer and spiritual blessing for a fruitful journey through the period of Great Lent, asking your forgiveness.
Given this Day of Forgiveness March 14th, 2013 at Alhambra, California
Love and paternal blessings,
Bishop Maxim
Source: Western American Diocese (pdf)