Language: Russian with English subtitles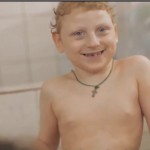 "Mama Maxima" is a new documentary by journalists Andrei and Alexei Platonov Loshak about a little boy who is undergoing rehabilitation program in the Center for Curative Pedagogics, and his mother Irene.
Center for Curative Pedagogics is a Charity Organization. This means that they live on grants, donations and partial payment of the parents. They never reject those who cannot pay for lessons.
You can help them by making a donation here