April 21, 2013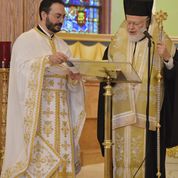 Sunday marked an important first step in the long process of healing for the parishioners of the Taxiarchae-Archangels Greek Orthodox Church.  Following the terror and violence on the streets and neighborhoods of the Watertown community over the past several days, His Eminence Metropolitan Methodios made an Archpastoral visit to the Taxiarchae Church on Sunday, April 21, to celebrate the Divine Liturgy and to visit with families of the community that were immediately affected by these tragic events.  Following the Divine Liturgy, the Metropolitan met with parishioners during the coffee fellowship who shared with him the terror and fear they experienced  as they witnessed thousands federal, state, and local law enforcement personnel campus their streets and properties as they hunted door to door for the Boston Marathon bomber.  His Eminence then toured the streets of Watertown and visited the home of a family from the parish who was in the line of fire as the violence of the manhunt unfolded in front of their eyes. He wanted to personally embrace them with the love and comfort of the Church and assure them of the support and prayers of our Metropolis family.
Following this pastoral call, His Eminence visited the Watertown Police Department to personally express the gratitude of the Greek-American community for the officers' heroic acts of bravery which ultimately led to the restoration of peace and order on the streets of Watertown.  The Chief of Police, Edward Deveau, welcome the Metropolitan to his office where he shared details of the life-threatening battle that his officers endured over those many hours.  He introduced Sergeant John C. MacLellan, who headed the Watertown police force during this 24-hour manhunt.  Sergeant MacLellan shared details of the horrific gunfire encounters that took place in the residential areas of the town.  The Metropolitan wanted to visit with the police officers to personally bring the message of hope, love and solidarity with the faithful citizens of the Town of Watertown.
As the meeting with the Chief concluded, Metropolitan Methodios offered the ongoing support and assistance of our Greek Orthodox clergy and faithful to his police department as they begin the long process of healing.  His Eminence calls upon the faithful of our Metropolis to continue to pray for peace and the healing of the people of Boston, Watertown and the entire Commonwealth.  During the memorial service at the end of the Divine Liturgy, he prayed for the eternal repose of those who tragically lost their lives this past week.  His Eminence urged the congregation to especially pray for the healing of those injured and for the comfort and healing of all those who suffered the terror of this evil act.  The Metropolitan will return to the Taxiarchae Parish of Watertown next Sunday to celebrate the Palm Sunday Divine Liturgy marking the beginning of Holy Week.