April 21, 2013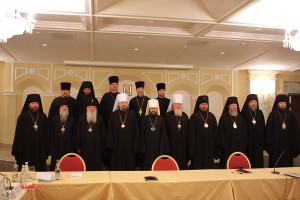 On 19 April 2013, Metropolitan Hilarion of Volokolamsk, chairman of the Moscow Patriarchate's Department for External Church Relations (DECR), arrived in the Belgorod diocese. He was accompanied by archpriest Nikolai Balashov, DECR deputy chairman; deacon Feodor Shulga, a staff member of the DECR secretariat for inter-Orthodox relations; and Mr. Alexander Yershov, assistant to the DECR chairman.
Upon arrival, Metropolitan Hilarion officiates at the Divine Liturgy of the Presanctified Gifts in the Church of Ss Faith, Hope and Charity and their mother Sophia. Metropolitan Ioann and Belgorod and Stary Oskol and Bishop Aleksandr of Bryansk and Sevsk concelebrated. Taking part in the service were archpriest Nikolai Balashov, clergymen of the Belgorod diocese and other border-zone diocese of Russia, Ukraine and Belarus.
After the divine service, there took place a meeting of the Coordinating Committee of the border zone diocese of Russia, Ukraine and Belarus established with the blessing of His Holiness Patriarch Kirill of Moscow and All Russia. Metropolitan Hilarion chaired the meeting. In his welcoming address, he spoke about topical problems in cooperation among the border zone dioceses of Russia, Ukraine and Belarus and outlined the purposes of the Coordinating Committee.
The participants considered the assignments with which the committee was charged by the conference on the development of cooperation between the border zone dioceses of Russia, Ukraine and Belarus held at the Cathedral of Christ the Saviour in Moscow in February 2013; discussed the celebration of the 1025thanniversary of the Baptism of Russia and other initiatives. All the participants shared the experience of his diocese in the border zone cooperation. Also discussed were the problems of border crossing for the pilgrims, theological education in the border zones and its standards, and interaction of the border zone Cossack and other public organizations.
Source: DECR