On January 14, 2014, with the blessing of His Holiness Patriarch Kirill of Moscow and All Russia and on the invitation of Archbishop Anthony, Metropolitan of Mexico, Central America, Venezuela and the Caribbean Islands (Patriarch of Antioch), Metropolitan Hilarion of Volokolamsk, head of the Moscow Patriarchate's department for external church relations, arrived in Mexico. At Bento Juarez international airport he was met by Archbishop Justinian, administrator of the Moscow Patriarchate's parishes in the USA, Bishop Alexis of Mexico (Orthodox Church in America), Russian ambassador E. Malayan, clergy of the Russian Orthodox Church in Mexico and the USA and Russian diplomats in Mexico City.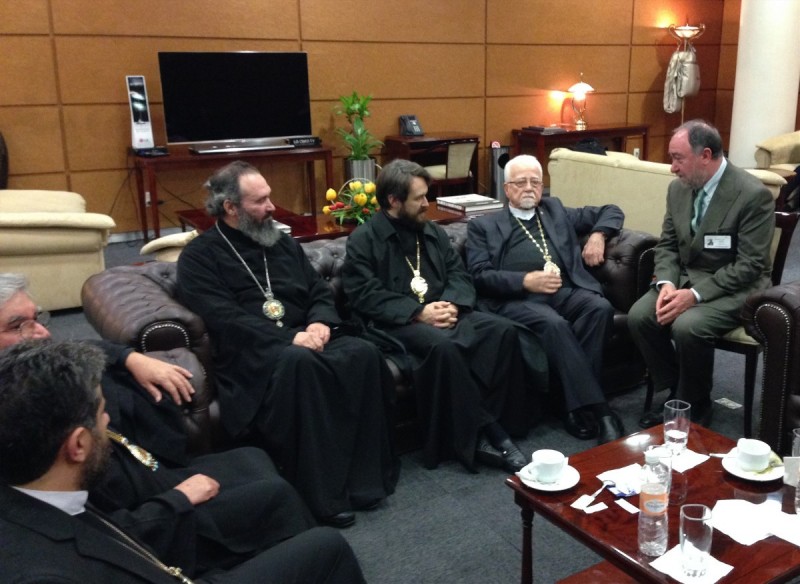 At airport VIP hall a fraternal talk took place between Metropolitan Hilarion and Archbishop Anthony. They discussed the situation of Orthodoxy in Mexico as well as various matters concerning inter-Orthodox relations.
During his visit, the chairman of the Department for External Church Relations met with the head of the Mexican government Miguel Angel Osorio Chong, acting minister for foreign affairs Carlos Alberto de Casa Gonzalez and the primate of Mexico Cardinal Norberto Ribera Carrera. Metropolitan Hilarion is expected to celebrate divine services, to attend the celebrations on the occasion of Archbishop Anthony's name-day and to meet with compatriots living in Mexico.
Source: DECR