April 15, 2013
On a day particularly rich with symbolism, an act of terrorism wounded the beautiful heart of our city and broke our hearts with the tragedy endured by innocent victims and their loved ones.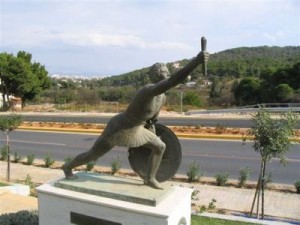 We reflect on the meaning of the Marathon runners which, even though forgotten most of the times, becomes especially poignant in the face of today's tragedy: the first Marathon runner was a herald of victory—he covered the distance from the battleground of Marathon to Athens in order to announce to his fellow citizens the joyous news: Νενικήκαμεν! "We have won!" Historians claimed that in the battle of Marathon the European civilization won over an empire that devalued freedom and democracy. It was a victory of humanity against the forces of evil and that mentality which depreciated the values of individuality for which the Athenian city-state proud itself.
The Boston Marathon always coincides with another special holiday of our Commonwealth: Patriot's Day. In that day we commemorate another victory on behalf of humanity, the victory of the first battles of the War of Revolution that gave birth to our Nation and to the liberties for which America stands.
Today's terrorist attack becomes particularly meaningful when viewed under the light of this double association. It was an attack not only against our City, not only against our Nation, but, like every act of terrorism and regardless of its perpetrator, it was an attack against our civilization. The Boston Marathon is an international event and, therefore, the effects of today's tragedy are felt worldwide.
We offer our condolences and prayers to the victims of this tragedy: to the innocent people who lost their lives and were injured senselessly. We stand in solidarity with every citizen of our Commonwealth, our Nation and every person of good will who shares the values of our civilization. We pray that our God, healer of our souls and bodies, bring healing to everyone affected by today's events and peace in our hearts and in our world.