According to media reports, the blaze started at 6:50 p.m. on Pascha—May 1.  Heavy flames burst through the roof and shot out of the large rose window on the façade of the cathedral, which was designated as a New York City landmark in 1968.  Originally known as Trinity Chapel, the Gothic Revival edifice was designed in 1850 by noted architect Richard M. Upjohn.  The Serbian Orthodox Church purchased the church from the Episcopal Diocese of New York in 1943.
Over 700 parishioners had celebrated Pascha earlier in the day and had enjoyed a luncheon, but the cathedral was empty when the fire started.  The cathedral's caretaker attempted to rush inside when he noticed the fire, but was turned back by the flames, fire officials said.  He suffered from minor smoke inhalation.  Media reports indicate that five others, including four firefighters, had been injured, none seriously.
The cathedral's Rev. Djokan Majstorovic told The Associated Press that he felt like he was "in a nightmare" as he tried to get to the fire scene that was blocked off by firefighters.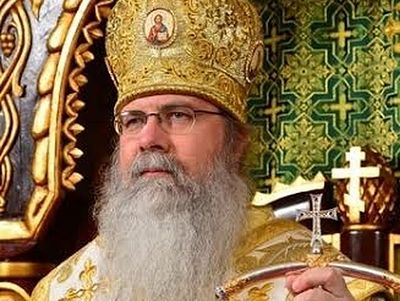 "With great sadness we learned of the tragic fire at the historic and beloved Saint Sava's Cathedral in New York City," Metropolitan Tikhon wrote to Bishop Mitrophan.  "Please accept my personal expression of sadness and grief over this tremendous loss to the Serbian Orthodox community and to all the Orthodox in New York City.
"In this time of tragedy, I open my arms to Your Grace and your community to offer whatever assistance we can provide," Metropolitan Tikhon continued.  "With the blessing of His Eminence, Archbishop Michael, the Orthodox Church in America's Holy Protection Cathedral in New York City and its priest, Archimandrite Christopher Calin, are prepared to host your community and provide fully for a temporary home for Your Grace and the faithful of Saint Sava's.
"I pray that Your Grace and the community of Saint Sava's will find a measure of relief in our Lord's Pascha, and I pray that our Lord's Resurrection will give you the strength to lead your community through this difficult moment," Metropolitan Tikhon concluded.