July 21, 2013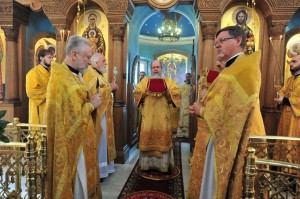 On Sunday, June 21, 2013—the first full day of his visit to Russia in conjunction with the 1025th Anniversary of the Baptism of Kyivan Rus'—His Beatitude, Metropolitan Tikhon presided at the Divine Liturgy at the Orthodox Church in America's Representation Church of the Great Martyr Catherine here.
Concelebrating with Metropolitan Tikhon were His Grace, Bishop Alexander of Toledo and the Bulgarian Diocese; His Grace, Bishop Mark of Egorievsk; His Grace, Bishop Clement of Krasnoslobodsk and Temnikov; Archimandrite Alexander [Pihach], Dean of Saint Catherine Church and OCA Representative to the Moscow Patriarchate; Archpriest John Jillions, OCA Chancellor; Archpriest Nikolai Krechetov, District Dean; Archpriest Oleg Razumov of the Khabarovsk diocese; Archpriest Michael Dudicz of the Military Diocese of the Orthodox Church of Poland; and the parish clergy.
At the conclusion of the Liturgy, Metropolitan Tikhon addressed the clergy and faithful and thanked them for their prayers and heartfelt welcome.
Archimandrite Alexander offered equally warm words of welcome before the clergy and faithful witnessed Metropolitan TIkhon bless a commemorative plaque marking the 220th Anniversary of the Russian Orthodox Mission on America soil in 1794.
Photo galleries of the visit may be viewed here.
Metropolitan Tikhon, Bishop Alexander and their delegation arrived in Moscow on Saturday, June 20 to participate in the week-long celebrations slated to be held in Moscow, Russia; Kyiv, Ukraine; and Minsk, Belarus.  Additional members of the OCA delegation include Archpriest Leonid Kishkovsky, Director of External Relations and Inter-Church Relations; Deacon Jesse Isaac, Archdiocese of Canada; and Deacon Cyril Dotsenko, Saint Catherine Church, Moscow.
Source: OCA