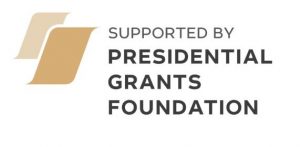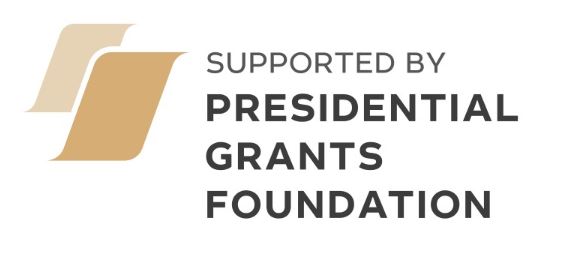 Elena Kotlyarova first took her eldest son on a hike when he was a month old. As a baby, he spent the night in a tent in the forest and rafted with his parents on the river on catamarans, and when he grew up, he traveled with them first to the Urals, and then all over Europe. Now Elena lives with her husband and children in Izhevsk and travels around the region. She told Pravmir how to go on vacation with children during the recession, prepare a first-aid kit for a hike, plan the route and overcome maternal fears.
Elena has a small workshop for making children's educational books from felt, and her lifelong passion is family hiking. Lena's husband is the main breadwinner, while she focuses on family and travel.
– With the eldest son, who is now seven years old, we started traveling when he was a month old. At first, we went by car to the countryside near the city, with an overnight stay in a tent. When Roma was a little over three months old, we rafted down the river on catamarans. At four months he traveled with us across the Urals in a sling, says Elena.
The six-month-old son traveled with his restless parents to the southern coast of Crimea.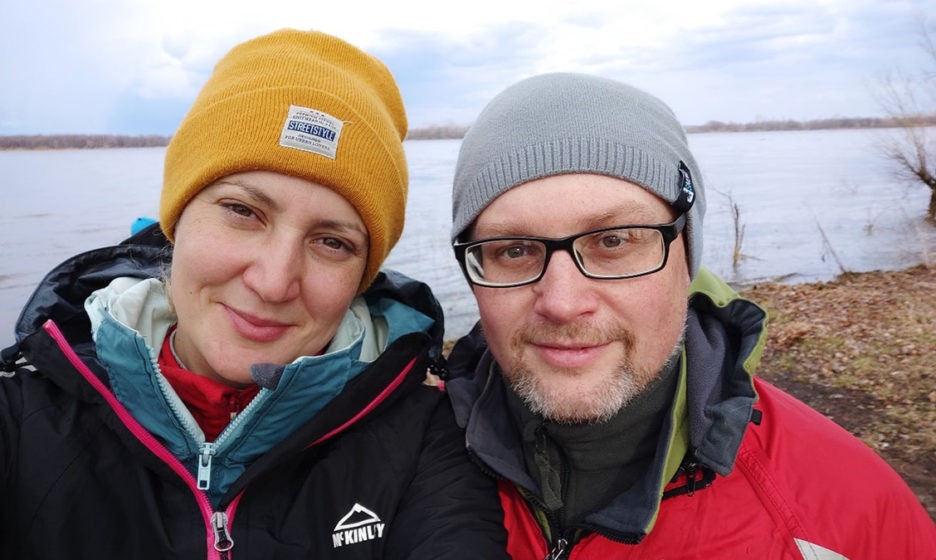 Elena and her husband
– By that time, my husband and I already had seven years of experience in tourism. After we became parents, we started cycling, says Natalya. When a child grows up, it is difficult to carry him/her in a sling. I already had a bicycle, so we also bought a bike trailer. We went to Europe when Roma was one year old. We reached Berlin, then rode around the cities. The journey lasted 50 days. When Vanya was born, it was the same story. The youngest son also began to travel as a baby. When he grew up, we bought a double bike trailer.
Last year, Elena and her children set their first record: 1200 kilometers across the Alps. They rode through four countries on a bike: Germany, Austria, Switzerland, and Italy. They crossed four alpine passes: Fernpass (1216 meters), Passo Resia (1507 meters), Toblach Pass (1226 meters), and Lueg Pass (550 meters).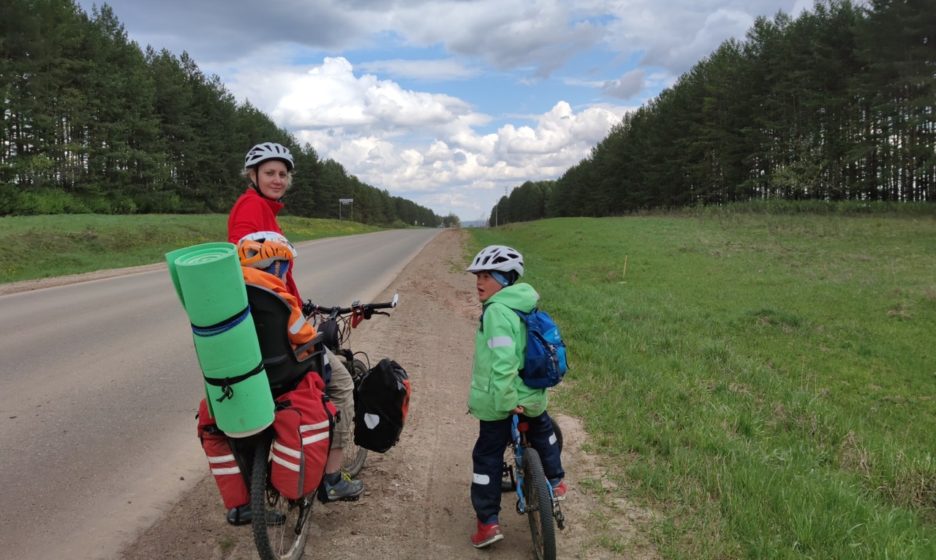 Cycling with children
— Now the younger son Vanya is 4 years old, and the elder Roma is seven. Both of them are already tourists, she says. Vanya can walk 8-10 kilometers on foot. Roma—twice as much. They are not afraid of cold or snow, they can spend the night in a tent at minus 10 degrees Celsius. They have no concept of "it's cold" or "it's hot", it is always comfortable for them. They can swim in streams at minus 10 degrees. Only my parents overreact to this: where are you dragging them again? Why?
What to put in a first aid kit and why kids love puddles
— Indeed, why are you doing this? And what about all these "mommy" fears—fever, wet feet, and a million other "what ifs"? How to deal with these? So many difficulties and fears.
— As for why, each family is organized in its own way. We like this lifestyle; we choose to be in nature. Hiking is a favorite part of my life, my passion, my love. With it, our children learn about the world, it's a form of education.
Roma is now consciously asking questions, such as why is the Kama river so full and why is it overflowing. We explain by comparing rivers with communicating vessels and the human body. He also keeps track of the kilometers traveled, solves simple problems from our tourist life.
They love getting into a puddle—this is the main and most interesting entertainment for children on a hike—to lie and splash around. That's why they go there. They can argue or fight like all other children. They like to break dry branches or watch anthills.
As for those "what ifs"—don't even doubt. It will happen: the child will get their feet wet, a bee will sting them, they will catch a cold and will be running a fever.
In this case, you need to do the same things as at home. There is a set of medications that should be in the first-aid kit. An antipyretic for the fever. Children recover easily in nature. A cold goes away in two–three days. If your child is allergic, take some antihistamines with you.
Your first-aid kit should have an antispasmodic, drugs for diarrhea, iodine, activated charcoal, bandages, and medical glue. But first of all, you need drugs that will help if your child has some kind of chronic disease. Mom must take care of this so that she can be sure that she can help her child at any time.
Much depends on the mood of the mother, how calm and comfortable she is, how safe she and her children feel.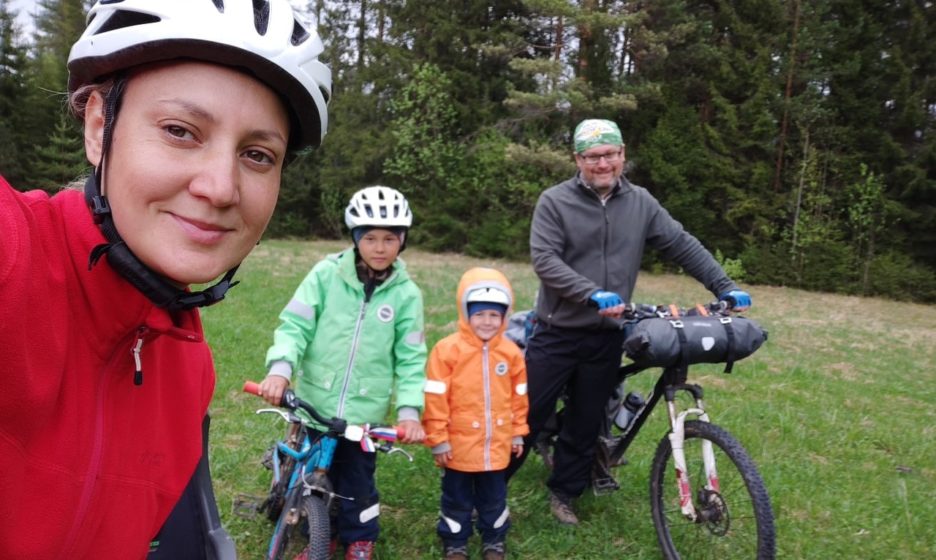 Elena with her family on bicycles
In spring, one of the main dangers is ticks. One must choose the camping spot carefully. It is important that you examine both adults and children every half hour. At night – we all undress, see that there are no tick bites. We turn out the clothes, shake each pocket.
In summer, another problem is mosquitoes, horseflies, gadflies and snakes. Special anti-mosquito clothing can help with the insects, but as for snakes—only training and awareness.
— You mentioned children having fun in puddles. What kind of clothes should they wear?
— In summer, at night the temperature drops to plus 5-10 degrees Celsius. Therefore, fleece jackets and thermal underwear are a must. Also, a coat, preferably with down inside. It will help you keep warm at night and is easy to carry.
One should also take into account the possibility of rain. Tourists, as a rule, use membrane as moisture protection. It all depends on your budget. Membrane clothing is crucial. Our children have clothes that allow them to go waist-deep in streams and puddles. The top layer of the clothing gets wet, but the inside is warm and dry.
The thing with membrane clothing is that it dries on your body. Even at night. The body, like a stove, generates warmth, which circulates inside your clothes, dries them up and prevents you from getting cold. If you take off such clothes at night, you will have to put on wet ones in the morning. Granted, membrane clothing is expensive, but is worth it.
We listen to funny stories in the forest and cook soup over the fire
— What do children do to have fun while hiking? How to keep them busy? Do you read bedtime stories?
– Hiking is by itself very good entertainment: contemplation, observation, plus, children need to be motivated to walk long distances, with candy or something like that.
About reading in hikes. We are a family of book lovers, both my husband and me. Therefore, we have a huge library at home. We invest in useful things—bookcases, my workshop, a minimum of furniture, bicycles and various bells and whistles for them. Everything else goes into mortgage payments, camping equipment and food.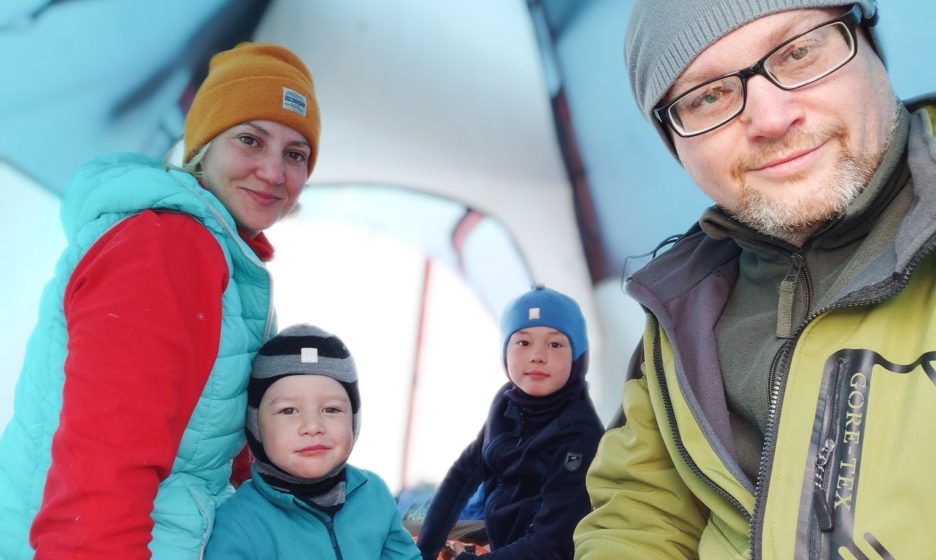 Elena's family
We have a reverent attitude towards books. On a hike, a book can get wet or tear, so we do not take books in paper form. Roma has a player with him, he listens to his favorite fairy tales when in a bad mood. Before going to sleep, we listen to Slava Se together. We adore his humor and self-irony. We all giggle while listening to his stories.
Our boys also love playing with their toy dump trucks in the sand. They have toy shovels, a bulldozer and such, all the size of a child's hand, so that they can carry their toys themselves.
— What about tourist equipment? What do I take with me on a family hike with children?
– With sleeping bags, the choice is based on the same principle—they should be warm and light. Again, it depends on the family budget. I try to lighten the load as much as possible, because I quite often go on a hike with my children alone and carry almost all the equipment myself.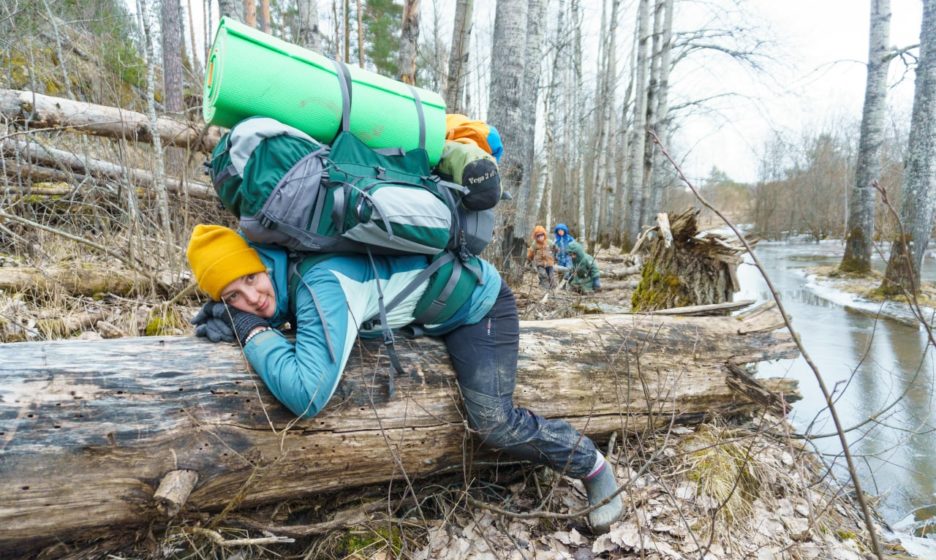 Elena has to carry a lot on her hikes
Sleeping mats are a must. The usual standard is foam, which comes in different thicknesses. Nowadays, inflatable mats are becoming popular with tourists, but three of these are too large in a backpack, and you cannot attach them on the outside. Therefore, foams are preferable. The weight is the same. In addition, the inflatable mats can tear, which lends them unusable.
Lunch is usually prepared on a burner. There is no need to burn fires in the forests, it is dangerous and goes against the regulations. We now have a multi-fuel burner that runs on both gasoline and gas. It is quite large, but it can work even at subzero temperatures. A three-day supply of gasoline for this burner costs 60 rubles (under 1$). If you only have a gas burner, then it is 300 rubles (about 4$) for a can. It lasts the same three days, but only barely. Plus, gas cans are hard to recycle. We've had separate garbage collection for a long time.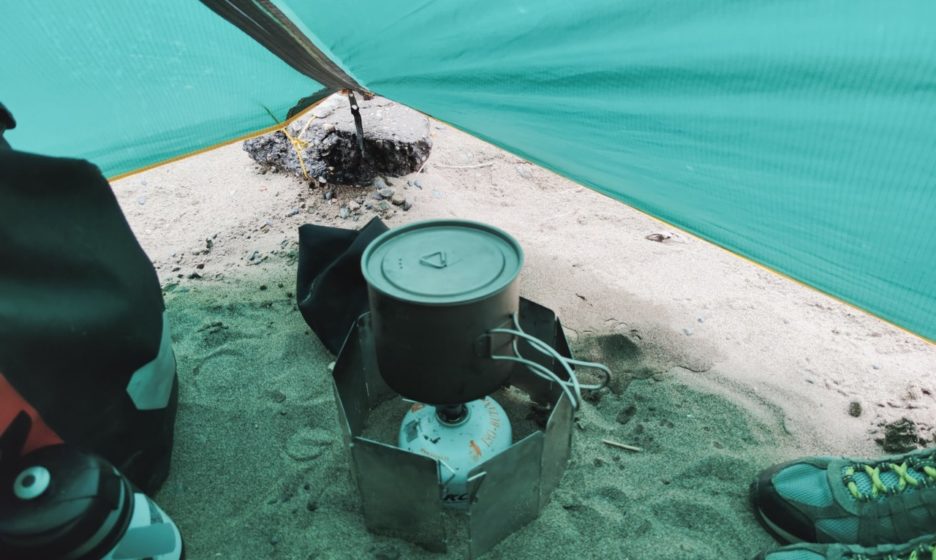 Cooking
You can't go on a hike without a tent unless you go by car. Tents vary. The prices range from five thousand rubles (about 70$) to 100,000 (1400$) and more. Our tent has been in use for 12 years. It is polyurethane, cheap, the most common variety.
But there are two important points here. My life hack: I have replaced the duralumin arches, which weigh one and a half kilograms, with aluminum ones and got rid of almost a kilogram from the total load. Plus, this tent has a very large, comfortable vestibule. It is crucial. Here you can change wet clothes on the children, leave your shoes, backpacks, and bicycles. You can even cook there if you want, when it rains or the weather is really windy.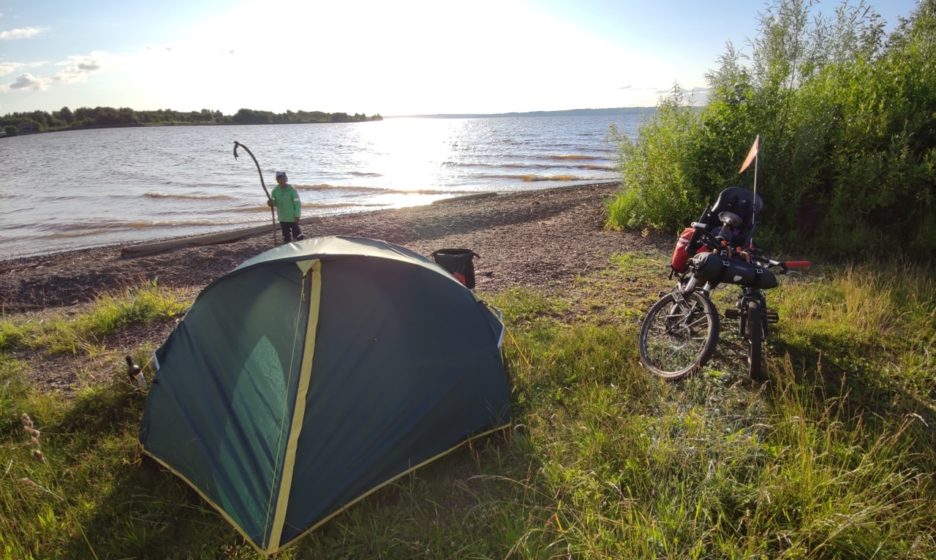 Tent
By the way, Lena can talk a lot about cooking in field conditions. If there is time, she is happy to conjure up something special:
— Our family loves soups. To reduce our travel load, we use sublimated vegetables and meat. Carrots, cabbage, onions, and all other vegetables need to be kept in separate small plastic bags for one-time cooking, so that all you have to do for dinner is put all this in boiling water. Or even better, you can use the traditional tourist system for separately laying out all products for breakfast, lunch, dinner, snacks. This is more convenient and time-saving.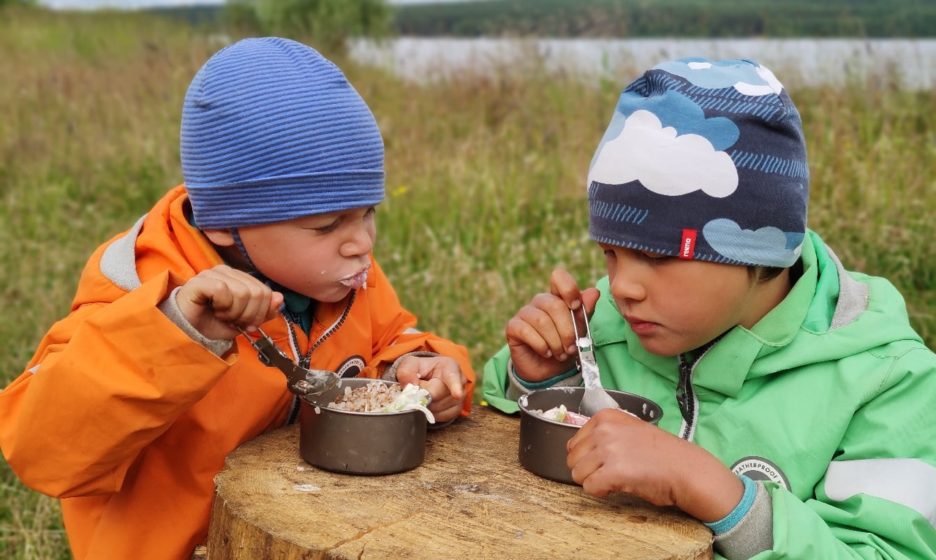 The kids are enjoying camp food
In addition to all this, if you go cycling, be sure to take spare inner tubes for the wheels and a bicycle backpack. It is put on the trunk. If it's a hiking trip, the backpack is worn on the back. You shouldn't be stingy when it comes to what you wear on your back for a long time. Choose a backpack carefully. The shoes should be comfortable, too.
Cycling tourism is becoming increasingly popular today, and choosing a good bike is quite a challenge. It is difficult for me to give any advice here. I bought my own bike ten years ago, and it cost 40 thousand rubles (about 560$). I think that nowadays you shouldn't buy a bicycle for less than 50 thousand rubles (700$). You need a reliable bike and a repair kit for it.
Equipment
The pandemic prevented us from going to Portugal
— As far as I can see, your best bicycle tours have been in Europe. The pandemic has changed many things. What now?
— Yes, we were becoming more and more devoted to cycling. We met a lot of like-minded people.
Ekaterina Kostyukhina from St. Petersburg and I had been watching each other online for a long time. Then I invited her to Udmurtia last year. My friend Luciya Khismatullina joined us. We—three mothers and four children aged 3, 4, 5 and 6—rode around our region.
Katya was delighted with the hills in Udmurtia. It was so amazing and great for me: my small homeland was appreciated by a seasoned traveler who had just returned from a three-month hike in Chile and Argentina. In September 2019 I went to their place, we drove along the Karelian Isthmus. Then went on a joint trip to visit our friends in Belarus.
I realized how wonderful it is to have a person who knows everything about their home grounds give you a tour. During that trip in September, we decided that next spring we would go to Portugal with our children.
The plane tickets were for March 15 this year, and on March 14 the borders were closed. We lost the money, but on the other hand, it's a good thing that we didn't leave. Who knows what could have happened. The pandemic was still weak in Russia, so we went on a hike to the Saint-Petersburg region. We returned from the week-long hike, but things were getting worse with the pandemic, so we went on another hike, this time to the Gulf of Finland.
Then we returned to Udmurtia. My husband was sent off from work to stay at home. Thus, it became possible to go on weekend hikes here in the region. We would get into the car, drive to the forest, then return on Sunday.
We avoided cities. Occasionally we would go to rural shops for groceries (there was no ban on going grocery shopping). Then I got the idea that the May holidays should be spent outdoors. We did not contact anyone, it was our autonomous bike trip. It lasted eight days, two of them were rainy. We covered 227 kilometers that time. We saw a gorgeous river flood in one of my favorite places in our region, the mouth of the Siva River. There it flows into the Kama.
There is a monastery and a temple of the Tikhvin Icon of the Mother of God. This is my place of power. In April this year, after our first family hike, we started and ended our route there at the temple.
After we walked 37 kilometers, I brought all my men to the blessing of Father Zosima before taking a dip in the font. Then the senior priest of the temple invited us to the refectory. Since then, we have been frequent guests there.
The children were thrilled, and for me such meetings are always a good sign on trips. When you meet some nice people who invite you to dine with them, have some tea or take a bath—this is a gift from God. It should be accepted with gratitude. I used to think that there are hospitable people like this only in the Caucasus or in Europe, but we also have such people. It's nice.
For me, hikes are about being in harmony with nature and with yourself; you get everything that you need. This freedom, acceptance of nature and people through self-acceptance is my hiking philosophy.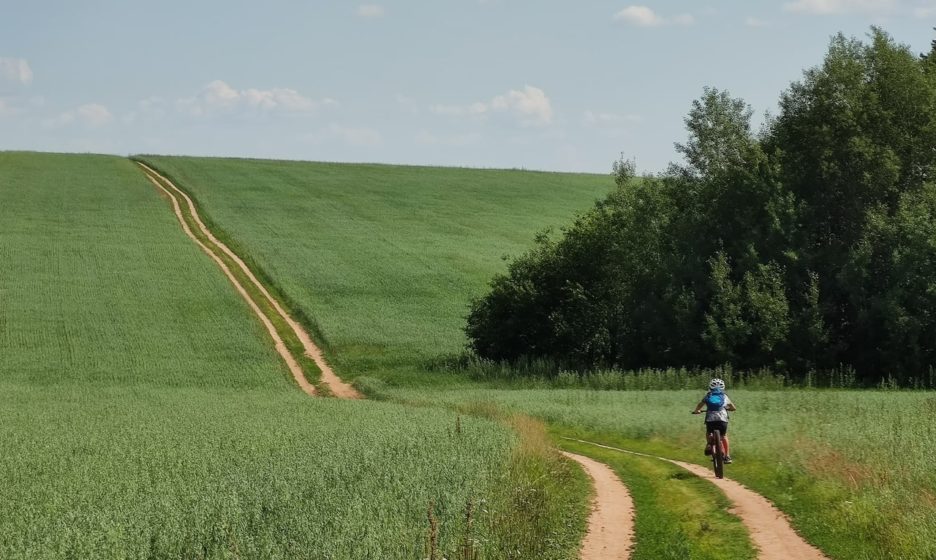 — How did you plan your trip? Can anybody do it? What needs to be taken into account?
— About the regions they joke that there are no roads, only directions. Initially, we were supposed to take one route, but it turned out a little differently. I forgot that we have a lot of hills in our republic, these are elevations of 200 meters above the sea level. This is a feature of the landscape. Things like that must be taken into account when planning.
We have two large highways – M7 and M5. Knowing that Russian roads are not easy, I tried to build a route using mostly field and dirt roads. However, there is a lot of clay in the soil in Udmurtia. If you are caught by rain on a muddy road, it will be tough. Adults can carry their bike for 20 kilometers, but not children.
Safety is paramount. Children on a hike are a huge responsibility. Letting a child go alone on the highway, even if there is little traffic, is irresponsible. You should either couple your bike to the kid's one, or use a bike seat.
I understand that not every parent is ready for something like this, but when it's your lifestyle, you can't do without it, so you look for safe options. I was surprised to discover in our region some beautiful nature trails that are really well-equipped. These trails are made especially for Scandinavian walking, but it's heaven for cyclists as well. One thing is weird though: you can't find these trails on satellite maps. I think it should be like this: a tourist in America should be able to find such wonderful trails in Udmurtia on maps.
We rode 30 kilometers a day on dirt roads, 50 and more on asphalt. On one such day, my elder son rode with me in tandem all 50 kilometers. The average daily distance is 30–40 kilometers. You want to plan 35 kilometers per day, this is a good estimate.
— Lena, you mentioned how tough Russian highways can be. It's not safe?
— It was really stressful for me, I took a long time to recover. There were two very unpleasant moments during that trip in May. It was raining, we were driving along the road. That highway was not very busy, only about one car every 10 minutes. We were wearing high-visibility clothes with reflective armbands, any driver would see us very clearly.
Then a dump truck at a speed of 70-80 km per hour just drove by and literally brushed against my jacket. Then there was the stream of air from it. I could barely hold the steering wheel, thanks to my experience as a cyclist.
Sadly, I've noticed that a cyclist in Russia, for some reason unknown to me, is not perceived as a rightful participant in road traffic. That driver did not perceive me as either a vehicle or a person. The road was good, he could have gone around me very easily. It's a mystery to me why some people are like this. It's driving culture after all.
It's different in Europe, so traveling there feels safer. There is no constant tension. Everyone understands that road users are equal. If a cyclist is riding at a slow speed, he or she has priority.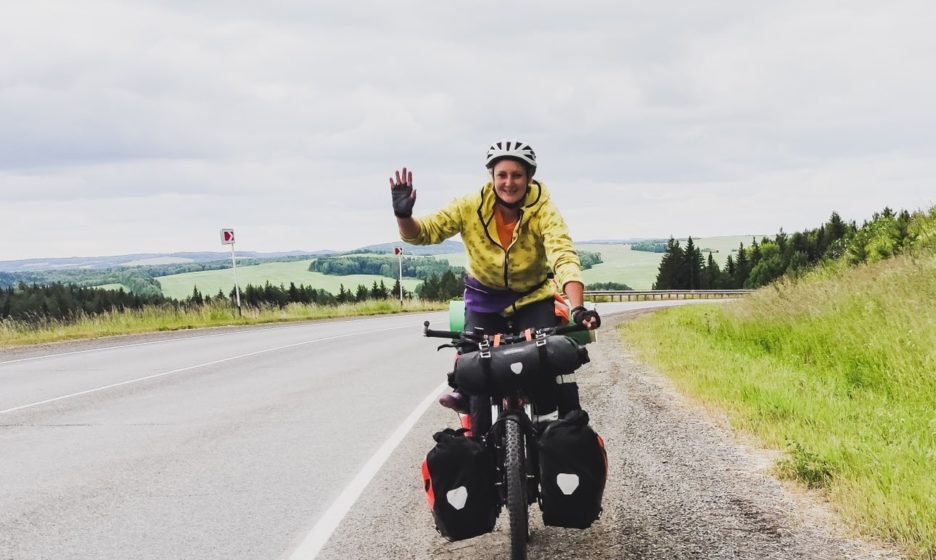 I remember we were going up a mountain once, and I was cycling at 5-7 kilometers per hour. All the cars followed me at exactly the same speed. When the oncoming lane was free, they carefully overtook me. They did not even honk or anything.
We plan to spend the summer in an active way, hiking and cycling. We may not be able to go abroad these days, but there are still nice places around. Sure, we are looking forward to when the borders are open again, but there are many wonderful places in Russia, too.