Joensuu, Finland – The International Society for Orthodox Church Music (ISOCM) is pleased to announce its latest publication, "Prayer Music, and Joy" honoring the life and legacy of the Archpriest Sergei Glagolev, is now available.
The publication includes over 50 pages of liturgical music, never before seen photos, with greetings and congratulatory remarks addressed to Father Sergei.
"This collection of words, photographs, and music is testimony and homage to the inspiration that the life and work of Archpriest Sergei Glagolev have been to so many around the world," the Protopresbyter Ivan Moody, ISOCM chairman, says in the introduction, adding, "He is a transmitter of spiritual joy, a facilitator of something that needs to be undertaken in all seriousness, with great humility and also a sense of amazed, joyous daring."
Born in 1928, in Indiana, Father Sergei applied his musical talents throughout his priesthood encouraging choirs and singers to offer praises with joy and understanding. In the 1950s, he was the rector of the first all-English parish in North America, and for the next nearly six decades, composed sacred works, led workshops, taught seminary music courses, and inspired countless church musicians. His liturgical compositions are well-known, influencing the exploration and composition of new liturgical settings in the English-speaking world. Today, his settings are sung in parishes regardless of jurisdiction, and have been translated into other languages for use around the globe.
The ISOCM, which has previously honored church musicians and composers such as the ever-memorable Protopsaltis Nikolaos Niolaides, began organizing an informal gathering of greetings and congratulatory remarks for Father Sergei's ninetieth birthday in August 2018. The project quickly became an outpouring of reflections and best wishes, along with over 20 choral pieces submitted from former students, colleagues, and admirers of Father Sergei's music. The pieces are the heart of this publication, with many written in honor of the festive occasion.
"The essence of this volume is a series of compositions collected by composers who know, have studied with, have learned from, or simply admire, Father Sergei," Father Ivan notes, adding, "These composers come from all corners of the United States, certainly, but also from Bulgaria, Canada, Finland, France, Japan, Portugal, Serbia and the United Kingdom, because Father Sergei's voice is far from provincial, far from national."
"Orthodoxy should never be provincial or national: its voice is a voice with the capacity to fulfil Christ's injunction to "go and make disciples of all nations," (Matt. 28:19) an injunction that artists working in the service of the Church ignore not only at their own peril, but at the peril of that same Church."
Limited quantities of the publication are available for purchase for $35 (+ S&H) from the Society.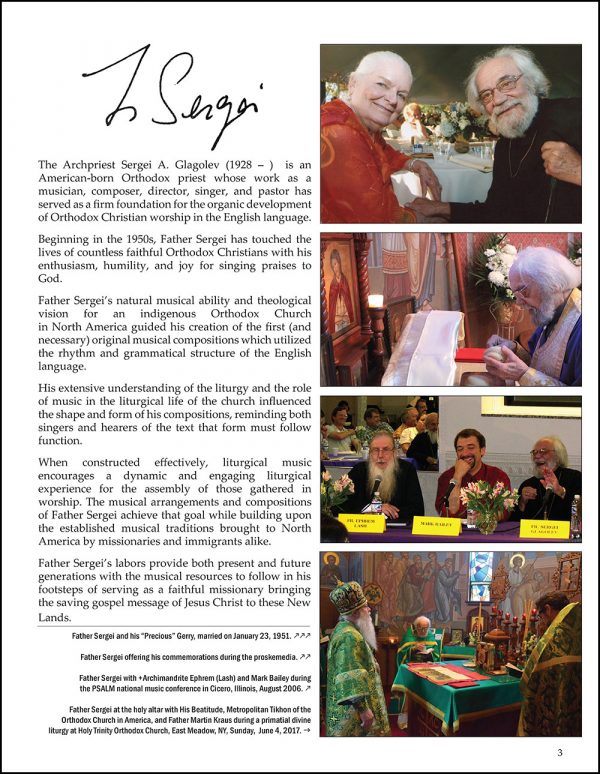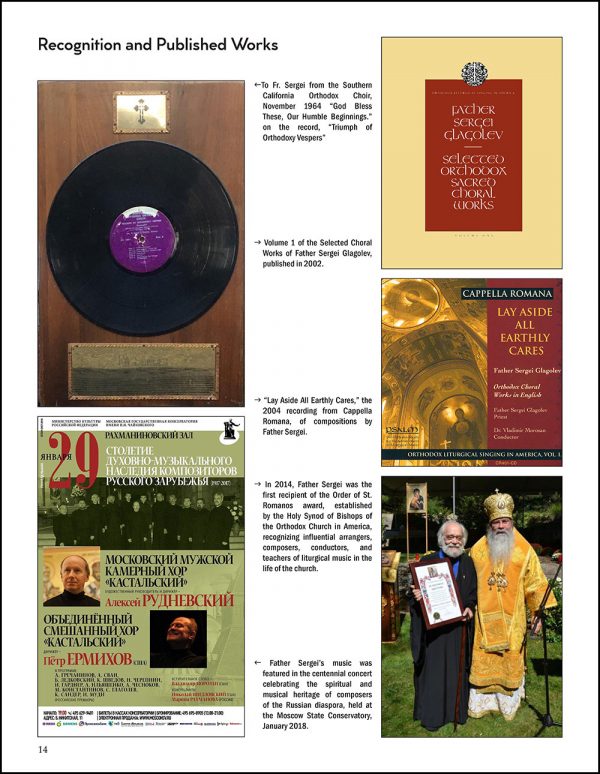 ==================
About the International Society for Orthodox Church Music
Founded in 2005, the ISOCM seeks to provide an open platform for musicians, musicologists, singers, and composers that encourages dialogue, the exchange of information and ideas, and inspires cooperation. The Society sees the promotion of communication between East and West as one of its priorities and hosts biannual conferences, at the University of Eastern Finland on its Joensuu campus. The Society also hosts regional symposia and gatherings elsewhere throughout the world to help create opportunities for collaboration and the sharing of knowledge in the field of Orthodox liturgical music.
For more information about the ISOCM, visit: www.isocm.com