March 21, 2013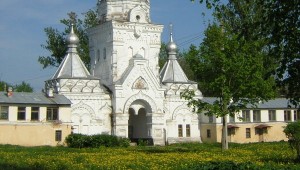 The Novgorod administration in Russia will be deciding the issue of handing over two ancient convents in the town of Velikiy Novgorod to the Russian Orthodox Church, reports RIA Novosti with reference to the regional administration.
The Metropolia, according to the agency's interlocutor, has expressed its interest in giving back to the diocese two Convents, situated in the historical center of town: the Nativity Convent of the Tithes, which, according to the chronicles, was founded in the 10th century, and the Zverin Convent of the Protection, which first was mentioned in the chronicles of the 12th century. Currently, church buildings located in these convents are occupied by a number of Novgorod organizations, namely the military registration and enlistment offices of Novgorod.
"Regarding the buildings which are a regional property, the administration intends to be cooperative. However, return of monastic buildings which do not belong to the region may take a long time. The issue, of course, will be decided, but not very quickly. This is not a near-term perspective," noted the authorities' representative.
At present, there are no active monasteries in Velikiy Novgorod but there are three active Orthodox monasteries in its surroundings: the Holy Trinity-St. Michael of Klopps Monastery (14th century), the Holy Transfiguration-St. Barlaam of Khutyn Convent (12th century) and the most ancient (11th century) active monastery in Russia today, the Yuriev Monastery, where the residence of Metropolitan Lev of Novgorod and Staraya Russa is situated. In 1989, two churches of the Zverin Convent of the Protection were returned to the Russian Orthodox Church—the Church of Protection of the Mother of God and the Cathedral of Protection.
Source: Pravoslavie.ru