My son, keep the commandment of thy father, and forsake not the teaching of thy mother. (Prov. 6:20)
The duty of a laywoman in the Orthodox Church, especially a married woman, is to keep alive the spirit of other-worldliness which has been so lost today. The beginning of this is seen in the very concept of Christian marriage which is not to be thought of as a source of personal happiness or self-gratification, but rather as the means by which two people may save their souls and bring up children in godlines.  All this pre-supposes a common understanding and mutual struggle.
How can a mother bring up children in godliness? First it must be remembered that the mother has the great role of nurturer. The mother is the first object of the child's affection because she is his feeder and nourisher, not only of the body, but also of the soul. She must surround her child with an atmosphere of prayer and make of her home a place where virtues are emphasized. From infancy up she can say morning and evening prayers with the child, gradually allowing him to take more responsibility as he grows and learns. She ought to bless her child often, at the least when he leaves for school and when he goes to bed. There should be icons in the home and a special place for the child's own icons. It is especially suitable for a child to have an icon of his patron saint and guardian angel as well as icons of Christ and the Mother Of God. There should also be vigil lamps burning before the icons and their significance explained. It is simplest to begin by teaching the child the Lord's Prayer and then simple prayers to his patron saint and guardian angel. Gradually other prayers for morning and evening can be added. This is also a time to help the child to understand that prayer is to bring him closer to God and that he should learn to open his heart to Christ.
Parents often dreamt taking young children to church services, and certainly children should not be expected to attend all church services and remain perfectly/still and quiet. The mother can show by her own example how to behave in church. She can teach her child the prayers of the services and help him to participate as far as is possible, either in the choir or in reading parts of the Hours. Most of all she can teach him the meaning of the services and the great mercy shown to us by God's coming to dwell in us. And teaching her child to love the services leads naturally to telling her child the lives of the saints whose icons he-sees all about him.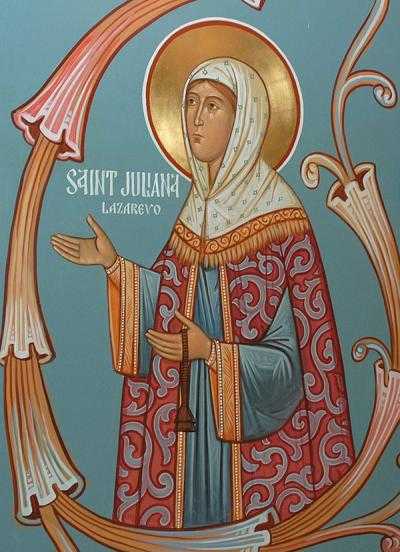 One saint in particular is a great model for mothers, St. Julianna of Lazarevo who lived in the 16th century. Her family was a pious one with an emphasis on the virtues. Her mother died when she was six and the grandmother who raised her, when she was 12. She was then placed in the care of an aunt and went to live with a family of strangers. She was an abstemious, prayerful and obedient child who worked hard. After a  marriage was arranged for her, her mother in-law put Julianna in charge of the household. She always fasted until noon and was for the first time able to attend church services regularly. Her husband joined her in piety. (In such a way is shown how our actions speak louder than any words and in example of a godly life is more likely to convert a soul than many books.) Her husband would read aloud to her from the Scriptures which was a great joy to her as she was practically illiterate, formal education being thought unnecessary for girls at that time. He also prayed with her. (This is another fine example for the Christian family. Even though we may at first feel awkward about praying aloud with our family, it soon becomes a necessary part of our day.) Julianna always tried to treat the servants on her in law estate fairly and never demanded jobs bf them that she was unwilling to do herself. Further, she never complained when others reproached her. (This teaches us that we also should bear meekly calumnies against us in humility, reproaching ourselves if not in the matter at hand, then in some other of which no one else is aware.)
Julianna' s life proceeded peacefully. Her husband was often away, sometimes for as long as two years, and during this time she was left to manage the estate, the children, and her husband's aged parents. She would pray most of the night and during the day join in all the work which needed to be done. She also distributed alms which were available because of her good management. When a great famine swept the land in 1570, Julianna had enough to distribute to the needy. During the plague which followed, she nursed the sick, laid out the dead, made funeral arrangements, and prayed for the departed. While her husband was away, her in-laws died and she took full responsibility. So ought we also to care for the dying and remember them in our prayers and our loved ones in more material ways such as donations to churches and alms in their names.
St. Julianna and her husband had 13 children of whom 4 boys and 2 girls died in infancy. There was strife between some of her sons and the servants. One son was killed by a servant and another died in battle. Julianna felt grief and loss over these happenings and wished to retire from the world. Yet she realized that her husband was also in need of comfort and she was obedient to his desire that she remain with him and not abandon him or the younger children. They ceased to live together as man and wife and increased their prayers. St. Julianna lived a pious life which included little sleep, daily attendance at church services, strict fasting, and abstinence, and open house to all on weekends.
Once it happened during a bitter cold spell, Julianna did not go to church as was her custom. As the priest entered the church he heard a voice saying, "Where is Julianna? Her prayer at home is pleasing, but prayer at church is more so." This is an example to us that while we are at church we are publicly a part of Christ's visible body on earth. Julianna acquired the gift of unceasing Jesus prayer. This prayer is tailor-made for women because it can be done anywhere, anytime, unobtrusively.
In 1601 there was another even more terrible famine. There was a lack of food even on the Ossorgin estates. St. Julianna was reduced to making bread of wood bark and goosefoot, yet all who tasted it found it good. About this time St. Julianna became ill. She lived in poverty and stayed in bed by day. only to get up and pray at night. When she at last commended her soul to God and died, fragrance and light surrounded the saint's body.
Besides the ideas from the life of St. Julianna, there are some other things we can do to make the day holy. One of the most important is to say at least a brief prayer on arising. Then we should bless our children frequently throughout the day. You can also anoint yourself and your children with oil either from the lamps burning in your home or those burning in churches and shrines. This is especially helpful in times of illness and when children waken from bad dreams. We teach best by example and here we can, remember the advice of our Saviour to visit the sick, feed the hungry, and clothe the naked. We can help spiritually not only by our prayers but also by comforting the afflicted and mournful.
Most especially we must bring otherworldliness into the home and keep worldliness out by our prayerful attitude. We should encourage wholesome activities and discourage unwholesome ones. We can control the use of TV, radio and movies with explanations geared to the child's level and by watching some things together. We need also to encourage piety and an understanding of the religious life. There should always be mutual support and love between parents to demonstrate to our children the very basis of Christian life.
Finally there is the example of the Mother of God. In her visiting the pregnant Elizabeth and in her care for her Child she demonstrated true caring for others. She accomplished all the rituals of her faith for herself and her Child. In bringing Him to the temple, she fulfilled the ritual of her purification and also brought the Lord to meet His people. This symbolic act of returning her Child to God foreshadowed His passion when the prophecy of a sword piercing her heart was fulfilled. At the wedding feast of Cana the Mother of God demonstrated her humility and all that she had learned from keeping all things in her heart and pondering them. She realized that the time was at hand for her Son to be revealed; she did this and then faded into the background during the rest of His public ministry. In this life hidden from public gaze, we may take inspiration to grow in godliness and to pass on the traditions of the Church.