Praying for "D" students in Spanish
How did you take the news of your transfer to a new Diocese, to a different country, to a different continent?  Was it unexpected?
Yes, it was unexpected.  I spent all eighteen years of my hierarchical service in Russia, in our homeland.  Initially in my first see of Kamchatsk, then in my second see of Khabarovsk.  Both sees are in the Far East, both had a missionary-educational purpose.
It is the people, the circumstances, the environment, and the objectives, set for me by the Church and His Holiness the Patriarch, that made me into a missionary-educational Bishop.
So, no, I did not expect to be transferred.  Though, having served in South America for six months, I can see a pattern emerging – all my sees were quite extreme.
Extreme in what sense?
Kamchatka is the most eastern territory.  That is where the day begins.  There are constant earthquakes and magnetic storms there, high winds, heavy snowfalls that reach up to the second storey.  During the Perestroika years, people there had to survive, not live.  We, the priests, obviously had to serve in the same conditions.
Khabarovsk is the third biggest region in Russia.  The territory is enormous, villages are scattered all over – see if you can cover everything!  Well, we have covered it.  While I was there, the leaders of the country started paying particular attention to the Far Eastern Federal District.  And it's understandable, the geopolitics of the twenty-first century are shifting towards the Asia-Pacific region, and for that reason it is imperative to develop our Far East.  Hence, there are particular expectations of the Church, its clergy, and Hierarchs.
So, I had to serve and work hard in all kinds of known and unforeseen circumstances – on board submarines and on board ships.  When the Amur River flooded, all priests joined in the work of saving Khabarovsk.
Here, in Argentina, the see is also extreme – it's the "Far West."
Were you worried about leaving? After all those years in the Far East to be moving to completely new surroundings, with an unfamiliar language…
No, I wasn't worried.  I fully trusted our Patriarch.  Obviously, I didn't know what lay in store for me in this new place, because what little I knew of the area, I had learned in my Geography class at school.
But, there was something I didn't doubt at all, that His Holiness understood my abilities and capabilities better than I knew them myself.  What I cannot do, and what I can do, what I will be able to handle, and what will prove too much for me, he saw, therefore he knew what he was doing assigning me to this ministry.  Previous experience may also have counted.
Then, there was certain Divine Providence in that.  A year before my appointment, I began studying Spanish.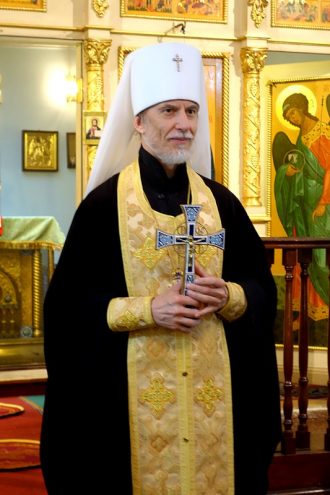 With any particular goal in mind?
At the time, it was just a hobby.  Learning a language really helps to stay "in shape."  Mentally, that is.
Why did you choose Spanish?
About three years prior to that I went abroad for the first time.  That is, I had been overseas before on pilgrimages, to Mount Athos and to Jerusalem.  Then, suddenly, this friend of mine, a benefactor offered, "Vladyka, why don't you go travelling for once.  I'll cover the cost of a two-week trip to any country."  I started thinking, where?  Then I picked Spain almost randomly.
I went there.  And I really liked the country because there is this harmony between the Middle Ages and modernity.  I also liked the Spaniards themselves – they were open, cordial, full of some kind of inner nobility, without a shade of conceit.  They treat Russians well, including me.  It even occurred to me they were just like us, except they never had to go through the terrible upheavals of the revolution, the Soviet regime, World War II, and the Perestroika.
Plus, the language itself is beautiful, very expressive and friendly.  The Spanish say, "amable," and that's what it's like.  So, I felt an inclination to learn it bit by bit.
These days, I study Spanish because I have to, and I put a lot more effort into it – I try to spend a few hours a day studying it.  I have made some progress, I can already speak at assemblies, meetings, I can interact on a day-to-day level.  I was recently invited to give a series of lectures in Spanish on the Russian Orthodox Church.  So, I am preparing for it.
Is the Liturgy served in Russian or partially in Spanish?
When serving we try to make sure the parishioners understand what goes on in the Liturgy.  So that they can not only understand, but participate in it as well.  Our parishioners are peculiar – some speak only Spanish, some – only Russian, some speak both languages.
For that reason, the chanting, the reading of the Epistle and the Gospel, the Creed and "Our Father" are done both in Church Slavonic and in Castellano.  It took us a while to get to this point – it took some time, we had to discuss all circumstances with our priests.  We formed a committee on the translation of liturgical texts into Spanish and Portuguese.
What can bring together such diverse compatriots as ours?  After all, there were seven different ways of immigration.  Nothing but communal prayer, the Liturgy – a "gathering," consolidating worship.  So, that's what we do, we gather and consolidate.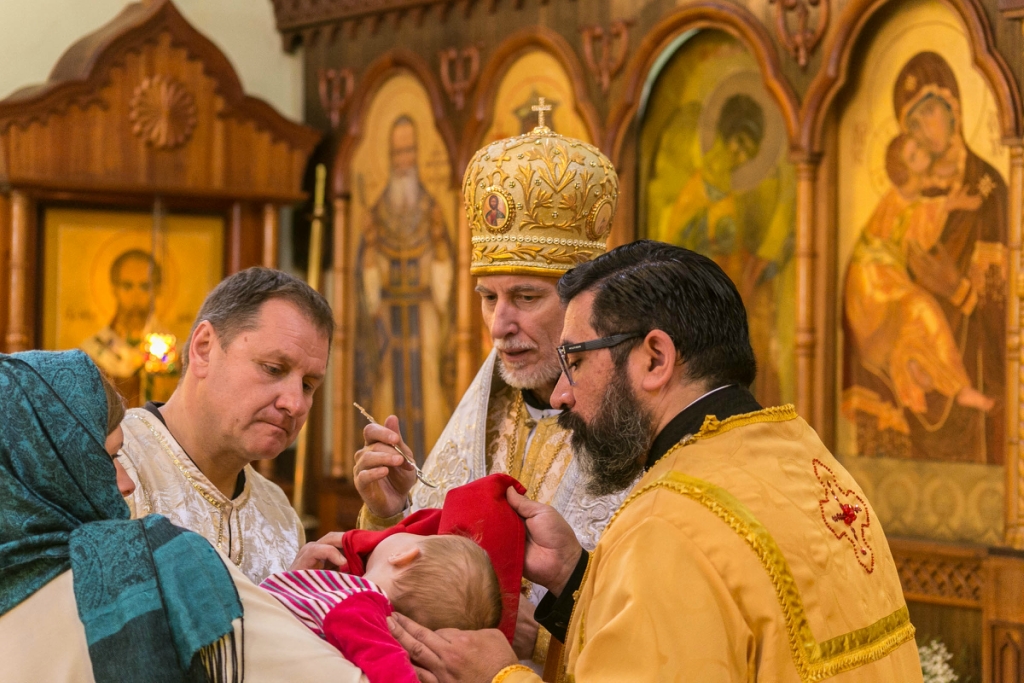 Did any of your spiritual children from Khabarovsk follow you?
Two people did.  Others wanted to go as well, but I couldn't take them all.  They had to remain at their obediences so as to help Vladyka Vladimir (Samokhin) (the current Metropolitan of Khabarovsk and Priamurie – Ed.).
Hieromonk Antoni (Zhukov) came with me.  He's been under my spiritual guidance throughout his entire monastic journey from the very first days of obedience.  He is used to my style and applies himself most fruitfully under my guidance.  Father Antonii's track record isn't short – Kamchatcka, Khabarovsk, the setup of two monasteries with numerous pilgrims, missionary and educational activity.
South America is also in need of a well set-up Orthodox parish life. And monastery life as well.  So, I agreed to his request.
Likewise, Tamara Ivanovna Iarotskaia, the Head of the Arts Department, moved to Argentina.  At one point, she followed me from Khabarovsk to Kamchatka.  Now to Buenos Aires…  We've been working together for fifteen years, we understand each other really well.  She has experience in implementing diverse and most interesting cultural projects.  Though, so far only in Russia, but South America can also become fertile ground for her work.
I read in your blog about a girl named Katia, who also came from Russia, who works in the church in Buenos Aires…
Yes, but she is Father Antonii's spiritual daughter.  It is owing to her in particular that there are always people on duty in the Orthodox cathedral of Buenos Aires.  Prior to that, they couldn't keep it open all the time – they couldn't find anyone they could assign there.  These days, it is open from 8 a.m. to 9 p.m.  Every day.  She also bakes prosphora and teaches icon-painting.  She is also preparing to take monastic vows.
So, the church is open.  Are there any results?  Do people come, are they interested, do they ask questions?
Yes! They do come, they are interested, they do ask questions.  Mostly Argentinians.  Some are genuinely interested: "We've lived in this area, in neighbouring streets for so many years, we've walked past so often, and it's always been closed, and now… it's always open.  What has happened?"  Some are curious, "So, you Russians are Orthodox! Hhhmmmmmm…  Can't understand it.  We are Catholic, so what exactly is the difference?"
However, most of the people who come, come to pray, to venerate Orthodox shrines, to spend a few minutes in silence.  For those people, we have translated into Spanish and printed out many prayers, simple, warm, all of them different.  Prayers for rain or no rain, family and work problems, prayers for deliverance from sickness and from the smears of the enemy (oh, how relevant it is here!)  Prayers for children and teenagers struggling with their studies.  A kind of handbook of the practice of Orthodox prayer.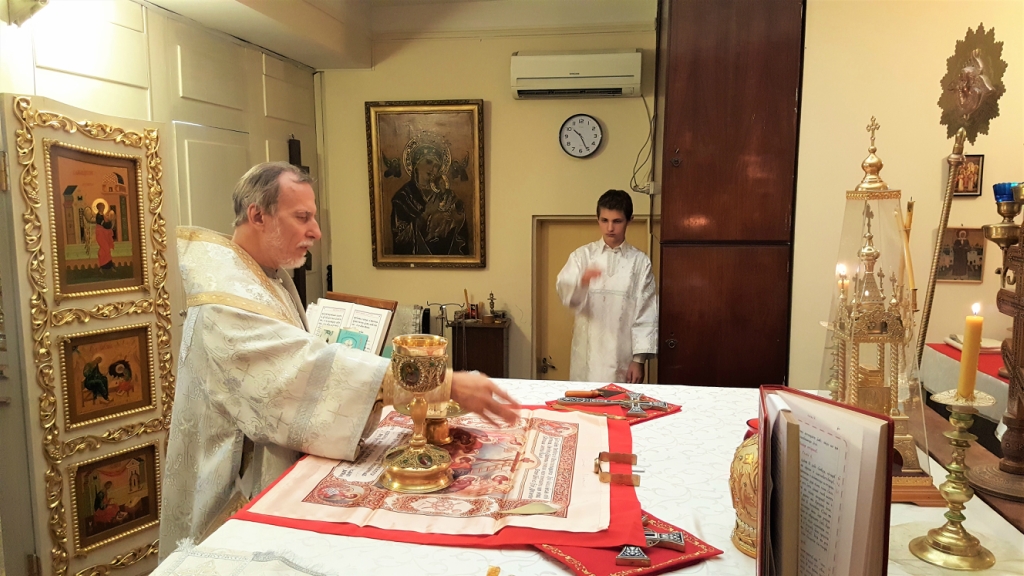 Basically, prayers for "D" students?!
And for "D" students as well.  It is important to pray for any reason, in every place of His dominion…  People often forget about it, but it's our holy duty to remember.
So, when we talk to visitors, when we pray with them, we remind them to pray, then give them printouts of these prayers. Encounters like that happen very often.
I am on duty in church on Mondays.
How is that? The Metropolitan sits at a table in the church answering people's questions?
No, not at a table, nor do I sit.  I go up to visitors, explain things, answer questions.  Basically, I try to assist them somehow. In some way.
Spending a whole day in church strengthens a person spiritually, gives them balance and some kind of clarity of thought for the entire week.  And when you have to travel extensively as a Pastor, especially when it's around the entire continent, these Mondays become simply indispensable.  Plus, there is the socializing.  It is very interesting to meet people here, it produces good, kind emotions.  I find it very gratifying.
Imagine this.  Two nice, lovely women come in, a mother and her daughter.  They walk in, say hello.  I offer assistance without being pushy.  They answer, "It is not necessary, thank you."  They walk around a bit, and I can tell they want to ask something, but are embarrassed.  I walk up to them myself.  We start talking.  I tell them about our copy of the Pochaev Icon of the Holy Theotokos, about the piece of the Life-giving Cross, the most important relic in our church.  We pray together.  We spend fifteen to twenty minutes in conversation, then they want some time alone to put up candles.
In a little while, they are ready to leave and suddenly the daughter, a really young girl of about sixteen, all graceful and pretty, comes up to me, gives me a huge hug, and kisses me twice.  Then, the mother comes up.  Just like that, they thanked me sincerely from the bottom of their hearts, hugged and kissed me, and left!  What did I think of it? Nothing.  It just makes you happy, it's nice that people accept you so openly, so gratefully, so sincerely.
Plus, there's the language practice… it is a wonderful opportunity to improve my Spanish.
So, on Fridays, I receive people in my capacity of Administrator of the diocese, just as I used to in Khabarovsk and in Kamchatka.  And Monday is the day when I am on duty in church.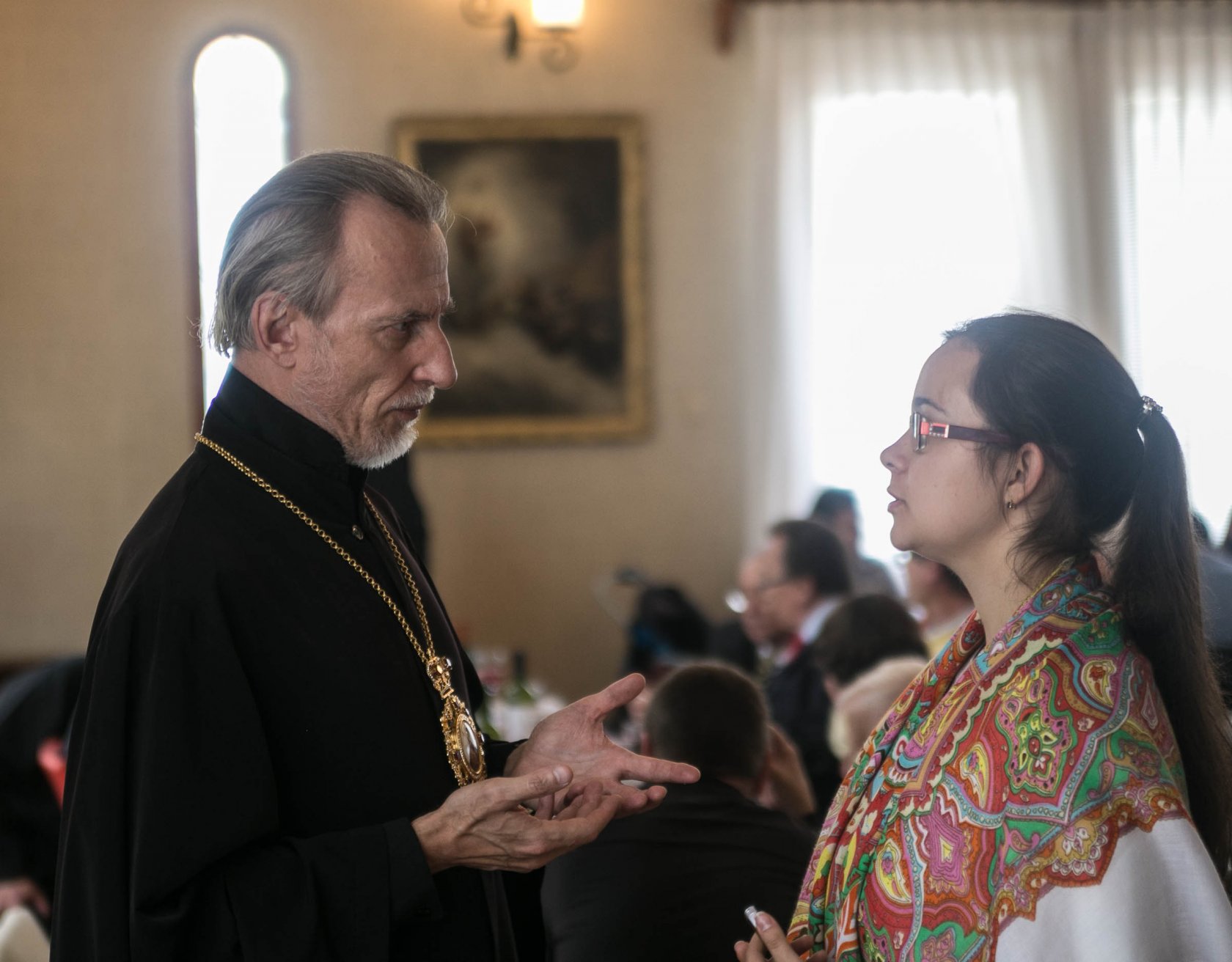 "I am not afraid to look like a fool."
You said in an interview that what had struck you in the first bishop you ever met (Archbishop Chrysostom (Martishchkin) – ed.) – it was in 1988 or in 1989 – was that no question embarrassed him.  Can a visitor's question embarrass you these days?
No, no questions embarrass me.  Maybe because I am not afraid to look like a fool.  When someone asks me a question I cannot answer, I tell them straight away, "Forgive me, I cannot answer it straight away. However, if you want, I will do some research, and next time I see you, I will give you an answer.  Here is my email address, my blog, and our website."
I read on your blog that you try to immerse yourself in a Spanish-speaking environment – you go shopping on your own, go to cafes.  Were there any interesting, unexpected encounters or conversations outside of church?
There were no unexpected, unique, extreme encounters yet.  Most people you meet are friendly.  At the shops, at the barber's, at the pharmacy, in cafes, people are always friendly, always ready to chat, will always tell or show you something quietly.  I haven't yet come across drug-addicts or criminals, though many people have told me about them, have warned me of that danger.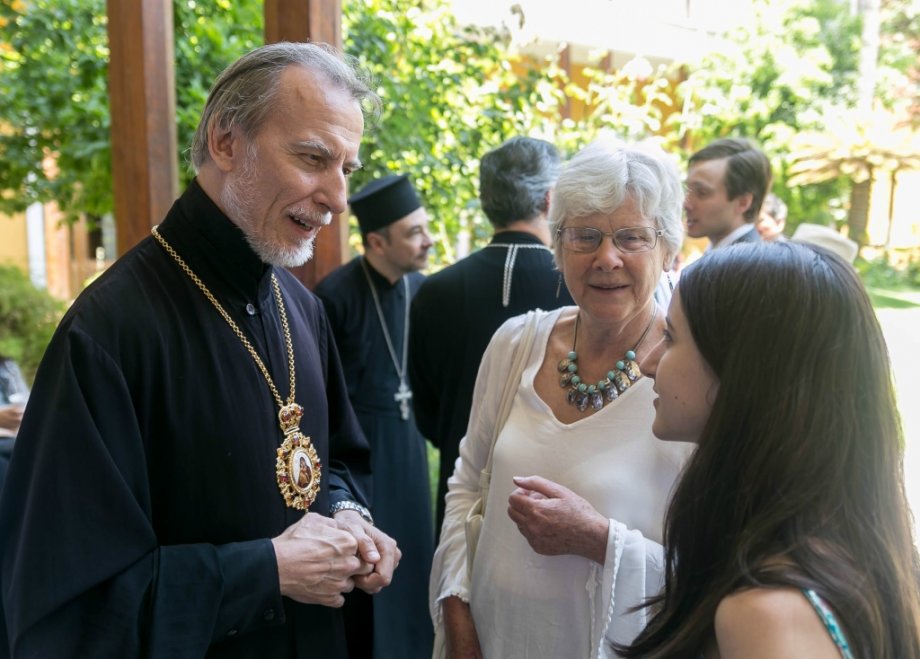 Have you had to change somehow when you moved to South America, to adjust to their customs, to renounce certain clichés, certain stereotypes?
I didn't have to change.  But I did have to adjust how I interacted with people.  For example, Latin Americans, like all Hispanics, are not known for their punctuality.  If you schedule a meeting, you may be certain they won't come on time.  It is almost rude to come at the appointed time.  You have to be aware of it, deciding ahead of time, what you will do and how you will act.
They progress very quickly to the interaction of close friends.  They've only just met and they already address each other familiarly.  Students and teachers use the familiar form of address with each other, as do students and professors.  It happens very naturally, without a shade of vulgarity, obtrusiveness, or familiarity.  In Russia, this kind of behaviour would have been considered as rudeness or boorishness.  While here…
If a man pays a woman a nice compliment, she gives him a kiss and immediately addresses him familiarly from the bottom of her generous South American heart.  Age, social status, or rank don't make that much of a difference.
Here's an example.  I'm at the airport.  Registration hasn't begun yet, but the girl is already behind the counter. I walk up.
She gives me a cold, confused look.  I inhale deeply trying to impart some courage into my heart, for I haven't spoken to young girls in this fashion in fifty years,
She gives me a wide smile and her eyes light up.
Really? You're not so bad yourself!  Where are you headed to?
To Bogota.
Ok, good, would you prefer an aisle or a window seat?
Aisle, please, I get up now and then to stretch a bit. It's my age, you know…
Stop being so modest! Here's your ticket, here's the time of the flight and the number of the gate!  Have a good trip!
Now that I have some experience in informal socializing, I walk up to an airport security booth.  There's also a young girl on the other side.
Hey, how are you?
Good! Yourself?
Have you been to Africa recently?
Feverishly I try to figure out what Africa has got to do with me and airport security.  Oh, but of course!  At the moment, Africa is a source of exotic illnesses for Europe, of different types of flu and fever.  It probably applies to South America as well.
No, no, never!
Honest?
Absolutely!
Well, go ahead then!
People who are about to live in a different country, in a different civilization must change somehow, though they must stay true to themselves in essentials.
The same applies to a missionary in Latin America.  He must adopt certain habits, tastes, attitudes, he must internalize certain opinions, make them his own, while other opinions must be renounced.
But he must remain a Christian in essentials. An Orthodox Christian.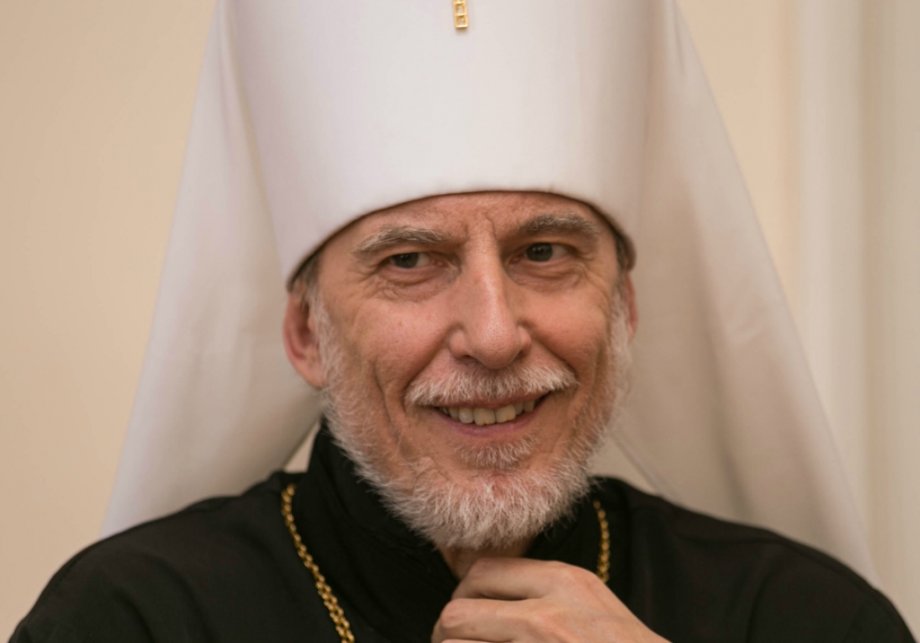 If a South American comes to you to confession, do they address you formally or informally?
Usually it's Russian speakers that come to me for confession.  I had to hear the confession of an Orthodox Argentinian only once.  However, if they use the familiar form of address with me, I will listen to them without hesitations and loose their sins "by the power transmitted unto us."  I am here for them, not the other way around.
Have there been people who wanted to become Orthodox, to be baptized?
Both to be baptized and to be married in church. People came and are coming.  In these cases, I always try to assess the earnestness of their intentions, "Why have you chosen Orthodoxy?  What will your family think of your choice?"
Recently, we married a young couple, she was a Russian girl, he was Italian, from a traditional Catholic family.  I made sure that the mother had given her blessing, that he was studying the foundations of our faith.  They were married.  Now, both of them are our regular parishioners.
Or, another example.  While I was still in Khabarovsk, a Catholic priest moved there, Father Ioann Flores.  From Argentina.  He was the Rector of a Catholic parish, we got to know each other.  He read the Eastern Ascetic Fathers and was so absorbed by what he had read, he could no longer imagine life without them.  He went to Moscow, joined the brotherhood of the Danilov monastery, filed a petition to convert to Orthodoxy.  The Department for External Church Relations approached the Papal Curia and it seems the request was approved.
These days Father Ioann is preparing to become an Orthodox priest.  Now this is an example of a serious approach.  No one tried to convert anyone, no one pushed anyone, no one tried to prove to him that Catholics were no good and would not be saved, while the Orthodox would be saved because they are good and right.  He came of his own accord, he saw his calling in it!
Vladyka, where is the fine line between preaching and proselytizing?  How can we avoid crossing it?
Preaching is a desire to lead a person to Christ.  Proselytizing – to lead a person to your Church, with Christ being of second importance, if not at the background.
Dostoevsky is popular even among the young people!
South America is a Catholic continent.  Is the faith there a living faith, or is it mostly formal with most people – as in, I am Russian, consequently Orthodox, Argentinian, consequently Catholic?
I'm not sure how to answer this question.  Not sure yet, as I have only served here for six months.  But, at first glance, it seems that church plays a very important role in their daily life.  There are many people in their churches on Sundays, many children, a lot of people commune, thousands gather for processions on parish feast-days.  I have seen family processions, yes, that's right, in the streets and on roads.  Picture this, a family comes together, takes their shrine (a cross, a statue of the Holy Theotokos or the Saviour, etc.), and reverently goes on this peculiar "family procession."  People here treat the Church with reverence.  I haven't come across any criticism against the Church anywhere, not in the press, nor on the web.  At least, nothing as insulting as the things you come across in Russia.  The Pope is treated with even more respect.
However, about ten-fifteen years ago, South Americans had to endure a curious kind of test of their own Catholic faith.  Sectarians flooded from North to South America, well prepared American Neo-Protestants.  They are bold and pushy.  Enterprising.  They head straight for the favelas – poor neighbourhoods where the ground is rich for crime and drug abuse.  They open their prayer rooms there, they preach and very soon gain popularity.  Their belief system is primitive, plus they have low expectations of their followers, simple rituals, plus a wide application of psychotechnics.  The results of such "a management of the population" are disturbing. In some countries, Neo-Protestants have already penetrated the higher government.  For example, the mayor of Rio De Janeiro, which is the second largest city in Brazil, is an adherent of one of these sects.  I don't think they will stop at that, for they do not concern themselves with the salvation of the soul, but with power and money.
This is why I say that, on the one hand, Catholicism in South America is traditionally strong, while, on the other hand, the danger of the continent becoming Neo-Protestant has become very real in a very short time.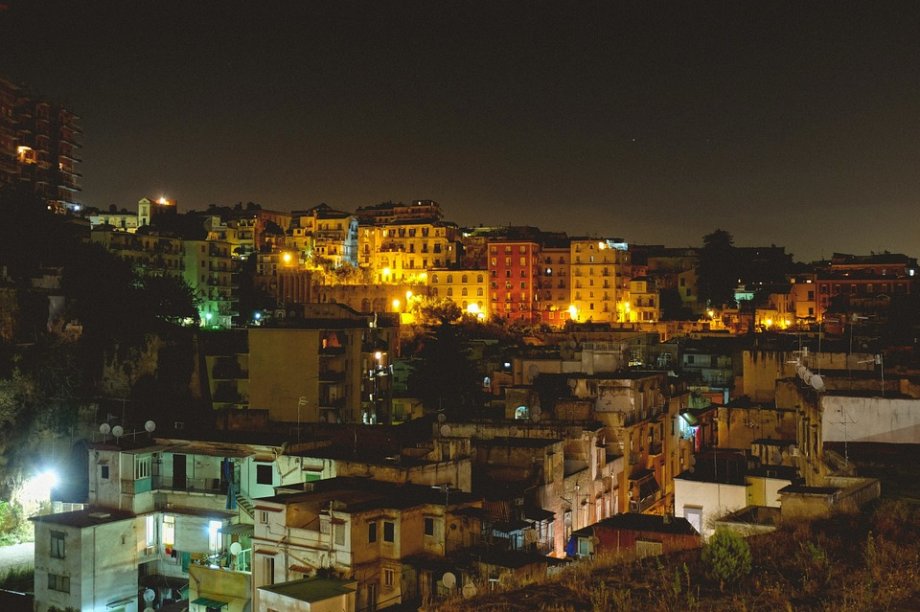 I read that four per cent of Argentinians are Orthodox…
This figure is probably related to our compatriots, the ethnic Orthodox, and, of course, the potentially Orthodox.  But, on the whole, South Americans know little of Orthodoxy for now, but, I repeat, they deeply respect Russia.
First of all, at one point, South American countries used to collaborate with the Soviet Union, they received humanitarian aid, their specialists went there for training.  Secondly, many are interested in our culture, especially in Dostoevsky.  What is more, it often happens completely spontaneously.  In some capitals and cities, without any participation of the Russians, clubs are formed, where people read Dostoevsky, translate his works into Spanish.  It is astonishing, but Fedor Dostoevsky is a very popular writer among them!  Even the young people read his works.
There are many places where you can study Russian, that encourage an interest in Russian culture, for example, the Institute of Leo Tolstoy in Bogota (Columbia) or the Faculty of Russian Literature in the University of Sao Paolo (Brazil).
Moreover, Russia is respected as a country whose politics are independent of the USA.  Because South America feels pressure from their "neighbour from the North."  For that reason, in general, the middle class is drawn towards us, and the ruling elite towards the USA.
You wrote that Catholics treat the Orthodox as brothers…
Correct.  And that is without any expectation of any kind of personal advantage. Vladyka Alexander (Mileant), Bishops Platon, Lazar, Mark, then Vladyka Leonid started off and operated in extremely difficult circumstances.  Catholics could have made it difficult for them or could have simply remained unconcerned.  However, the reverse happened: they let us pray in their churches to assemble our congregation, they offered us room to conduct assemblies, invited us to their own meetings, expressed an interest in our ascetics, iconography, church singing.  And they keep on doing it to this day.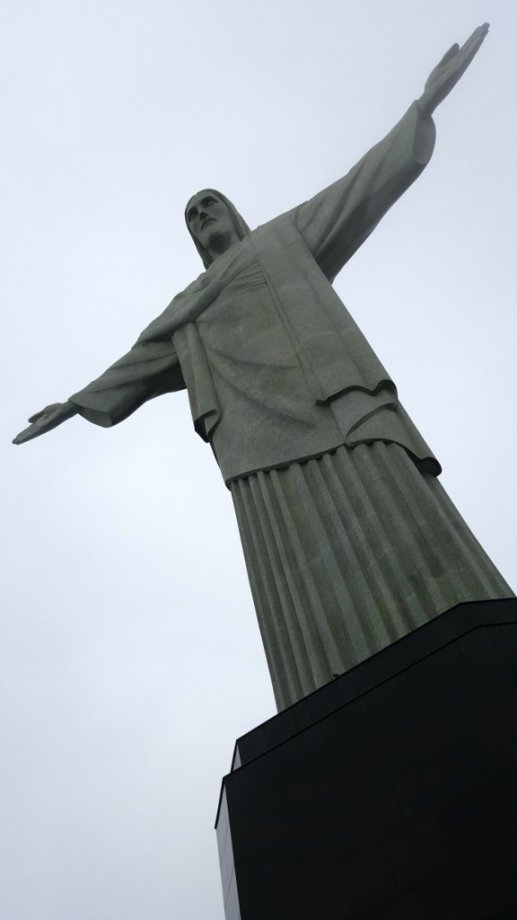 The Orthodox feel differently towards Catholics, they are a lot more cautious…
It is true for many Orthodox in Russia.  They are even antagonistic towards Catholics.  It is the result of a millennium of confrontations.  Besides, since the very first days of Perestroika, Catholic priests and bishops were openly proselytizing in Russia, which did nothing to improve trust.  Now, the situation is different, there is more of a possibility to understand each other better, to work together.  Especially, in South America.  Especially, after the visit of His Holiness the Patriarch.
But, I think, everyone used that opportunity it, not just the Catholics.
True.  Neo-Protestants tried much harder: they built huge "Kingdom Halls," rented stadiums, printed millions of copies of their magazines.  There was a whole army of canvassing agitators who set up their destructive totalitarian traps for trusting Russians.  Of course, they tried to penetrate all levels of government.  Basically, the situation was exactly the same as in South America today.
I used to think the problem was that certain Church canons proscribe praying together with the un-Orthodox or that some of the Holy Fathers, like, for example, your Patron Saint, St. Ignatii Brianchaninov, expressed themselves quite strongly on the subject of the un-Orthodox, saying they would not be saved.
He really did write that.  Nonetheless, he did interact with Catholics.  For example, he invited the French ambassador to visit the monastery in Oranienbaum, of which he had been the Abbott for twenty-five years.  He took the ambassador to church, to a service, spent time with him there, he may have prayed with him then, then invited him to the refectory, and spent a long time in conversation with him.  And he paid for it.  When the Emperor was informed that St. Ignatii had invited the French Ambassador to His Majesty's monastery, there were some repercussions.
So, yes, he was of the opinion that Catholics would not be saved.  That, however, did not interfere with him socializing normally with them.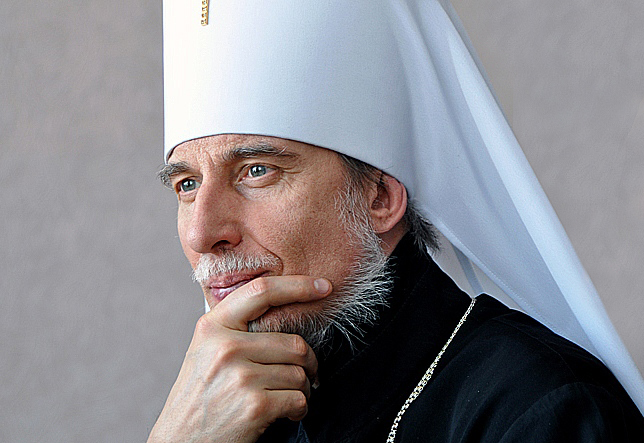 Haven't you yourself attended the Festival of Confessions in Argentina?  Can you talk about it?
It wasn't really a festival of confessions.  It was a wonderful evening, a magnificent theatrical performance.  What did it consist of?  In San Nicolas, a suburb of Buenos Aires, a Catholic priest was about to complete the restoration of his big, beautiful church.  So, he decided to organize a concert on this occasion.  He invited all the famous entertainers in Argentina, and they came.  They sang of faith, of God, of His love, and of the Church.  They sang of the saints.  Among the performers there was a young man who was blind from birth.  There was also something wrong with his arms as he couldn't hold a guitar.  So, they helped him onto the stage, sat him down, put his guitar on his knees like gusli (oldest Russian string instrument – trans.), and he played and sang.  It was amazing, it was beautiful!  He sang with such a clear, lucid, strong voice!  He sang amazingly.  As for confessionalism, I received an invitation along with some other leaders of traditional Churches and I accepted it.  I made a speech before the concert, congratulated the local bishop and his pastors, presented them with a beautiful edition of our Orthodox Bible.  Let them read it!
I wonder if something like this could have happened in Russia, what do you think?
I think it could have.  And it needs to happen.  Not only for the sake of the audience, but for the performers' sake as well.  I think many entertainers would have agreed to participate.  The only thing is, some entertainers have a scandalous reputation…
At one point, Father Andrei Kuraev used to organize the festival "Rock to Heaven."
Homeland as a big family
You have an opportunity to look at your Homeland, at the Russian people as though from aside.  Has your attitude towards Russia changed since moving overseas?
Yes.  It is easier to look at big things from afar.  However, the biggest things I saw in Russia, while living in Russia, I haven't had the chance to see yet.  After all, I've only been here for six months.  Besides, I have a very intense schedule.  I am constantly travelling.  There are twenty-six Orthodox parishes on the South American continent, nineteen priests who serve there.  Our communities are spread out across the entire South America.  In that time, I had to visit Chile, Ecuador, Columbia, went to Brazil three times, and, obviously, Argentina.  All that is left is a pastoral visit to Peru and Panama (then – back to start).  The programme is very intense everywhere.  There are meetings with state and city government officials, embassy representatives, parishioners, the local intelligentsia.  Services, pastoral talks.
Moreover, I would like to meet those of our compatriots who are the heirs and guardians of our history, for example, the descendants of Bunin, Lermontov, the Decembrist Lunin, General Krasnov.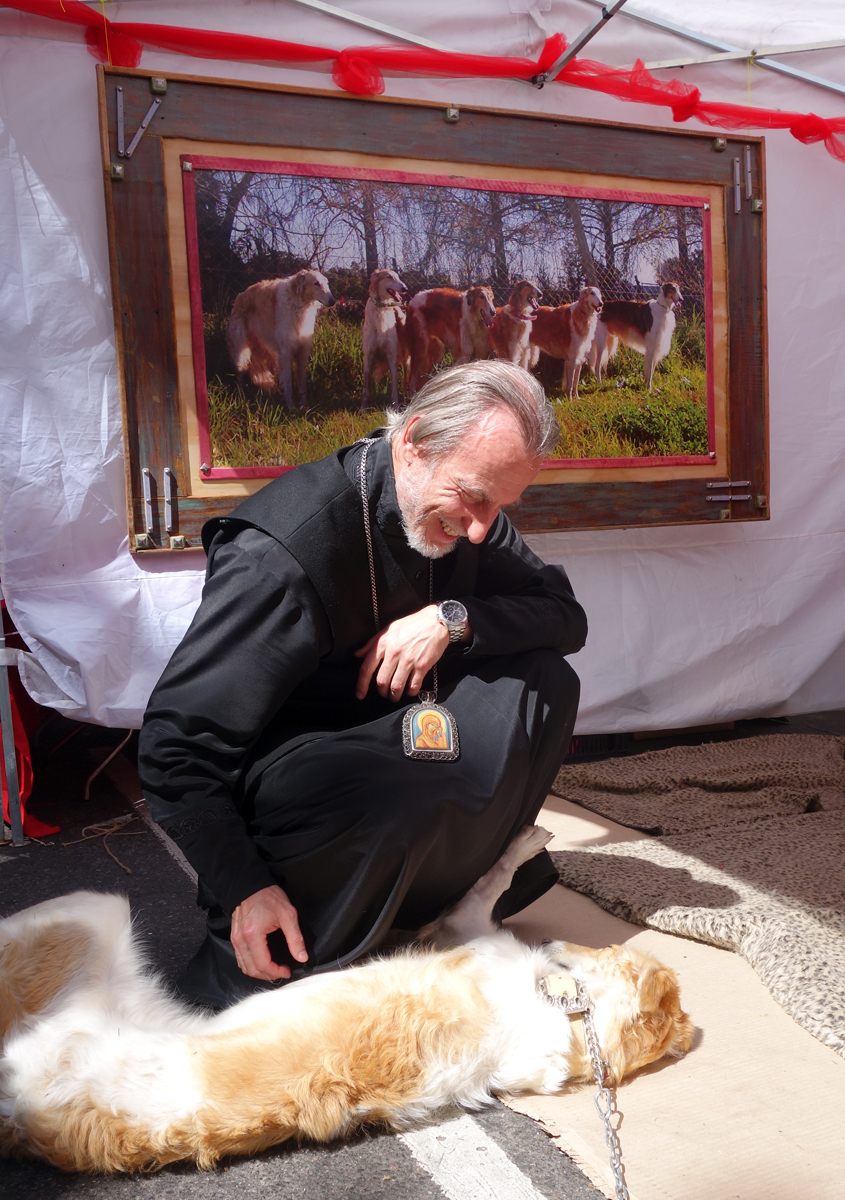 Have you already managed to meet some of them?
Yes, I have seen and heard them talking with pleasure… It is Russian nobility in the high sense of the word.  Talking to them I could feel a spirit of modest nobility.  It comes across in their manner of talking, listening, telling stories, in their manner of discussing.  They speak correct, very fluent Russian, their speech is very refined.
Besides, they remember quite a bit.  I gave a blessing to some of our priests to record their reminiscences.
Do you miss Russia and the Far East?
I haven't had the chance to.  Besides, I visit Russia quite often.  I went back for the jubilee of His Holiness the Patriarch, took part in the Nativity Educational conference.
Some people think that a monastic should not have a homeland…
I cannot call myself a monastic.  Monastics ought to live in monasteries, while I have always lived in the world.  And I hope to be saved not because of monastic deeds, but because of my episcopal labours.  Notice, Holy Bishops were glorified not as Venerable Fathers, but as Hierarchs.
Personal opinion: no matter who you are, you have to look upon your homeland as your family.  It really is a family, only a very big one.
But, isn't the entire human race a big family!
So, it is.  But it's easier to learn to love your Homeland, than to learn to love the entire human race.  In order to learn to love the entire human race, you need to come into some kind of contact with it, to take a good look at it, to see it, to feel it.  How can you do it?  For example, I have met South Americans, I saw them, sensed them.  Love is a concrete thing, and all efforts to imagine it lead directly to spiritual delusion…
Why does a Christian need psychology?
You've been writing your blog "Arkhierei" (Hierarch) on the internet for eight years – some say it was the first blog of an Arch-pastor in Ru-net.  Yet, you wanted to shut it down before leaving for Argentina.  Why?
Well, first of all, I couldn't write as often as I wanted to.  In general, it's supposed to work this way: evening comes, you sit down before the computer for half-an-hour to an hour, you recall an interesting incident that happened that day, and you write about it.  You answer questions, you share your thoughts.  That's what a blog is.  I can no longer do that, because I need to learn Spanish, I need to travel a lot.  Sometimes, news can stay on my blog for a week or a week and a half.
That's when I started thinking about closing down the blog.  Then I looked at the enumerator.  Fifty to sixty people checked my blog daily.  Asking me to continue writing.
In order to somehow spur myself on, I made the blog trilingual, in Portuguese, Spanish, and Russian.  Now I definitely won't abandon this project!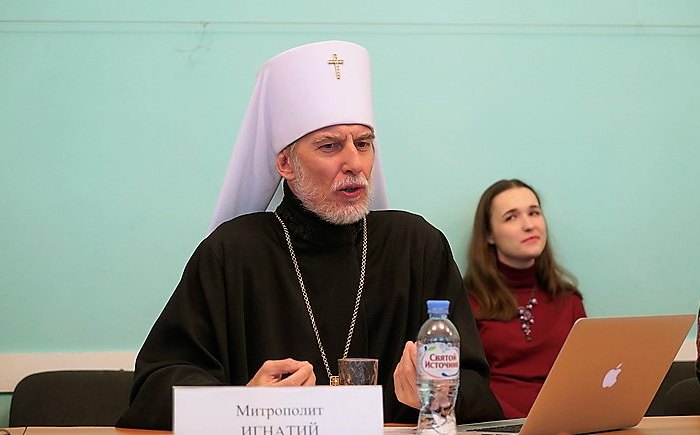 Have you managed to master the language of the web?
No, I haven't, though I like it.  It is concise, emotional, and very succinct.  You can express so much with just two-three words, even emotions!  And people do express things.  It is interesting to observe how people in control of this language socialize, so long as they don't condescend to foul language.
I recall a discussion between two young men on my blog.  They struck at each other with precision, conviction, and brightness.
For a long time, neither of them could convince the other that he was right.  Suddenly, a reason was found.  Irrefutable.  And the other person replied with, "oooeeeehhhh!" and all his feelings came across in this interjection – the admission of defeat, a feeling of shame, as well as the promise to be wiser in the future…
A bright, meaningful language.  And, most importantly, very concise.
Vladyka, you are sixty years old.  At this age, many of your compatriots reduce their level of activity, and, to put it roughly, prefer to spend their evenings in front of the TV.  You have recently managed to complete your third degree, this time in psychology, you completed your thesis, you are learning a new language, you run your own website.  Where do you get the energy?
I might also have read newspapers and watched TV in the evenings.  If I hadn't been in the Church.  The Lord has brought me here, and the Church expects much of its Hierarchs.  Above all, it expects activity.
What does being a bishop involve?  In means, first of all, developing your diocese, its parish life, cooperating with lay institutions and authorities.  It means the expanding of the mission, of social services, of working with young people in every possible way and direction. In addition, media and the web, prisons, the army, lay and church education, all these things require the presence of a Pastor.  And an Arch-Pastoral presence.  So, go ahead, try and find time to sit down in front of the TV!
An example for all of us is His Holiness the Patriarch.  He is constantly and sacrificially working himself, enticing us to do the same.  And he monitors us.  He monitors us properly, as a father or a pastor would, but firmly, as if to say, remember, don't do God's work negligently.
So, I would have spent some time in front of the TV, would have absolutely loved to, but there is simply not enough time.  Where do I find the strength and the energy?  I don't know.  I work to the extent that the Lord gives me.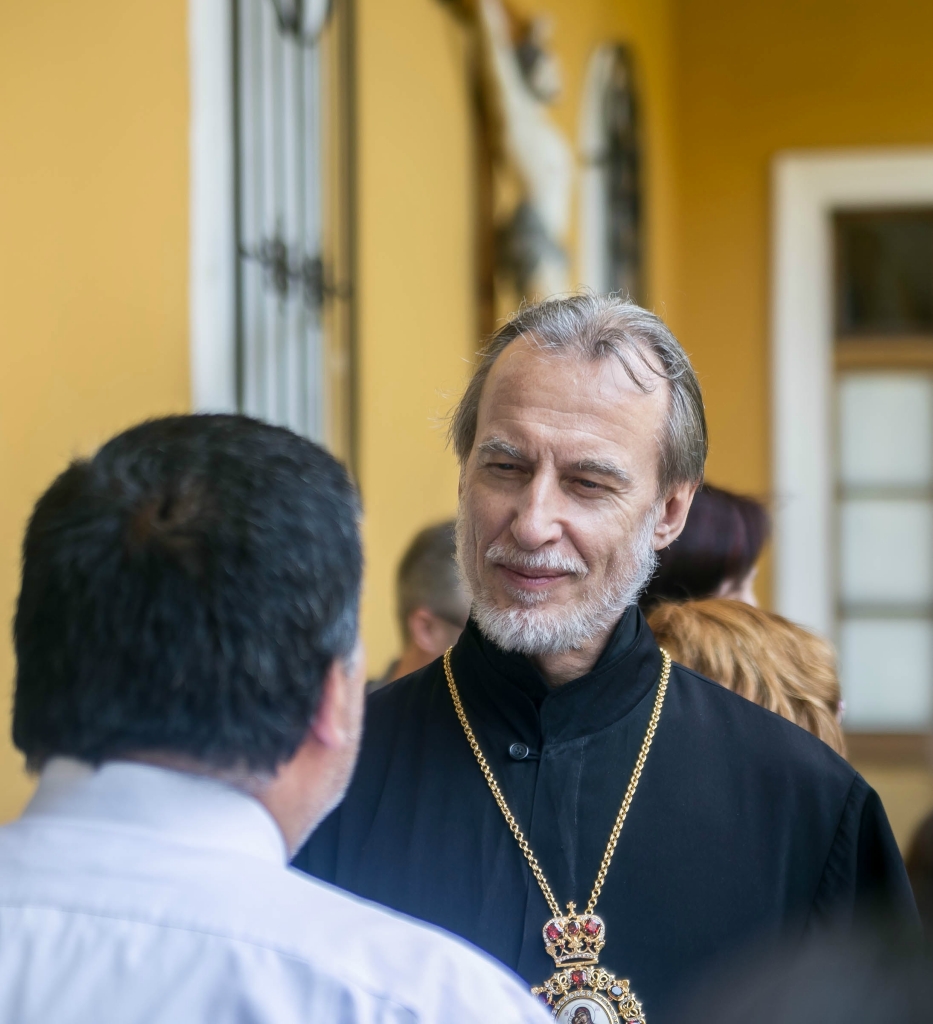 How have you benefited from your degree in psychology?
First of all, it helped me resolve some issues.  Psychological issues.  Everyone has their own, personal issues, only some people are aware of them, some are not.  Secondly, it answered a very important question, whether spiritual help, the help of priest is of itself enough for the Orthodox, for parishioners.  It is not enough.  Very often they require psychological help as well.
A person is body, soul, and spirit.  If he is sick in the body, he visits a doctor, and the Church blesses it.  If he is sick in the spirit, suffering from sins and passions, he goes to a priest, and that is right as well.  If he is sick in the soul, a psychologist can help him.  There are psychological illnesses a priest simply cannot manage; often the priest cannot even identify them (for example, depression, neurosis).  You need a good psychologist in this case.  I have come to understand it.
In addition, it became clear to me, that priests must study basic psychology.  Together with Natalia Stanislavovna Skuratovskaia (a psychologist, psychotherapist, and lecturer in "Practical Pastoral Psychology" of the Khabarovsk Seminary – ed.) we taught it to the students of the Khabarovsk seminary.  We taught them and helped them.  Unfortunately, some had come to seminary with neurotic deviations.
Some of the boys come from single-parent families, some had suffered deep stress in their childhood or their youth, some had never known love… How can they bring love to others, teach love, if they've never experienced it themselves, if they don't know what it means?  How can they understand that God really is Love, a Loving Father, if no one has ever loved them?
Do you mean that a person with psychological issues may have a distorted understanding of God?  And a distorted faith?
Yes.  Both of God, and of his Pastor.  And of the entire Church life.  How many problems do we come across in our parishes: issues between the pastor and his congregation, between laymen, a person and the parish?  Quite a few.
Future pastors must deal with their personal psychological issues while still studying.  Otherwise, how many traumas, how much pain they may cause themselves and the people!  How many people they can alienate from the Church!
That is why we worked with seminarians as psychologists, organizing training and counselling sessions.  It turns out, some of them needed psychological help; at times, they were in need of a neuropathologist's help.  The boys come from the world, and are not always brought up in good Orthodox families.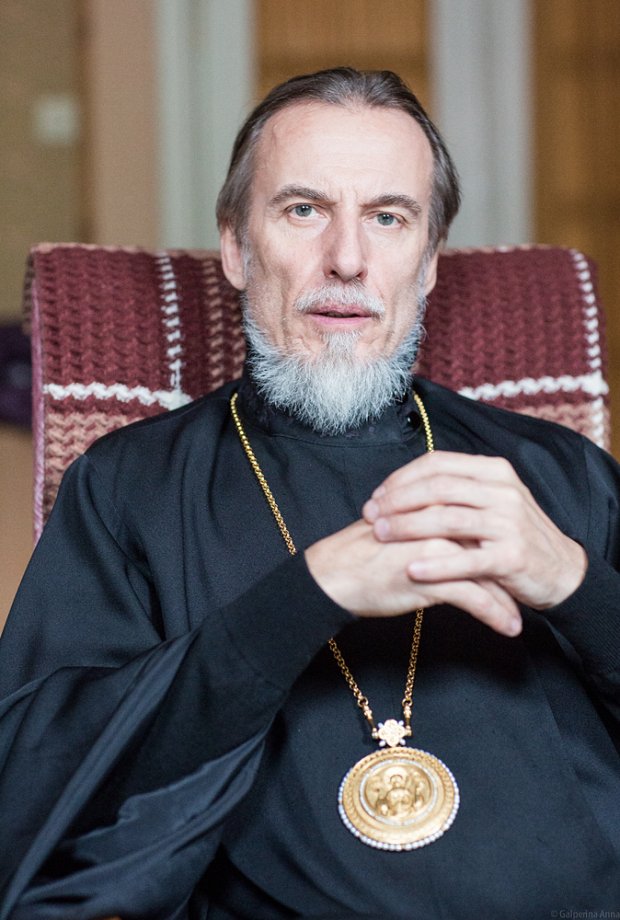 In your opinion, why do many church-going people have a negative approach to psychology?
First of all, they have a wrong impression of it.  Secondly, they don't know how many people in Church are actually in need of psychological help.  Thirdly, they don't know in what way psychology may help them.  At the Nativity Educational Conference, there was a workshop dedicated to psychology in the life of an Orthodox person.  Among other things, they discussed church problems of a purely psychological nature, dependence on one's spiritual father, different kinds of manipulations, of priests' "burning out."  The hall was packed.
Why do priests "burn out"?  It would seem they come into contact with God's Grace, which is inexhaustible…
Have you read the book "Hierarch" (by Hieromonk Tikhon – Trans.)?  It describes well the process of a priest's "burn out."   He comes to a parish with his eyes burning with enthusiasm, "I will convert, enlighten, help everyone!"  What he comes across is real people, their shortcomings, vices…  He tries to change some things, to rectify them once, twice, three times, ten times. Nothing is working out, he feels frustrated…  His will to work disappears, his desire to pray disappears, and when there is no prayer, there is no Grace of God.
Little by little, he becomes indifferent to the Mysteries, consequently there is a backlash from the congregation, and it becomes a vicious circle.  The less you feel like praying and serving, the less God helps; the less God helps, the less you feel like working and serving.
And that is when a priest goes to a parish willingly, which may not always be the case.  The situation then is even more frightening.
It is not only priests that "burn out," practically any person starts attending church "on a high," but a few years down the road the enthusiasm subsides, and the only thing a priest can tell them is, "Just keep praying…"
It does happen.  What can I say on the subject?  There is and cannot be just one answer in all instances.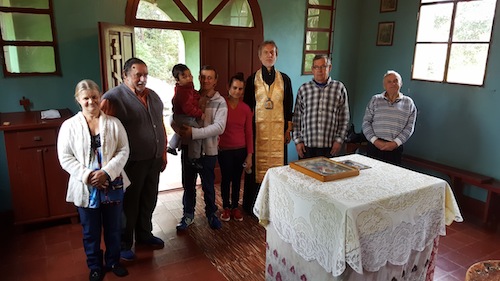 And yet?
First of all, a person who comes to the Church needs to understand that he comes to the Church, not to a priest.  That he will always get help in the Church – the Lord will give him strength, cure him, support him, guide him, instruct him, save him.  That is one hundred percent true.  Just don't reduce the Church to a concrete priest.  Then there will be no infatuations, no dependencies, and consequently no disappointments.
For example, when I am sick, I go to hospital.  If one doctor cannot help me, I go to a different one.  I don't lose trust in the medical science.
You come to a priest with a problem.  He gives you advice, which doesn't help, another piece of advice, and another – still it doesn't help.  Then it becomes clear, "I'm sorry, Father, I respect the dignity of your priesthood, I bow down before the Grace that is in you, but I will go look for someone who can help me."
In addition, you need to read the Gospel, which contains answers to all questions, read the Holy Fathers and make use of the advice you find helpful.  Nowadays, there are so many TV shows, an enormous number of books, so listen, read, ask questions, search!  Though beginners should avoid reading the ascetics of the first centuries, don't do that…
But when you yourself were a beginner, Vladyka Chrysostom told you to read the "Ascetic Sermon" of St. Ignatii Brianchaninov?  How does that work?
First of all, St. Ignatii is not an ascetic of the first century of Christianity.  He studied their works most carefully and compiled something like an encyclopaedia for his contemporaries, actually two encyclopaedias, one for monastics, the other one for lay people, in which he put the advice of the Holy Fathers that he found appropriate.  At the same time, Father Ioann (Krestiankin) used to say to me that we who live in the third millennium cannot handle even that.
Secondly, Valdyka Chrysostom never wanted to become my spiritual father.  He used to say, "I am not a pastor, but an administrator.  So, you have to do it on your own.  I ordained you, keep moving forward on your own."
Vladyka taught me a valuable lesson.  He considered any priest, including spiritual fathers, as a signpost that says, "God is that way."  The priest himself ought to understand it, and you yourself ought to look at priests that way.  He may be able to help, to direct you, but you have to keep moving forward on your own.
The Lord supports each person differently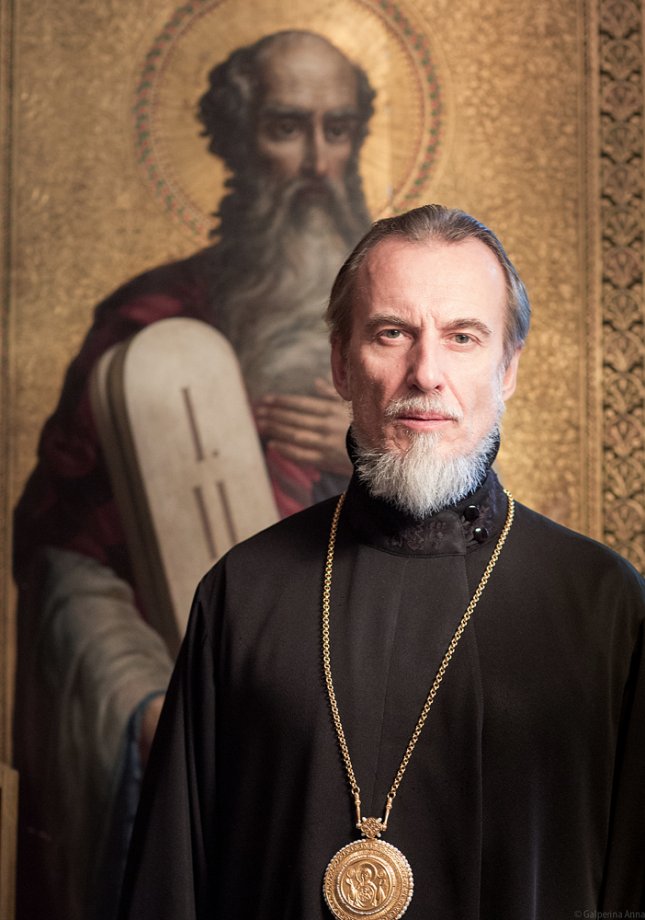 You mentioned that you need prayer.  It would seem obvious to Christians, but many of us are so worn out, that prayer gets pushed to the background.  Could you say a few words about the role of prayer in your life and how you manage to speak to God being as busy as you are?
I won't venture to give specific advice.  When people ask about prayer they usually expect Vladyka to say something, to give them advice that will immediately fix their prayer life and transform everything in their daily life.  It is different for everyone, the only thing we have in common is labour, daily spiritual labour.  As it is, in fact, with anything.
However, I will tell you about something that happened to me.  Shortly before my ordination, the Lord gave me a kind of a gift.  I got up one morning (I lived in Moscow at the time, in the Novospassky Monastery, and by the blessing of His Holiness the Patriarch Alexy was preparing for ordination) and started reading morning prayers… when all of a sudden, I felt the Lord was near.  It was that simple, He was near, and that was it.  Since then, this feeling has never left me.  Sometimes it is more pronounced, sometimes less.
Of course, I pray verbally, I read Psalms.  I obviously read the Jesus prayer from time to time.  But most of the time my prayer consists in knowing that the Lord is here.  And that I am with him.  That's what prayer is.
The Lord knew what kind of obedience lay in store for me and encouraged me in that way.  I am certain that the Lord encourages everyone, especially the people he puts in charge of difficult, worrisome obediences, in a very special way.  In prayer. And in life.
Interview conducted by Valeria Mikhailova
Translated from the Russian by Maria Nekipelov
Photos: pravstok.ru, southamerica.cerkov.ru, patriarchia.ru, and Anna Galperina